Will Whitney or Britt Bring 'Bachelor' Chris Home?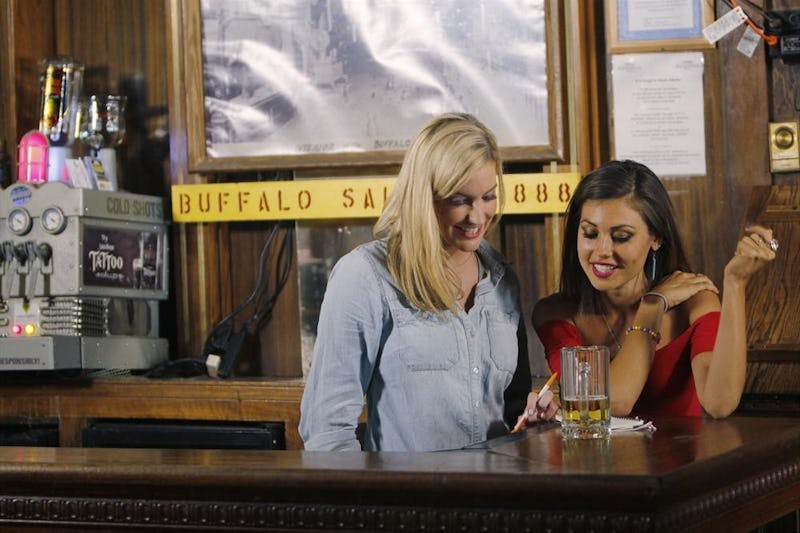 After Sunday night's special three hour long Bachelor event, the you-know-what is finally getting real. Although it seems that the excruciatingly long live premiere of Chris Soules' season was just yesterday, The Bachelor has already reached the traditional hometown dates, which means Monday night, Chris will be traveling to his ladies' various hometowns to meet their families and see where they're from. This is a big deal, and could be a game changer as far as where each woman stands going into the final weeks of the competition. And since ABC's promo revealed that Becca gets a date (and Kaitlyn obviously got the rose), we're left to decide whether Carly, Whitney, or Britt will also be getting a hometown date. And since it doesn't seem like Carly will be getting one, it's really down to Whitney and Britt.
At this point, it definitely seems as though Whitney will be the one on that hometown date. I can't see Britt lasting much longer, whether Chris decides to eliminate her or she decides to eliminate herself. She obviously doesn't like the idea of living in Arlington (even if she doesn't want to admit that to Chris) and it seems she's recently realized that she's potentially not his first choice, and she's not happy about that, either. On one hand, I can't blame her — like she said, who wants to be anyone's second, third, or fourth choice? But on the other hand, it's not like she didn't know what she was getting into by going on this show.
Either way, Monday's going to bring the drama, because if Britt does, in fact, leave as I predict, she's not going out without fireworks... and probably a lot of tears.
Image: Richard Carlson/ABC