Secrets of 'Southern Charm' Season 2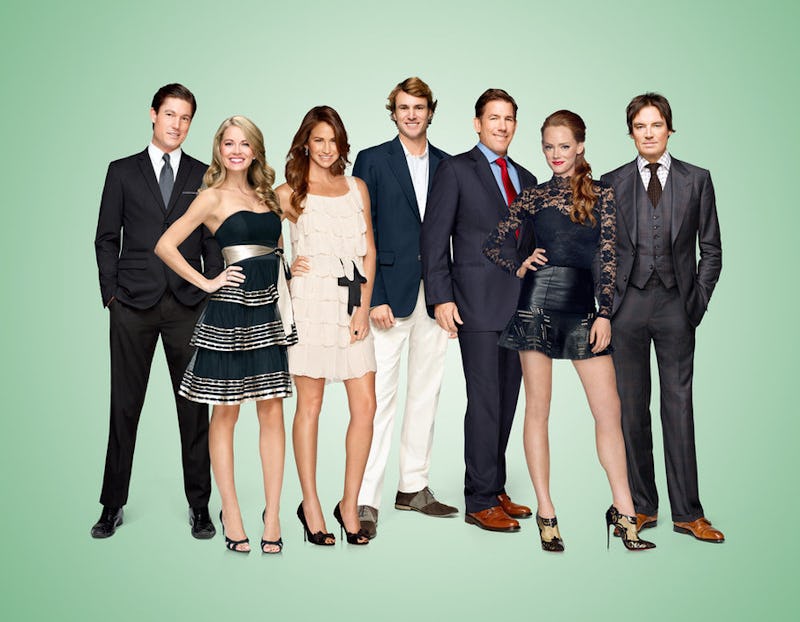 Bravo so graciously bestowed upon us a Southern Charm Season 2 renewal, and since then it's been hard to wait for everyone's favorite Charlestonians to return to the small screen. Luckily, as we eke closer to the premiere, Southern Charm Season 2 spoilers abound. Yet, I have mixed feelings about diving back into this reality obsession. As a child of the Palmetto City, I can tell you that the social side of the Charleston lifestyle is, indeed, all about food and drink, friends, and culture. Season 1 of Charleston-based reality show Southern Charm somehow managed to touch on every one of those points, and yet feel nothing like my Charleson at all. And yet... I can't look away. It's kind of like watching an alternate reality: I know where they are, I've run that bridge, and yet, I've never run down a dock in a full length fur coat, screaming after my boyfriend who's running away from me.
That's an actual scene from the latest promo for Season 2 of Southern Charm, where Kathryn Calhoun Dennis is running after her boyfriend a state of disarray. That boyfriend? Infamous Southerner, Thomas Ravenel, and the man whose father has his own bridge — the Arthur Ravenel Jr. Bridge — which stands as one of Charleston's most famous landmarks. How many reality shows can say that they have a U.S. Senate candidate, an ex-con, and accidental Baby Daddy all wrapped into one 50-year-old star? Season 2 should be a proud, proud moment for Bravo.
According to a combination of their latest trailer, word on the street, and Ravenel's actual political campaign results, the aggressively genteel — which is to say, not genteel — folks of Southern Charm are taking their collective sense of entitlement to a whole new level ('cept you Cameran, we know you hold it down, girl).
Here's everything we can garner about the sophomore season of Southern Charm, premiering March 16:
Jenna's Out, New Girl's In
Last season, viewers were treated to the spiky stylings of Jenna King, but she's a no-show in Season 2 — in fact The Daily Mail reported in June 2014 that Jenna hardly ever lived in Charleston at all, and the downtown four bedroom home she claimed to own was rented for production purposes; apparently, Jenna immediately fled back to L.A. when the show wrapped.
Alas, Jenna is a fake Charlestonian of the past, and the new from-the-general-South girl in town is Landon Clements (the name checks out). According to her Bravo bio, Landon is a college friend of Shep's who grew up in Georgia but moved to L.A. to pursue interior design and ended up marrying a "self described 'James Bond Brit.'" They've since divorced and she's moving back to Charleston to try and get her career back on track.
Landon is weirdly described as "obstinate" and having been "raised to love and appreciate beach life." So, something tells me Bravo was grasping at straws a bit to describe Miss Clements. Maybe she'll be another level-headed presence for Cameran to hang out with: a Southern girl who wants to be represented on reality programming as more than a mint julep-swilling plaything. A Southern Charm fan can dream, right?
Cameran Is Off the Market
All my props to Cameran for having her fun on Southern Charm, but girl is keeping her personal life so personal. Cameran had a secret wedding following the Season 1 finale, and we never even met her boyfriend, er, husband. It looks like we might not be meeting Dr. Jason Wemberly in Season 2 either, but Cameran's new married life will at least be a talking point, as she discusses the consequences of her adult actions in the trailer: "S—t, I'm gonna have to have a baby." Love her.
Kathryn Is A Regular Now, Y'all
Kathryn was a major player in Season 1's drama, due in large part to the tangled web she wove with the male members of the cast, but she's only just been promoted to full-time cast member in Season 2. A few surprising things I just learned from her brand spankin' new Bravo bio: She was a women's studies major in college and someone — either herself or whoever wrote this bio — considers a run for office an "inevitable" part of her future. The last we saw of Kathryn on screen, she was having a tearful break up with Thomas, only to be revealed to have gotten back together and had a baby nine months later. The trailer certainly makes that relationship look like a bumpy ride in the upcoming season.
Thomas Ravenel... (Not a) Senator
The most obvious spoiler to the upcoming season of Southern Charm is that Thomas loses big in what appears to be a major plot point: His campaign for the U.S. Senate. It's the after effects of that loss, however, that might prove to provide the most drama, if they make it to air. In October 2014, shortly before losing the Senate race in November, Thomas wrote a post on his Facebook claiming that he and Kathryn were no longer together because of her lack of support in an assault charge against him, made by her stylist. After claiming "Southern Charm is full of lies and deceit. Any fool who watches it is an idiot," Thomas deleted his Twitter. Thomas made no mention of what that claim says about those who appear on the show.
Images: Mathieu Young/Bravo (2)