'Empire' Club Leviticus May Have Biblical Origins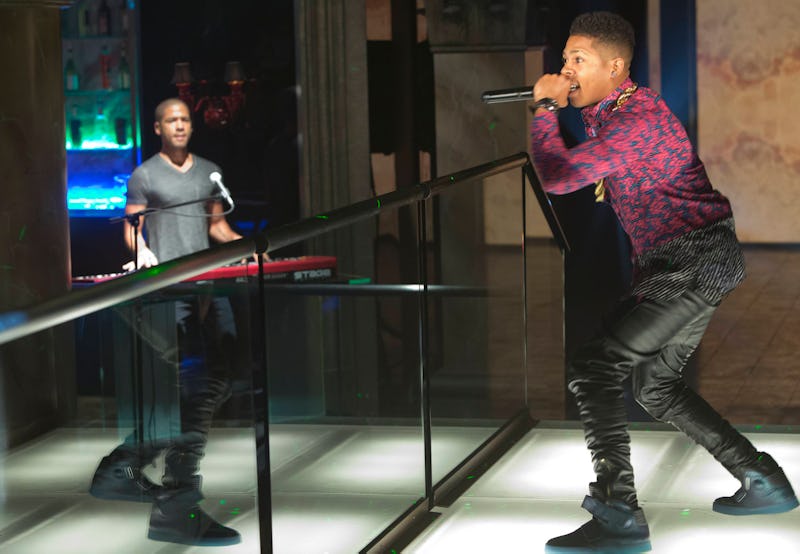 The second episode of FOX's unprecedented smash hit Empire revolved around the opening of Lucious Lyon's new club Leviticus, and since then, a lot of the show's action has taken place within those four walls — especially musical performances. It looks like a pretty swag place: ornate decorations, plush couches, a huge dance floor, seemingly never-ending bottle service... Seems like the kind of place half of Manhattan would want to be at on a Friday night. (The other half is presumably at home watching Empire, according to those mind-boggling ratings.) So can you head on down to the club this Friday? Is Leviticus based on a real place? Or is it simply a work of fiction?
Sadly, there's currently no club in New York City called "Leviticus." A search of that name on Google Maps only results in the Leviticus Church of God in Jamaica, Queens. But just because there's no Leviticus now doesn't mean there never was...
According to the website DiscoMusic.com, there actually used to be a club named Leviticus at 45 W. 33 Street during the '70s. (A street view look at that address reveals that, while the club is no longer there, nearby there is a disreputable establishment ironically called "Empire Erotica." Coincidence? Probably, but it's fun to imagine that it's not.)
Leviticus's existence is verified by a string of comments on the DiscoMusic page from people reminiscing about times they spent there and musicians they saw perform. Supposedly the likes of Rick James ("Super Freak"), The Whispers ("My Girl") and jazz singer/trumpeter Lenny Williams were known to frequent Leviticus' stage. According to commenter "m. watson martin," "This was one of the best clubs in the city at that time." Commenter "Tony" agrees: "One of the funkiest black clubs in NYC, you had to be there on Thursday nights, crowded, hot and happnin!"
"Tony" is also nostalgic for the fashion of the earlier era: "Back in the '70's, and into the '80's we wore suits and ties to clubs... imagine that!...Got to the club and actually danced! Didn't just stand around or spend the entire night doin a lil 'two-step' we had actual dances WITH NAMES!" Music and dancing weren't the only things going on at Leviticus, either — love was in the air there, too, to hear commenter "william r. smith" tell it: "I met my future wife there on Washington's birthday in 1974! Man there was nothing like getting a really good hustle partner and dancing to 'My Love is Free' then 'I Found Love' by Cerrone". Boy the memories!"
So was Empire's Leviticus actually based on this bygone club? It's impossible to say... but it seems somewhat unlikely, given the fact that it appears to have closed sometime in the '80s. Empire creator Lee Daniels had only just graduated from a Pennsylvania high school in 1978 and then immediately attended college at Lindenwood University in Missouri. It's hard to imagine that Daniels spent much time shuttling back and forth between school in Radnor, Pa. and a funky music club in Manhattan.
Strangely, Daniels' inspiration for his fictional club seems to have come, not from Manhattan, but from the Bible. Leviticus is the third book of the Old Testament, coming directly after Genesis and Exodus, and is famous for being the origin of conservative Christians' condemnation of homosexuality. In Leviticus, God gives the Israelites instructions on how to properly conduct themselves; the most oft-quoted verse from the book is undoubtedly 18:23, which reads, "You shall not lie with a male as one lies with a female; it is an abomination."
It is likely no mere happenstance that Lucious' club is named after the book of the Bible that contains this infamous passage, when one of the central conflicts of Empire is his fraught relationship with his gay son. Is Lucious destined to condemn his son, as that passage encourages? Or will the dying patriarch find it in his heart to love his son unconditionally before it's too late? Sadly, the name that Lucious chose to christen his club with doesn't bode well for his and Jamal's relationship. Neither does Empire seem like the kind of show to opt for the sentimental route — so expect Lucious Lyon to deliver a lot more Old Testament-style wrath before the season ends.
Images: Chuck Hodes/FOX (2)