Deliciously Simple Truffles For Your Oscar Party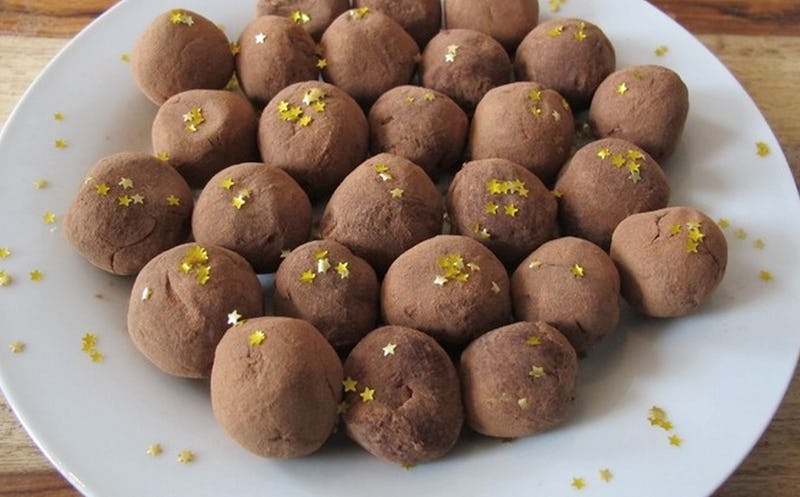 Not that you ever need an excuse for chocolate, but your Oscar viewing party (whether it consists of you and your cat or actual guests) is definite motivation to ditch the usual stuff for something a little more impressive. These ultra simple homemade truffles look and taste fancy without a pricey ingredient list or hours slaving over mysterious baking devices. While a typical box of fancy truffles could set you back well over $30, these guys consist mainly of ingredients you probably already have stocked in your kitchen. And if you don't have at least half a bag of chocolate chips in your house, who are you?
We all know that chocolate is one of the top foods available to humans, but did you know it has actually been scientifically proven to make you happier? Like red wine, chocolate is one of those miraculous gifts of the universe that not only tastes good, but can make your life better. But you didn't need science to tell you that. The Academy Awards celebrate the best of the best while getting dressed up, so chocolate seems like the perfect dessert to follow suit. Like movies, chocolate is pretty good even when it's bad. I'm not going to suggest you give Brittany Snow an Oscar for John Tucker Must Die, but I will absolutely watch it every time it's on TV. And although some Dove chocolate hearts leftover from Valentine's Day might be pretty good, the Oscars are a time for homemade truffles.
Don't be intimidated. This is a super simple recipe, and it's very hard to make chocolate, whipping cream, and butter taste bad. You're just some whisking and scooping away from bite-sized bliss.
What You'll Need:
6 oz. semi-sweet chocolate chips
1/4 cup whipping cream
2 tablespoons unsalted butter
1/4 teaspoon vanilla extract
Unsweetened cocoa powder
Edible gold stars or metallic sprinkles of your choice
Parchment paper
A small melon baller or similar scoop
A small saucepan
A medium bowl
1. Melt the butter and cream in a saucepan on medium heat until it reaches a simmer.
2. Reduce heat to low, and add chocolate chips. Whisk until smooth.
3. Pour chocolate mixture into a bowl, and stir in the vanilla until fully combined.
4. Refrigerate or freeze until firm, then form your truffles.
Use your small scoop or melon baller to scoop your truffles out. Don't be concerned when they look like lumpy blobs. Coat each blob with cocoa powder, and then roll them more evenly into a ball in your hands. Do this quickly, or the warmth of your hands will melt the chocolate. If you attempt to roll the balls without cocoa powder, things will get really messy. Place each newly formed truffle on your parchment paper.
They probably won't be perfectly round, but they'll taste so good that nobody will care. The slight lumpiness actually adds a nice rustic, homemade quality.
Refrigerate your truffles until right before serving. You can freeze them if you've made them further in advance or want to save them for a later date.
5. Add your sparkly stars and serve!
To be honest, these stars didn't stick very well to the cocoa powder. But they do make the truffles look way more Oscar-worthy, not to mention they decorate your serving platter. It looks like you poured some glitter over your truffles, but it's totally safe to eat. So I'm pretty sure the stars are still a good idea.
If you have any leftover (you won't), these will keep in the freezer for at least a month or two.
Images: Jenna Wexler (10); Giphy