Chris Soules is Going to Be the Best 'Bachelor'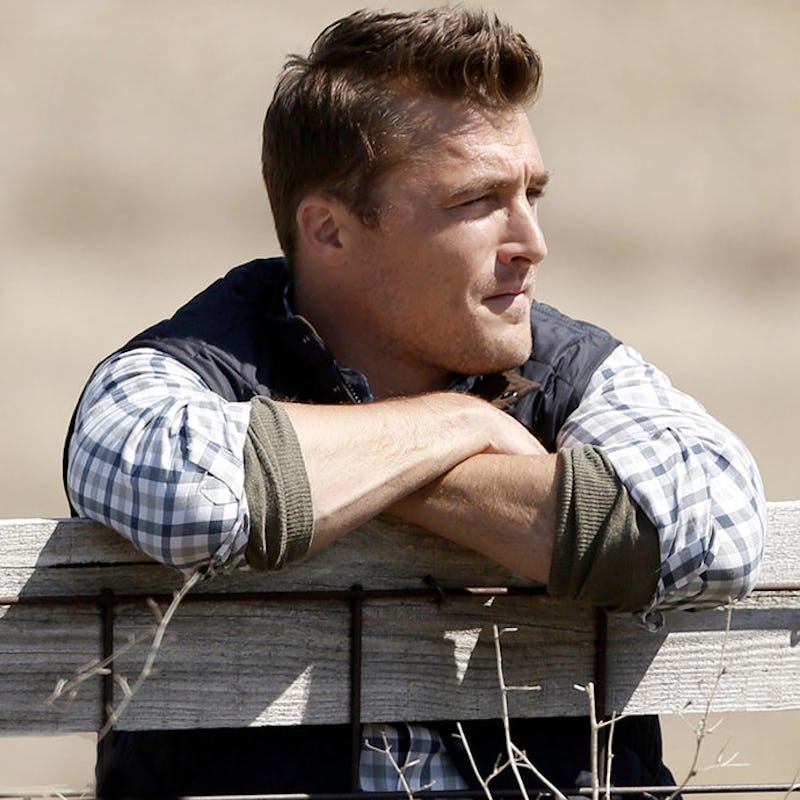 I'll admit I wasn't the biggest fan of the decision to cast Chris Soules as The Bachelor . But we could have done a lot worse than Chris. (Um, remember Juan Pablo?) So after watching The Bachelor premiere, I have faith that he'll not just be acceptable in his role; Chris Soules will be a great Bachelor.
One of the biggest complaints about Chris Soules leading up to his season was that he'd be boring. To many, he seemed like a down-to-earth farmer and nothing more. I was worried too. As much as I love a nice guy, they don't always make for the best television. But somehow, despite a three-hour long premiere, I was rapt with attention during his Bachelor debut. There was drama, intrigue, and shocking surprises. And if that season promo is any indicator, this season is going to be very interesting. Chris Harrison might actually be right in calling it "the most dramatic and romantic season so far."
Although some people on Twitter are still bitterly calling Chris the "worst Bachelor ever," I've seen much worse and I'm sticking by Chris' side for this one. Based on the premiere, he's going to be a great Bachelor for the following reasons.
He Didn't Send the Drunk Girl Home
Poor Tara. She got a little intoxicated during the first night which ordinarily would have meant she'd have been sent packing. But Chris liked who he'd met when she was sober and decided to give her a second chance. "I'm no choir boy, and I'm the first person to admit that we all make mistakes," Chris admitted in his Bachelor blog after the show. Good for him for not placing all the women on an impossible pedestal. Tara could be the love of his life, after all. He can't discount her for accidentally getting a little drunk during such a long, and exhausting night.
He's Genuine
No poser-status with this guy. He says what he feels and he's honest to the point of nearly spoiling the show when asked about it. That means what we see is what we get, and that cuts out the guesswork for how he's feeling—ultimately making for a more genuine season.
He's Spontaneous
Hello Mr. Not Boring! Chris bucked Bachelor tradition when he planted a kiss on his first impression rose recipient during the first episode. It's faster than most contestants move, but it felt natural. More importantly, it was spur of the moment. The best TV comes from spontaneity and Chris doesn't seem opposed to that at all.
He Sincerely Believes in Love
Unlike Juan Pablo who seemed mostly there to party with the women and make out with them, Chris seems genuinely interested in walking away from the show with his future wife. Ultimately that's what this whole process is about, and it's important that he's invested in the end goal.
He's Up for Whatever
Chris didn't seem put off by limo exit stunts or attempts to get his attention via dance lessons, ramblings about onions, or second first impressions. Being open to whatever comes his way is going to make for a much more interesting season.
He's in Awe of His Role
I hate when the Bachelor or Bachelorette acts entitled about their role. It's like they forget that one season ago they were just a lowly contestant with the rest of them. The best thing about Chris is he's genuinely shocked by his position. Chris Harrison revealed the extent of his awe saying, "He was like a kid in a candy store… At first, I thought he was giving me lip service and being nice, but I realized he'd never really dated women as beautiful as this."
Chris seems overjoyed to get to be around so many women and he's not taking his role for granted. It really means a lot to him to be the Bachelor, it's not just a given.
He Also Makes Mistakes
There's few things worse than a Bachelor or Bachelorette who comes on the show with a holier-than-thou attitude. Nobody is perfect and it's nice to see that the drama of the season isn't just centered around the women. From the promo it seems like Chris made a pretty big mistake too (and something goes down in a tent.) Does it make him as bad as Juan Pablo? We'll see. But I think it's cool that Chris admits he's not perfect either.
He's in it for the Women, Not the Fancy Trips
Unlike some Bachelors who have traveled the globe, Chris is sticking to America and staying pretty near his hometown. He's clearly not just in it for the free travel, which means that he's taking finding a wife seriously. That's a lot easier to do if your date is a trip to Costco, and not a trip to Paris.
He Actually Needs the Show to Find Love
Bustle's Nicole Pomarico figured out that there really are no women in Chris' small town in Iowa. Like, literally, there are four (four!) single women between the ages of 20-34. That doesn't give him a whole lot of options, so being on The Bachelor is actually really necessary for the farmer. There are more single women vying for his attention on the show than exist in Arlington, Iowa. Hopefully that means Chris will take the process that much more seriously and benefit that much more. He's not trying to promote himself or get TV attention: he's legitimately looking for a wife and this is kind of the only way to do it.
He's Pretty Easy on the Eyes
Alright, I'll admit it. This farmer is adorable, and he has a great smile. After a great premiere on Monday night, I'm really looking forward to the rest of his season now.
Images: Matthew Putney, Rick Rowell (3)/ABC; sircolfer (2)/Tumblr