Emma Stone's First Oscar Nod Should Bring A Win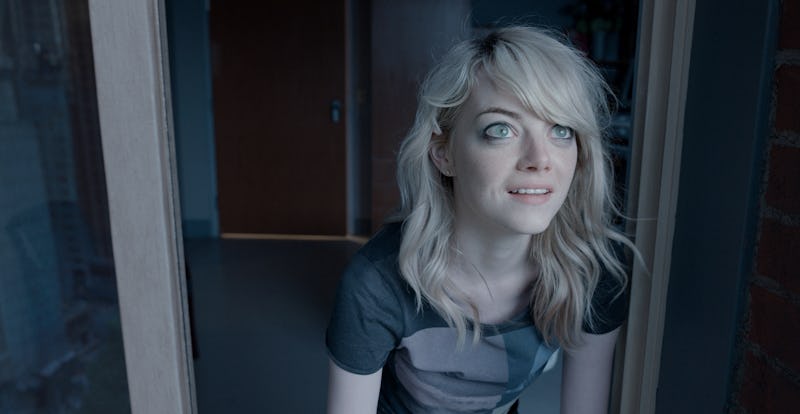 It should have happened a while ago, but the time has finally come: Emma Stone has received her first Oscar nomination ever. After a career that, so far, has brought us amazing movies like The Help and Easy A, Stone's role in Birdman scored her an Academy Award nod for Best Actress in a Supporting Role, and I couldn't be more thrilled for her. This kind of recognition has been a long time coming, and my fingers are crossed that we get to see her make what will inevitably be an adorable, self-deprecating, and funny acceptance speech on Sunday night. However, my love for Stone doesn't necessarily translate to the Academy's love of Stone, especially since she's up against some seriously talented women. Can Stone win the Oscar? She deserves it, but I'll be surprised if she gets to take the little gold guy home.
The only reason I doubt that she'll win is the fact that she's up against actresses from two movies that have received a lot of buzz this awards season: Boyhood and Wild. If I had to make my prediction now, I'd say we'll see either Patricia Arquette or Laura Dern take home the Oscar, despite how badly I wish it was Stone. And let's not forget she's also against the legendary Meryl Streep for her role in Into The Woods. Who the hell beats Streep? Except for Jennifer Lawrence, of course.
And we can't forget to consult the professionals. I like to turn to Variety every year because their predictions are generally spot on, and this year, their money's on Arquette, even saying that any other winner would be "a giant upset." I can't say I disagree. Boyhood was one of the most talked about movies this year, and I'm fully expecting it to get tons of recognition on the big night — even though plenty of other incredible movies, like Birdman, were made this year too.
As much as I desperately want to see my pretend BFF take home this award, I just don't think it's in the cards this year. Next year? Totally possible, especially if she delivers another knockout performance like she did in Birdman.
The good news? If Stone loses, there's plenty of time for her to make up for it. Her career is on fire right now and she's just getting started.
Image: Fox Searchlight Pictures