11 Things Worth Doing The Old-Fashioned Way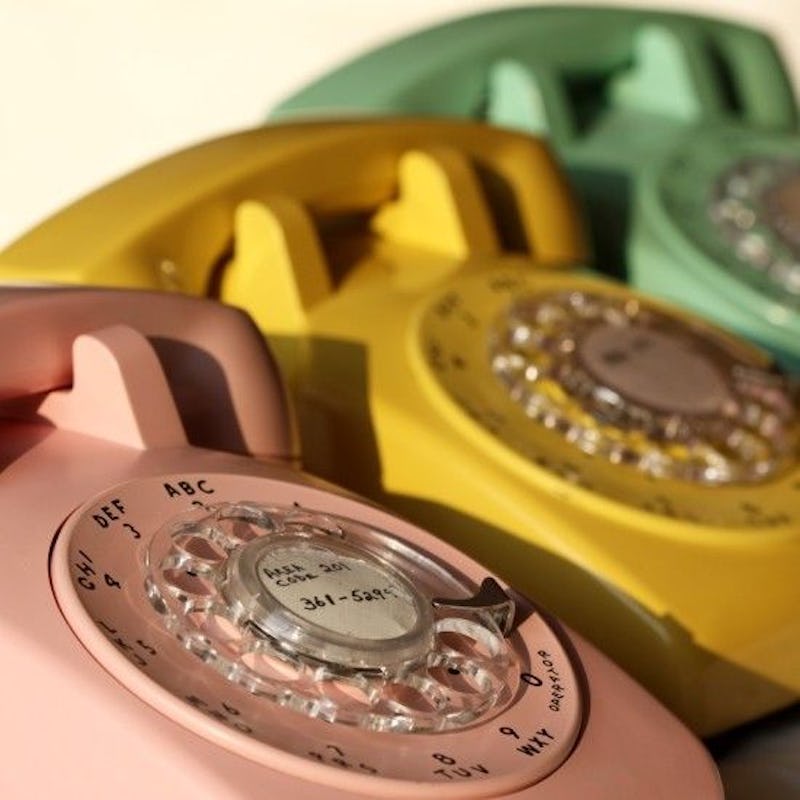 With all of life's modern conveniences, it's easy to forget how to do things the old-fashioned way — and with good reason. I will be the first to admit that the ability to check into a flight online has changed my life for the better. Now, I click a button from the comfort of my own home, wine glass in hand, instead of rushing to get to the airport three hours early and fighting with the line at the check-in counter. Self check-outs at stores have saved me the embarrassment of making eye contact with a cashier when my shopping basket is filled with tampons, two different flavors of Ben & Jerry's frozen yogurt (hey, at least it's low fat?), and Munchos. Without the gift card app on my iPhone, I would have lost hundreds of dollars to Barnes & Noble, Starbucks, and Sephora, because keeping track of gift cards is impossible — especially after the holidays when all of your not-so-closely-related relatives have left you with a stack of envelopes.
Thanks largely to constant developments in technology, these countless innovations have simplified everything from online banking to one-touch food ordering from your phone. They save consumers time, money, and basic effort, and who can argue against that? Most of us are broke, in a rush, and exhausted, so anything that makes life just a little easier is OK in my book. Change is a constant, and some changes are easily embraced (I'm looking at you, online TV streaming), but the fact remains that there are just certain things that are simply better if done old-school.
Now, I'm not just talking about choosing vinyl records over digital recordings and calling your grandma instead of texting her (both of which you should do) — I'm talking about daily tasks, food preparation, old products we've replaced with new ones, and cultural habits we have changed up that deserve a second look. Whether it's the way you get your caffeine fix in the morning or how you invite people to your 25th birthday bash, the traditional route might take a little more time and a touch more effort, but where these things are concerned, the old-fashioned way is always worth it.
1. Keep a physical address book
Remember when everyone had a little black book? I'm not talking about the Brittany Murphy rom-com, but an actual, physical address book. Keeping contacts in your phone and attached to your email account are great for using across devices, but shit happens, phones get dropped in toilet bowls, and computers get viruses. A physical address book gives you space to keep your friends, family, and flame's phone numbers, email addresses, and mailing addresses in a small, transportable space that is perfect to throw in your travel bag for postcard sending needs.
2. Send paper invitations and greeting cards
Everyone loves getting mail (as long as it isn't from the student loan office) — that's just a fact. Stop organizing your birthday parties and camping trips via Facebook, and take the time to send out real invitations. Stationery is cute, fun to pick out, and leaves people who love scrapbooking with a keepsake. And when it comes to cards for birthdays, anniversaries, or other special occasions, skip the "Happy ..." email and send something with paper and ink. It's the personal touch that matters.
3. Keep the e-reader, but don't forget about the paper-and-glue originals
When I'm heading off for vacation or on the subway, my Kindle is my best friend, but I will never lose my love for physical books. The look, the smell, the feel... I could go on forever. To put it simply, physical books are beautiful, and no home should be without a shelf full of them. The spines facing out from your bookcase or arranged on your coffee table show guests in your home a little bit of your personality, and make any space feel a bit cozier. Not to mention, choosing to read the ink on paper gives your eyes a break from a day otherwise filled with brightly glowing screens.
4. Write down your favorite recipes on recipe cards
You spent the morning pinning and the afternoon prepping, and everyone loved the Friendsgiving you threw, so now what? Instead of trying to remember which food blog had the best caramel flan recipe, jot down the meals you make and how to make them on recipe cards. Forget trying to scroll through instructions on our computer with sticky fingers, and opt for the old-fashioned way of keeping secret ingredients secret.The great thing about recipe cards is that you can make add-on notes, tricks, and troubleshooting tips for the next time you use them.
5. Wake up with a cup of joe from a stove top espresso maker
Keurigs offer an amazing and convenient way to get that much needed cup of coffee, but there's just something so satisfying about sipping on a hot cup of coffee you brewed from scratch. A stove top espresso maker is much smaller than a drip coffee pot, so it will fit in even the tiniest of studio apartments. It's also less breakable than a French press, but it brews a cup of coffee that is just as easy to make, easy to clean, and not to mention, delicious.
6. Hang a calendar on your wall
Yes, Google Calendar reminders have saved me from being late to a meeting on more than one occasion, but there is something to be said for keeping a physical calendar or datebook. Everyone should have a monthly calendar by their desk or in their kitchen to keep track of upcoming plans, holidays, and birthdays, because Facebook won't always remind you. And let's face it, it's easy to swipe "Dinner with Mom" clean from your phone's itinerary, but when you see your plans written out in bright red sharpie, they become a lot harder to bail on.
7. Ditch the peel offs, and stick with liquid nail polish
Yeah, it is pretty cool that your nails can look like lace, script from a love letter, and tie-dye with the help of nail polish strips, but nothing beats good old-fashioned liquid nail polish. It lasts longer, costs less money, and is far easier to touch up than the alternatives. When it comes to changing the color or removing polish from your nails all together, getting fake nails off is an absolute headache.
8. Put your phone away and try a real camera instead
Cameras on phones have gotten better and better over the years, but if you really want to capture the moment, you need to put down the phone and look through a different lens. Not only are cameras better quality than phones, but they are distraction-free. When you snap a pic on your phone, your next logical step is to play with the filter, and post it in under three minutes (don't try and deny it). With an actual camera, you can take your time trying out different shots without worrying about using up all of your memory. Bonus: your camera won't buzz and beep when you are in "the moment" looking out over the Grand Canyon or the French Riviera.
9. Keep a journal — an actual, physical journal
Whether you are a writer or not, recording your thoughts and feelings in a journal daily or monthly is a great way to deal with stress, anxiety, and life choices in general, but the Internet is not always the place to do that. I still cringe when I look back at my LiveJournal, knowing that I shared some of those things with absolute strangers. Use your blog to share your personality, but maybe keep your mid-life crisis to your diary... for now, at least.
10. Print out your pictures and make a photo album
Social media, especially Instagram and Facebook, have made keeping and sharing your photos a cinch, but looking at your prom picture on a computer screen doesn't compare to turning the page of an old high school photo album to see your 17-year-old self in big curls and glittery eye shadow standing next to your first true love. Now, imagine yourself as an old woman surrounded by grandkids flipping through albums from your wedding, family vacations, and the good old college days, and tell me an afternoon with a stack of pictures and a glue stick isn't worth it.
11. Snack it old school with a Whirley Pop
Popcorn is a timeless snack food favorite. The microwavable bags are easy to make and come in a variety of flavors with varying degrees of butter, but believe me when I say you should go back to making popcorn on the stove top. With a Whirley Pop, you can choose the amount of popcorn you make (why hello there, portion control), how much butter and salt goes into it, and really, it only takes a few minutes longer than a microwavable bag.
Images: The Young Ryan G, Sarah Parrott, Susana Fernandez, Liz West, Arek Olek, Stephen Korecky, Maegan Tintari, M Prince Photography, Fredrik Rubensson, Corey Balazowich, ThomasLife / Flickr