This Toddler Has A Cooler Sense of Style Than You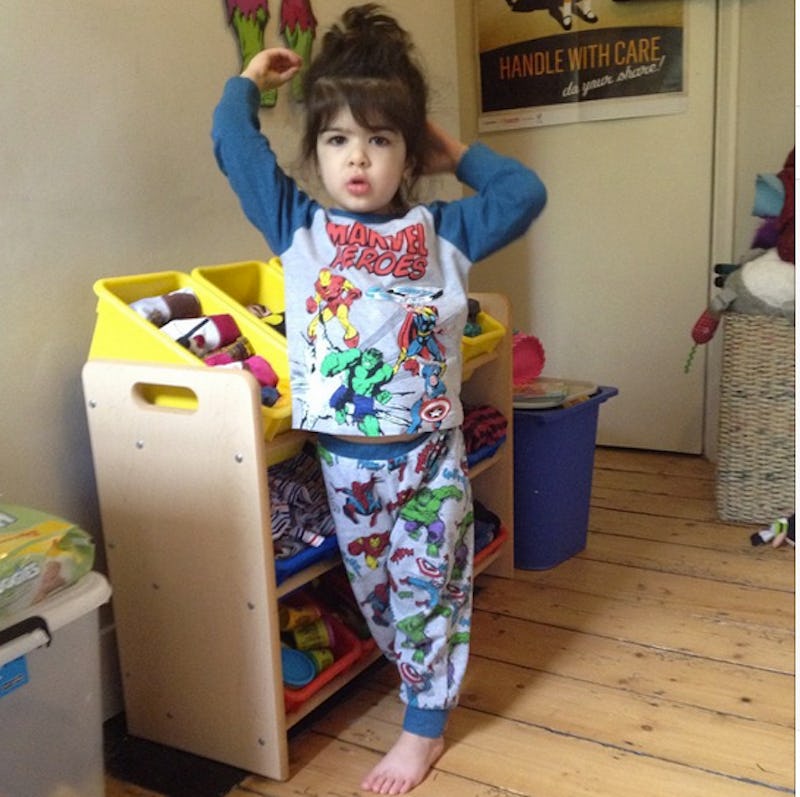 I have a few very poignant fashion memories from when I was growing up. There were the jeans that I refused to wear until my mom told me that Princess Diana had also worn the same ones. There was the plastic rainbow headband from Limited Too that I stepped on in the middle of the night, shattering both the headband and my happiness. But I can never really remember my parents letting me totally dress myself. Maybe they did and maybe they didn't, but either way, I wish there was photo documentation of that. Because, guys, newsflash: Toddlers have really, really awesome senses of style. If you need proof look no further than Simon Ragoonanaan, all-around awesome guy and stay-at-home dad lets his 3-year-old daughter dress herself, debuting all the outfits on his Instagram, @manvspink.
According to the Independent, Ragoonanan and his wife decided to let their daughter choose her clothes for a pretty straight-forward (and very refreshing) reason. "...we need to let her discover who she is herself. Choosing what she wears every morning is just a small part of that," Ragoonanan said.
And if you think the reasoning behind their choice is awesome, just wait until you see their daughter's outfits. Pattern mixing, unexpected combinations, and general chicness make up the 3-year-old's daily ensembles. I think we could all stand to take a few style lessons from this mini fashionista.
Other than the important reminder that superhero-themed clothing isn't just for boys, there's one major lesson we can take from this toddler's wardrobe: Wearing exactly what YOU want to wear is a powerful thing. This little girl doesn't yet have pressure from society or her parents or her peers to determine her wardrobe choices. Everything she puts on her body is a result of her waking up that morning and putting on EXACTLY what she feels like putting on. Do we do that every day? Probably not.
Speaking personally, I know there are days that I feel SO much like wearing pajamas (maybe even superhero-themed pajamas?), but I feel the pressure of the title of "fashion writer" push me into something less comfortable. Sometimes I worry what my friends or boyfriend will think of what I'm wearing, and that makes me choose something else. It happens to all of us sometimes, whether we like to admit it or not. So why not change our thinking and take some important lessons from this stylish 3-year-old girl?
She seems pretty darn comfortable and happy with what she's wearing every day. I'm very into it.