How To Make Your Own Pop Art Patch Purse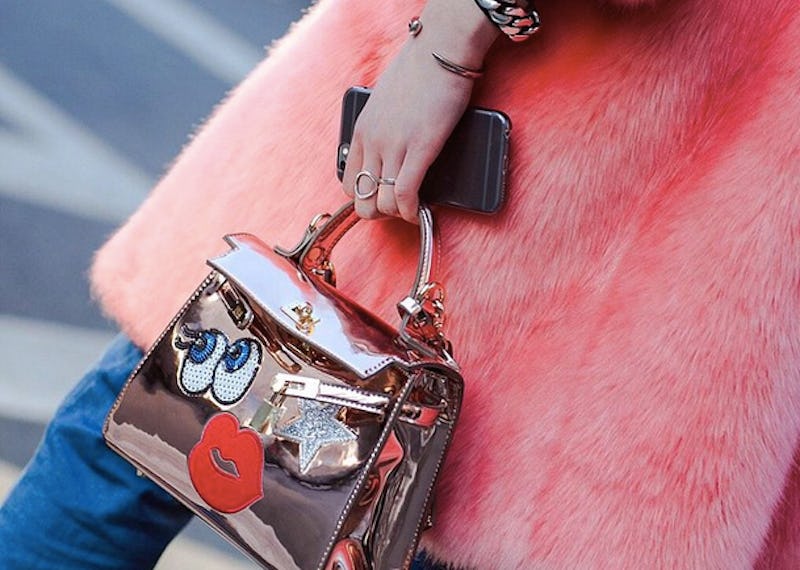 I generally spend a lot of time on Instagram but my intake skyrockets during New York Fashion Week. At this point, the parades of fabulous editors and bloggers and models and bystanders that happen outside the tents are more exciting than most of the runway shows. And paying close attention to what New York City's fashionable elite are wearing is, in my opinion, the best way to spot emerging trends. (Case and point? All of Eva Chen's amazing, fluffy coats.)
Every season, there's always an it bag that seems to pop up on every fashionable lady's (or man's) arm. Although there's been a lot of buzz around Mansur Gavriel's latest creation, this season, the bag that I saw constantly Instagrammed was a leather satchel with fantastic pop art-inspired patches, like stickers that someone had carelessly slapped on. We're talking decadent, Jeremy Scott-levels of cartoon characters. And once I saw it, I found that purse everywhere, but always with slightly different variations. Some of the purses were blanketed in appliqués, like this high-end bag was just a middle school assignment pad, while others just had a single, quirky detail. Sometimes it'd be a fried egg. Other times, a smiley face. Mickey's hands were another popular image, as were personalized initials.
After some digging, I found out that these purses that I was drooling over were designed by Anya Hindmarch, the British designer behind the infamous "I Am Not A Plastic Bag" canvas tote that sold out almost instantaneously in 2007. Her designs are whimsical and colorful and bright and childlike, adding a much needed levity to what can sometimes be stuffy fashion "rules." My personal favorites in this collection are her homage to cereal box characters with a bright blue, structured leather purse featuring Tony the Tiger, and the "Happy Shopper" bag, made of python instead of cheap plastic.
It turns out that the details I thought were maybe embossed into the leather were actually stickers, made of leather, and are meant to be used on anything from your purse to your cell phone case. The designs range from a set of eyeballs to a hashtag. On her website, Hindmarch offers an interactive sticker shop so that you can design your own dream purse.
The biggest problem with all of this? They're way out of my price range, at over $2000 for an individual bag and almost $70 per leather sticker. And even if the bags weren't too expensive (because, you know, a girl can dream, and who needs rent when you have a purse with Tony the Tiger on it, am I right?), the majority of the most whimsical bags are sold out.
Lack of resources has never deterred me, though. It's time for the Pinterest-friendly DIY solution to making your own Instagram-worthy, personalized pop art patch purse to rival anything you've seen at NYFW.
The Bag
The first step is to pick the proper purse. In her virtual sticker shop, Hindmarch offers three types of bags to customize: the day bag, the clutch, and the purse. And the colors she chooses are either soft neutrals, like a dove grey or off-white, or bold colors, like a royal blue or Knicks orange. The trick is picking a bag with a simple design to provide a proper canvas.
I like this bag from Steve Madden for a day bag, which comes in a fairly traditional style but an eye-catching color.
Steve Madden Baudrey in Blue, $98, SteveMadden.com
This clutch from Forever 21 comes in red and a more subdued grey. American Apparel also carries leather pouches in a wider variety of colors that you could easily customize.
Pebbled Faux Leather Clutch in Red, $15, Forever21.com
If you want something even smaller, more in the "purse" category, as defined by Hindmarch, then I'd recommend this metallic number from ASOS.
Warehouse Zip Top Clutch in Pewter Metallic, $46, ASOS.com
The Patches
Once you have your proverbial canvas, it's time to pick the patches. This is a case where simpler is probably better, particularly when it comes to shape. A more intricately shaped patch is going to be harder to attach later, and if you're going for a pop art look, then you probably want to err on the side of straightforward designs.
Smiley faces work well, like this one from the Esty store batchesOpatches.
Vintage 1970's Laughing Smile! Embroidered Patch, $8, Etsy.com
It's not a personalized purse unless if has your initials on it, and I love this lettering. It reminds me of the Letterman jacket I never had.
Golden Yellow Script 2" Letter "M" — Iron On Embroidered Applique, $3, Amazon.com
This is really one of those situations where you just have to spend some time sifting through the Internet to find the patch that suits you best, because there are thousands of options out there and infinite permutations. You can also find patches with sequins and, if you're really ambitious, leather patches. Bonus is that all of the patches I found were less than $10 each — nowhere near the $70 of the leather stickers, but they look just as good.
The Glue
Once you have the purse and have settled on the patches, it's time to assemble. Now, since we're working with leather (or faux leather, as the case may be), I'm sure you're expecting me to start rattling off instructions about how to use an awl and how to be really careful with a needle when going through thick material. Wrong. I can barely sew buttons onto shirts, so there's no way I'm expecting either of us to hack away at a perfectly nice purse with anything sharp.
Enter super glue. Leather glue or cement, to be specific.
Fiebing's Leathercraft Cement, $6, Michaels.com
I can speak with confidence that this will work, because for Christmas two years ago, I customized a pair of velvet loafers for my boyfriend with patches of puppies glued on and they're still stuck to the shoe today. They looked great. Q-tips will be your friend in application, to make sure you get the glue around the border. If you're feeling ambitious about using an awl and sewing the patches, you should feel free to give it a shot, but don't expect me to give you any helpful advice on that front. (With that disclaimer, I actually think going that route will make it look Frankenstein-y rather than sleek. The stickers on the originals are cool in part because they're actually stickers, and sewing the patches onto the purse may ruin that illusion.)
So slap those patches on, let the glue dry overnight, and you'll be set for the season. We can all continue dreaming of the day we get our own leather stickers for our own fancy purses, but for now, this will do.
Images: Instagram/ireneisgood; sofievalkiers; chiaraferragni; Courtesy Brands