Xtina Covers Britney & It Will Blow Your Mind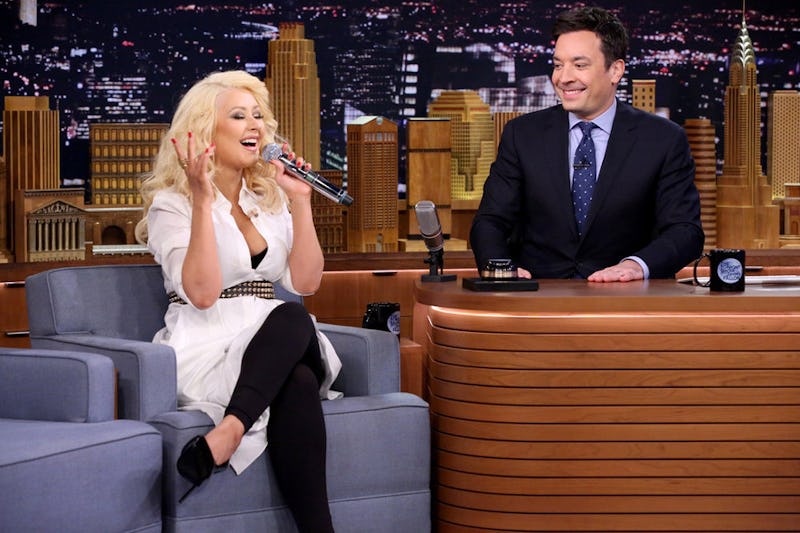 Jimmy Fallon has brought us many amazing moments on The Tonight Show , including lip sync battles, water-soaked sexy men, and a Saved by the Bell reunion, but one of his best yet may have just happened. During a game of Wheel of Musical Impressions, Christina Aguilera's Britney Spears impression was so spot-on that I thought that Brit-Brit was in the room. (And when Fallon asked if she knew Spears, Aguilera joked, "Little bit, little bit.") The Voice coach set "This Little Piggy" to "Baby One More Time" and if you close your eyes, you probably can't tell the difference. Before that, she mastered Cher singing the Folgers' jingle and Fallon did David Bowie's rendition of "Grand Old Flag, but none of the other tracks garnered as much laughter and applause as "Little Piggy."
Another fun fact we learned about Aguilera was that she falls asleep to the Golden Girls theme song every night. It's undetermined whether she watches the show nightly or just jams out to "Thank You For Being a Friend," but when she put on a Shakira voice to sing it, it was clear she's a big fan. Note to future Voice contestants: Golden Girls may be your way to Xtina's heart if she's on the show next season. Watch her amazing Britney Spears impression below.
Image: Douglas Gorenstein/NBC