These 'Frozen' Sequels Need To Happen Too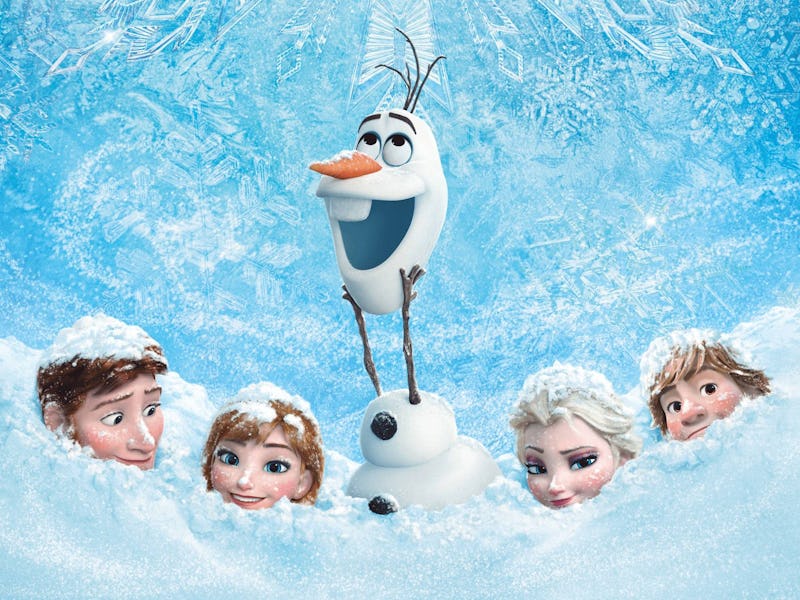 There hasn't been such a huge obsession with a Disney movie like Frozen since the golden era of Beauty and the Beast, The Little Mermaid, and The Lion King. There has to be something about animated musicals that make kids go from zero to borderline psychotic in about 30 seconds. One bar of "Let it Go" and the nearest 8-year-old will soon be in a fit of twirls and "singing." (I mean, can you blame 'em though? That's one catchy song.) Frozen is a phenomenon that seems like it just won't quit — the film was released about 18 months ago and its momentum has barely slowed. Every time a new parody gets released or talk of a Frozen 2 starts buzzing, it takes the Internet by storm.
Considering Frozen has gotten its own ride and the Norway Pavilion at Epcot, it's clear that Disney has a longtime investment in what will surely become a franchise. However, any Aladdin or Monsters Inc. fan will tell you, the sequel is never quite as good as the first.
Nevertheless. I have very little doubt that Frozen 2 wouldn't be a huge success — Hollywood loves sequels, and fans of the film would absolutely love to see more of Elsa and Anna being the awesome princess sisters that they are. But, as I'm sure fans are wondering: why stop at Frozen 2? Here's a series of sequels Disney should DEFINITELY invest in:
Frozen 3: Olaf's Revenge
Olaf becomes an embittered vigilante and fights crime around the world. He hides under a trench coat that is also filled with kittens.
Frozen 4: Ice Capades
A 3-D spectacular starring the voices of One Direction as tiny woodland creatures dancing on ice.
Frozen 5: Down Under
What happens when the southern hemisphere freezes? Elsa to the rescue! Meanwhile Anna and Kristoff enlist the help of the entire kingdom to knit sweaters for all of the kangaroos and gators.
Frozen 6: Escape From Avalanche Mountain
Avalanche Mountain is in danger of an underground volcano erupting! Anna and Elsa enlist the help of American geologist Max Freedom to stop it. Voiced by Pierce Brosnan.
Frozen 7: Trapped in Ikea
All the umlauts one animaed film could muster.
Frozen 8: Cool Runnings
The cast returns to help the Jamaican bobsled team once again go for Olympic glory!
Frozen 9: Galactic Snowball Fight
Arendelle decides to join the international space community and sends Elsa to a frozen planet to see if its habitable. There, she meets a frozen land of snow creatures and falls for the planet's leader, Zach Coldstein.
Images: Disney your-reaction-gifs heartsandmagic foxadhd disneysdreamings/Tumblr