What Are Andre & Rhonda Up To On 'Empire'?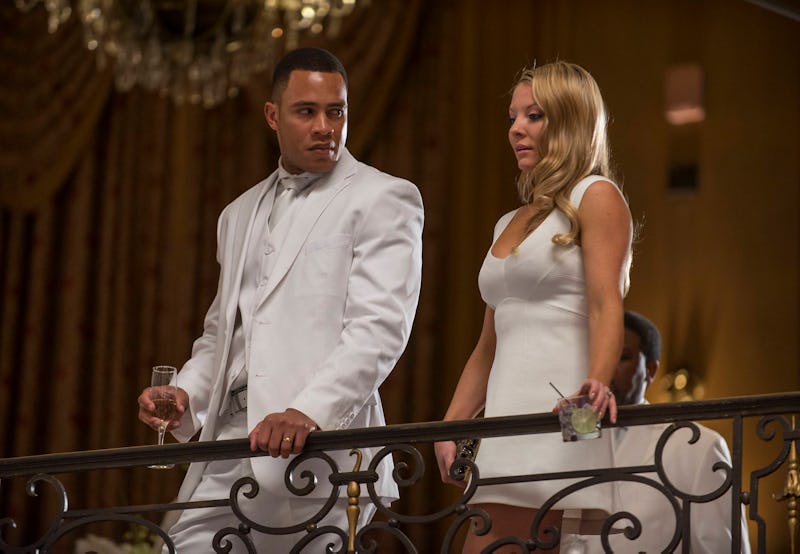 FOX's Empire has been so focused lately on the feud between Jamal and Hakeem that it's easy to forget that Lucius Lyon actually has three sons, not two. Lucius' oldest son Andre isn't a singer like his two younger siblings, so he doesn't get as much musical focus as they do; and right now he's content to be a backstage strings-puller rather than an in-the-spotlight main player. At the urging of his Lady Macbeth-ian wife, Rhonda, Andre has been plotting his way to ownership of his father's company by pitting Jamal and Hakeem against each other in hopes that they'll destroy one another and pave the way for an Andre takeover.
As of the end of the most recent episode, "Our Dancing Days," Andre's scheming seems to have been put in jeopardy by his own bipolar disorder. After Lucius revealed the truth of his ALS to his family, Andre reacted explosively, running out only for Rhonda to find him sitting fully clothed in the shower, weeping. With only five episodes left in the show's freshman season, will Andre's illness catch up with him before he has time to fully implement his plan? Let's look at the press releases for the upcoming episodes and see what shenanigans he might be up to.
This week's episode, "The Lyon's Roar," focuses on Lucius, Jamal, and Hakeem recording a family legacy album. So what will the non-musician in the family be doing in the meantime? The only mention of the eldest son in the press release says, "Andre struggles with some inner demons." OK, that's vague. But assuming that Andre's "inner demons" are literal and not metaphorical, it seems like he'll be spending the episode attempting to get his condition under control again.
Next week's episode is titled "Unto The Breach," a clear reference to a famous quote from Shakespeare's Henry V, spoken in the heat of battle: "Once more unto the breach, dear friends, once more." It doesn't sound like Andre's battle with his bipolar disorder will be over this week, as the press release states that, "Andre is pushed way beyond his limits." Sounds like things aren't going too well for him.
Fret not, Andre fans: things are looking up for him in the following episode, "Sins Of The Father." That hour will feature a guest appearance by Academy Award winner Jennifer Hudson... and Andre will be heavily involved in her storyline. "Andre forms a new musical relationship with Michelle (guest star Jennifer Hudson)," says the press release. If this "Michelle" is anywhere near as famous as the woman portraying her, that will be a major coup for the eldest Lyon scion.
Should we be reading "musical relationship" in heavy quotation marks? We've already seen Andre cheat on his wife once, swapping sexual favors with Deputy Mayor Alvarez in exchange for information on the witness to Bunkie's murder. It was revealed that Rhonda not only knew about this, but approved of it, so she wouldn't necessarily be opposed to Andre sleeping with Michelle to get ahead.
Bipolar disorder, extramarital affairs... Will anything drive a wedge between this seemingly inseparable couple? Although Empire as a whole may have been inspired by King Lear , these spouses seem to be pulled straight from the pages of Macbeth. A power-hungry wife urging her husband to commit acts of cruelty he may not have otherwise had the will to carry out on his own? That sounds exactly like the ill-fated King of Scotland and his wife.
If Andre and Rhonda's trajectory follows that of their Shakespearian influence, then Rhonda will end up so wracked by guilt over what they've done that she'll do herself in. While I can't really see the ice-cold Rhonda flinging herself from a tower like Lady Macbeth, perhaps she'll unravel to the point where she somehow incriminates herself and her husband, leading to her own downfall.
And as for Andre? Macbeth's reign as king was a brief one, as he was eventually killed in battle by his bitter rival, Macduff. Ever since his ALS diagnosis in the very first episode, everyone has been wondering when Lucius will die. What if it's not the patriarch we should be worried about at all, but his son? As Rhonda said, bipolar disorder can be quite dangerous if it goes untreated. The death of Lucius's oldest child — not to mention Empire's savviest businessman — would certainly be a development shocking enough to propel the show into an even more tumultuous Season 2.
Images: Matt Dinerstein (2), Chuck Hodes/FOX