9 Ways To Help Ease The Pain of 'Parks' Ending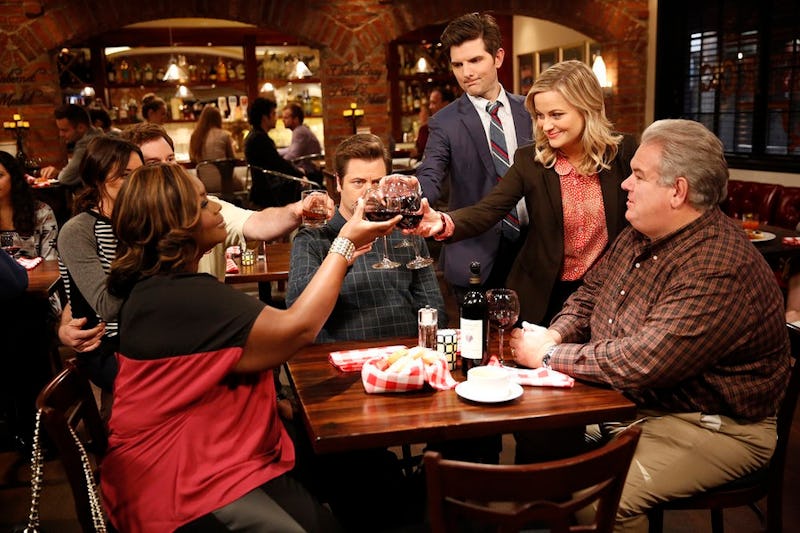 The time has come for Parks and Recreation to close its City Hall doors, and even though we knew it was inevitable, it doesn't make it hurt any less. On Tuesday, the seven-season series that gifted us with Amy Poehler and the Greatest Town in America, Pawnee, Indiana, will end with an hour-long series finale. Good luck not sobbing through it, because even though it's sure to be rife with recurring characters and call-back jokes (and hopefully a return of the Tammys), it's the end of the wonderful world of Pawnee and all its incredible people, especially Joan Calamezzo.
Though it's going to be rough getting over the absence of Parks in the Tuesday night slot, at least you can be comforted knowing the show's going out with a bang, not a whisper. Even though it was almost-cancelled nearly every season, Parks persevered, and thank god it did, because where would I be without Perd Hapley or Li'l Sebastian? And if you find yourself in that dark, post-Pawnee depression, there are ways to fill the void. Life can go on; there are plenty of outlets in which to pour your Parks grief, even though there's LITERALLY nothing that could replace it in our hearts.
Get Reacquainted with Pawnee
Even though the first season was all but a disaster, if you've stuck with the show throughout, you can somehow look back with fondness on the clumsy first 6 episodes. Or you can just start with season two and power on through the rest; season 4 is the high point, but honestly, they're all quality. If you want to pick and choose the best instead of getting to know the weirdos of Pawnee all over again in chronological order, Indie Wire has put together a good list of the top ten and a bunch of honorable mentions. But I don't think we can be friends if you don't think "The Fight (season 3, episode 13) is the best Parks ep of all time.
Eat Your Feelings
There are plenty of epicurean delights that abound in Parks and Recreation. Chris Traeger is a health nut, Ron Swanson's religion is bacon-wrapped meats, but there's no love like Leslie's love for waffles (and other breakfast foods). Even though you can't eat 'em at J.J.'s Diner, you can still eat your feelings by making your own delicious (but bittersweet) waffles.
Appreciate Your Galentines
Yeah, yeah, Valentine's Day just passed, but you can really appreciate your gal pals any day of the year, not just February 13th — the day Leslie Knope decreed as Galentine's Day. Brunch is mandatory. It's like Lillth Fair, minus the angst!
It's Okay To Laugh
You don't need to mourn somberly the end of Parks — that's not what the cast would have wanted. Laughter is the best medicine, and even though Amy Poehler, Nick Offerman, Aziz Ansari and the rest are DEFINITELY at their best when they're together, they've all got kickass careers outside of the show because they are goddamn hilarious. Watch: Aziz Ansari's comedy specials if you wanna hear Seal impressions and dick pic jokes; Nick Offerman's "American Ham" if you want some Ron Swanson-esque advice for a better life; Amy Poehler in Baby Mama, Wet Hot American Summer or We Came Together, or anything she ever did on Saturday Night Live; and Adam Scott's last show, Party Down, where he plays an actor/cater-waiter.
Some Reading Material
Even though Leslie Knope hates the library, what's better than supplementary reading material!? Buy a copy of Pawnee: The Greatest Town in America so you can fondly reminisce in its bizarro history. Zorp is dead. Long live zorp.
Every Great Work of Art Has a Message
Even though there's no topping Jerry/Garry/Larry/Terry's portrait of Leslie Knope as Diana and Tom Haverford as as a naked baby, there's plenty of celebratory art out there so you can immortalize your Parks love forever.
Bye, Bye Li'l Sebastian
The true heart and soul of Pawnee deserves his own remembrance, so just take a good long look at this Google Image search of miniature ponies. I'm not crying, you're crying. You're 5000 candles in the wind *sobs*.
Treat Yo'self
It's the best day of the year! Donna and Tom, the best Parks duo ever, and definitely the classiest, know the importance of treating yourself real good every once in a while, no holds barred. In the original Treat they indulged in fine leather goods and accupuncture, and in season seven they took it to the next level with bedazzled elbows and a stretch limo. But, as they told Ben, everybody has to find a different way to make themselves feel special. Go on, you earned it.
"The Wo-o-o-rst!"
And by that I mean the best. I recommend watching this compilation of Jean-Ralphio singing once a day until the pain goes away.
Images: Greg Gayne/NBC, m3gantr0n/Tumblr, Giphy (7)