How The 'Parks & Rec' Finale Will Actually Go Down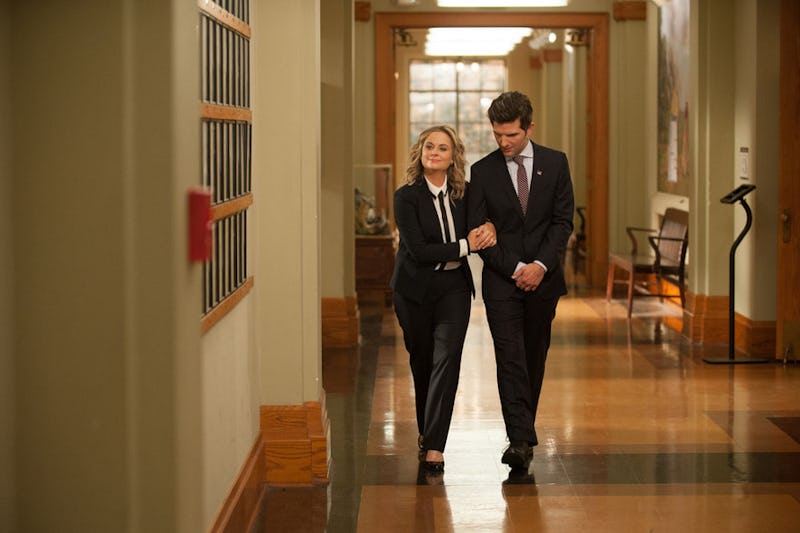 The final episode (ever!) of Parks and Recreation will be an hour long and start at 10 p.m. on Tuesday, Feb. 24. I am nowhere near emotionally prepared for this event, but how will Parks and Rec end? Season 7 has already been like a greatest hits of the series with so many infamous members of the Pawnee community returning (including the Sapersteins, Tammy II, Councilman Jeremy Jamm, J.J. of J.J.'s Diner, Perd Hapley, the Douche, and Joan Callamezzo). And though I love the assortment of Pawnee weirdos, the last episode should focus on the main ensemble of Parks and Recreation — they are who have made the show so special since 2009.Of course, the show will need to tie up some loose ends. Like, we better see Ben Wyatt win his election for Congress — especially with the fact that Ben and Leslie are moving to Washington D.C. (How perfect would it be for them to have a home in D.C. and in Pawnee? Can you imagine Leslie not having a place to return to in Pawnee?) And I imagine that Andy, April, Ben, and Leslie will go on double dates in our nation's capital... awwww.
I once questioned whether we would see April become pregnant in the final season, but now I hope an April pregnancy won't be revealed. The show has been focusing on her finding the perfect career (how refreshing) and with her starting a new job, I think the pregnancy arc just wouldn't make sense right now. And even though Tom and Lucy are engaged (uh, whatever happened to Tatiana Maslany?), we don't need another episode featuring a wedding. We can just know that Tom is getting a happy ending.
So with Garry as mayor and Donna headed to Seattle, how will the final moments in Pawnee actually go down? Here are things we know will happen in the series finale of Parks and Recreation, "One Last Ride." Get some waffles for consolation ready!
The Gang Will Do One Last Parks & Rec Job
Based on the promo video of "One Last Ride," Leslie will convince the old Parks & Rec Department to help a Pawnee citizen (Jon Daly) with a broken swing. Even though none of them even work for the department anymore, I have faith they are up to the task with Leslie at the helm.
Ann Perkins & Chris Traeger Will Return
TVLine reported back in November 2014 that Rashida Jones and Rob Lowe would be returning in one episode of Parks and Rec's final season. Considering we haven't seen them yet (and Feb. 24 is the last episode), we know the pair will be back — and hopefully with their toddler Oliver! I'm also requesting another triplets cameo. I need to see Sonia (named after Sotomayor I suspect), Stephen, and Wesley (The Princess Bride reference?) at least one more time. Plus, how cute would it be to see Ann and Leslie's children on a playdate?
But No Mark Brendanawicz
Sorry, Brendanawicz fans. Paul Schneider will not return to Pawnee's city hall after leaving as city planner in Season 2. Yes, his replacements of Adam Scott and Rob Lowe were fantastic additions to the show, but I wish Parks and Rec would at least acknowledge that Mark existed (I don't believe he has been mentioned since he left the show). Regardless of what I want, I won't hold my breath for a Mark Brendanaquits joke.
It Will Be Dedicated To Animal Control Officer Harris
Harris Wittels, an executive producer on the show, tragically died on Feb. 19 at just 30 years old. Wittels also was onscreen throughout the series as stoner animal control officer Harris. He was friends with many of the cast members and the final episode will have a tribute to Wittels.
Ron & Leslie Should Have One Last Heart-to-Heart
After Season 7 started with Leslie and Ron not being friends, we have earned a final moment of shared wisdom between these two. Ron and Leslie's relationship is one of the most cherished on the show, so it just wouldn't be right to not have them bond one last time together. I wouldn't be upset if we saw Ron's family again either (c'mon Lucy Lawless!).
The Last Words Of Each Character Will Be Meaningful
Co-creator and executive producer Mike Schur talked to TV Guide about the difficulty of writing a series finale. "I will say that I paid a lot of attention to the very last words that each character says...we wanted to make sure that they were in character or appropriate so I hope that people feel like we got that right at least," Schur said. Schur maintaining the truthfulness of each character until the very end is one of the reasons Parks and Rec has maintained its awesomeness for seven seasons.
So farewell, Parks and Recreation. I know whatever else the series finale has in store will be funny, touching, and heartfelt — and I will need a good, long hug afterward.
Images: Chris Haston, Colleen Hayes (2)/NBC; jessicascapshaw, katiesbishop, theavc/Tumblr