How Many Episodes Does 'Glee' Have Left?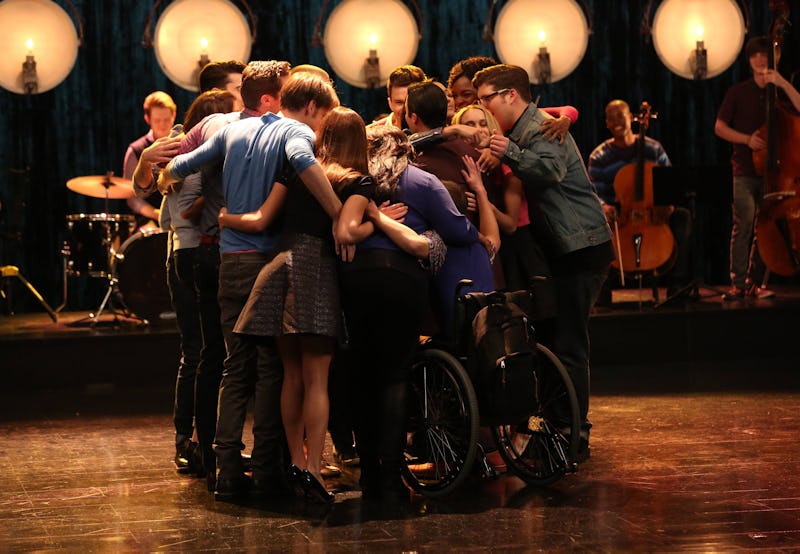 Let's try and get through this without getting too emotional, deal? Glee 's sixth and final season is more than half way over — MORE THAN HALF — and the series finale is among us. Freak out accordingly. This season has spent the majority of its time bringing old friends back together to celebrate the long road the show has taken. Some of it has been kind of corny, some of it seems like the perfect trajectory for some of the most loved characters. There are a lot of storylines that need to be wrapped up in a few short episodes, so how many episodes does Glee have left in Season 6 to do so?
It might feel like we just started Season 6 of Glee — we did just start it — but just like that it is coming to an end. The show only has five more episodes remaining (from Feb. 27 to March 20, its finale). Luckily, there will be a new episode each week, which is great news because sitting around for a new episode of a show that you know is coming to an end is really no fun.
The remaining episodes lead up to a finale episode called "Dreams Come True," which is kind of spoiler-y in a way, if you really think about it, but at the same time how do we think this show is going to end? With people's dreams coming true, of course. Sure, there's bound to be some tears and nostalgic flashbacks that are sure to break our hearts, but when it comes down to it, the show has to end on a Glee-ful note, right?
Before the series comes to an end, we obviously need to see this Sam and Rachel thing end. Am I the only one who just isn't buying this Samchel relationship? It feels unwarranted by both characters, and I'm hoping that by the end of the season, they'll realize what I realized many moons ago. Also, let's really break down Sue's character before the series finale. No, I don't mean emotionally break her down to tears. We've been getting glimpses of good Sue throughout the season, I think in the finale we need full-on softy Sue. That's just how I "C" it.
The cast of Glee just wrapped filming on Feb. 21. Some of the stars of the show posted photos of their final days on set, and to really get you emotional about the end of the series, let's look at a tug-at-your-heartstrings photo by Lea Michele.
Images: Mike Yarish/FOX