Will A 'Breakfast Club' Reboot Ever Happen?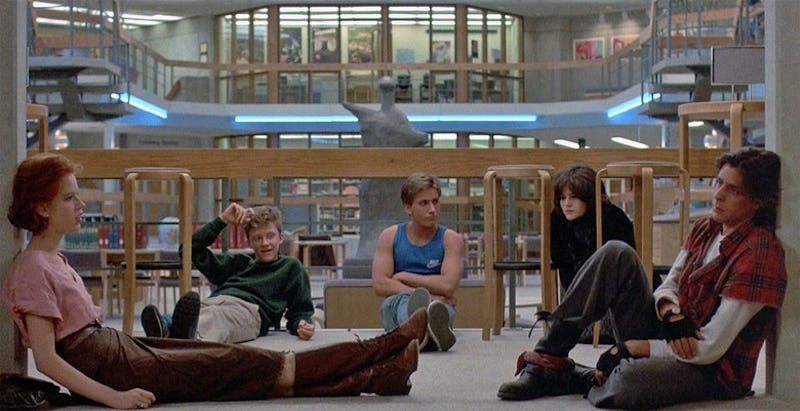 On March 16, the newly remastered version of The Breakfast Club will premiere at South by Southwest in honor of the beloved film's 30th anniversary. In the decades that have passed since the film's debut, viewers have certainly heeded the closing song's plea — we certainly have not forgotten about The Breakfast Club. John Hughes' acclaimed portrayal of a 1980s high school has transformed into a cinematic classic that has endured the test of time (and is one of the few '80s artifacts my parents love that I don't find totally lame).
Though I am hesitant to meddle with the perfect chemistry of the original cast, in the spirit of all of these reboots lately (shout out to my lady Ghostbusters), I can't help but imagine (and fervently hope for) a Breakfast Club reboot someday. Clearly I've spent too much time pining for a Shermer High School Detention Crew, Class of 2015. Thus, I have obviously carefully hand-selected the perfect cast for any future Breakfast Club reboot (I'll be looking for my casting credit, Universal).
Without further ado, I present the cast of The Breakfast Club: Even More Breakfast
John Bender (Judd Nelson): Adam Driver
Adam Driver is all things John Bender: grungy, sexy in a confusing way, and capable of emotional depth beneath that rough exterior. Bender is a jerk with a heart of gold and Driver's emotional range and tough demeanor would make him a great update to Bender's signature badassery.
Andrew Clark (Emilio Estevez): Dave Franco
Ah, Dave Franco. Equal parts attractive, smug, and funny. Franco is a member of an elite Hollywood family, just like Estevez, and his combination of devilish charm and All-American good looks would make him a perfect candidate for a bro-ified Andrew Clark (the jock of the 21st century).
Claire Standish (Molly Ringwald): Emma Stone
Claire Standish was pretty, prissy, and headstrong. Emma Stone's ability to pull of being a likable ginger would probably get her the role by default but she has the spunk to pull off an updated Claire Standish, the preppy princess who is aghast at the ban on iPhones in detention. Let's just hope Stone would fare better than Molly Ringwald in her post-Breakfast Club career.
Allison Reynolds (Ally Sheedy): Ilana Glazer
Allison Reynolds made awkward-hot a thing way before it was cool and, if Ilana Glazer's character on Broad City is any indication, she'd be the perfect fit for Allison Reynolds' weirdly wonderful misfit.
Brian Johnson (Anthony Michal Hall): Will Poulter
If you've seen this guy in Meet the Millers, I really don't need to say anything more. If you haven't, just look at this photo and it's easy to see why Will Poulter would be great as the resident, video game-loving nerd of Shermer High. It's about time Michael Cera passed the torch on to the next token nerdy white actor.
Richard Vernon (Paul Gleason): Kathryn Hahn
It's 2015 and it's time to get some lady bosses up in 'dis b-fast club. Enter Kathryn Hahn. This funny lady knows how to rock the role of the snarky, imposing authority figure (a la her Jennifer Barkley in Parks and Recreation ). Kathryn Hahn would be the perfect refresher for the persnickety Principal Vernon.
Carl the Janitor (John Kapelos): Emilio Estevez
There is no tale more classic than the jock who peaks in high school, only to quickly realize his life is all downhill from there as he rapidly develops a beer belly and early-onset male pattern baldness. Casting Estevez as Carl the Janitor would be both hilarious and a great homage to the original film.
Images: Universal Pictures; Giphy (7)