Can Manicures Be Feminine And Feminist?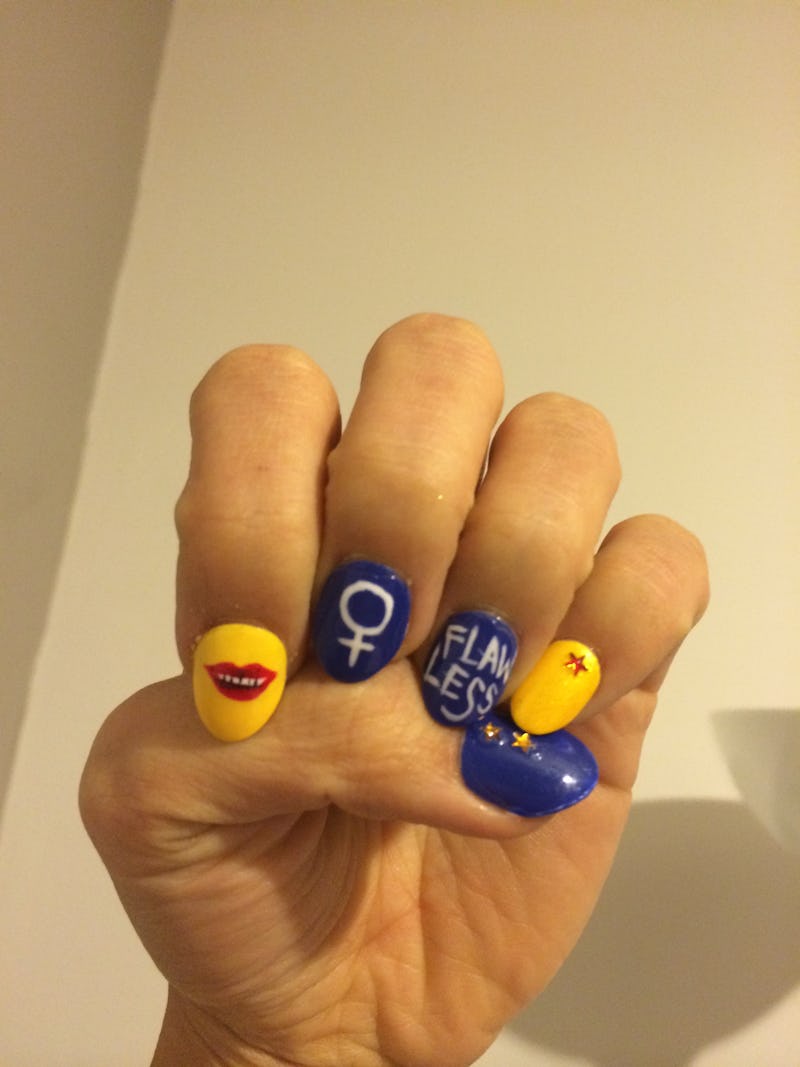 Is getting a manicure feminist? Is feminist nail art really a thing? These were the questions at the forefront of my brain as I set up an appointment with professional Brooklyn-based nail artist Claire Beaudreault. Once there, we discussed historical and current role models of feminism across generations — women unafraid of expressing their feminism through the femme. The glamorous Gloria Steinem — who did not look down on parading herself in a more feminine manner with shorts skirts and all — was mentioned, of course. (Even though as she aged, she questioned the delicate nature of her long nails.) Then there's Beyoncé to admire, who doesn't seem to second guess any of her actions and gets her hair and nails done all the time, too.
The thing is, getting a manicure seems almost mandatory these days. We know that women, especially, are under an expectation to appear groomed from head to toenail. But looking perfect can be exhausting. Even looking natural or having a clean, clear cuticle takes work. Sarah Jessica Parker has admitted that she rarely gets her nails done. So whether you're an icon, a housewife or a CEO, you can choose to follow, question or even turn down cultural standards as you see fit.
According to Good Housekeeping, women in Egypt and China started painting nails with natural dyes as early as 2000 B.C. to signify rank and class. As this Reddit conversation notes, it's queenlike — royal behavior and adornment. In 1916, the modern American automobile revolution spawned the lacquered offshoot that we now know as nail polish for fashion. And in 1978, acrylics were introduced. (We now have gel, too!) Today, it's a giant beauty industry with so many colors, textures and fun nail polish names (I've always wanted that job). It's a standard part of backstage beauty at fashion shows and often feels essential to her overall look.
With fingernails as canvases, painted nails can be seen as a form of beauty porn or feminist art. So Claire and I wanted to come up with a design that would literally look strong and serve as simultaneously empowering and feminine motivation.
On my left hand, we decided to pay homage to the first wave of feminism, starting with a base of longer tips. We payed respect to the Rosie the Riveter poster campaign and reinvented the use of bold, primary colors. As we got the decals done, we discussed our hopes and dreams that spanned from the creative to the traditional. The point was that we supported each other and realized we could accomplish whatever we wanted, even if the primary topic was ultimately "nails." Our joint outlook was that we were both flawless, proud and unafraid of speaking our minds. And we hoped to transpose that onto the nail art.
In the end, my hands looked like Wonder Woman's. Polish became power and this project was the result of what happens when you collaborate. I couldn't help but glance down at the word bubbles, whilst reminding myself that we can do whatever we put our minds to, especially together.
Upon getting home and starting to type on the computer, my right hand felt somehow freer whilst tapping against the keyboard, even though I was slightly self-conscious that the left side nails might pop off. But the experience was symbolic of being aware of standards and behavior. One nail did, in fact, fall off, and I knew I could use glue to put it back on. But I decided to let myself be imperfect. We know we have the tools, but we don't have to fix everything. We just need vision.
So, in fact, my nail art did remind me to be motivated by the movers and shakers who came before me and bow down to the greatness that is Sasha Fierce. I felt proud to be a woman, fingernails and all. Post-manicure, I decided to take a break and let my cuticles breath — but who knows what I'll do next? I can paint the sky, my future, and my fingernails as I wish, after all.
Images: Author's Own; Giphy; Instagram/beyonce