'SNL', Your Gay Jokes Are Tired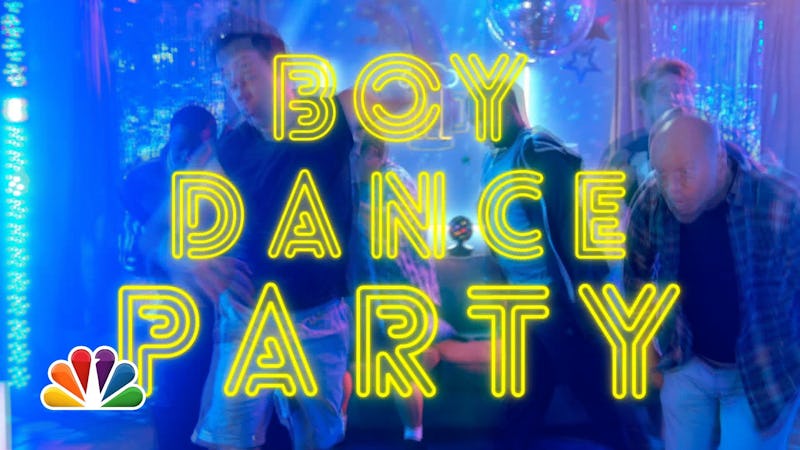 This week's Saturday Night Live was a quieter episode. Last week was a Miley Cyrus clusterf*ck, leading to a week of talking MORE about Miley Cyrus than usual, and the week before that was the awkward and un-funny season opener with Tina Fey. This past Saturday featured Bruce Willis as host and Katy Perry as the musical guest (she's been soooo boring lately). The episode was adequately mediocre, with a kind of good sketch about the government shutdown using Gravity. Overall, though, it was a half-assed episode, with one particular dark spot: the digital short "Boy Dance Party."
The sketch opens on Bruce Willis and his BROS (almost every male cast member) watching a manly game of football, being men, when his wife (Vanessa Bayer) leaves to go dancing with her gal pals. Of course, the bros don't want to go because they are drinking some brewskis with their broskis, buuuut, as soon as Bayer exits, the boys turn on the strobes and the dubstep and just let loose to the groove and have their own boy dance party.
The entire premise of the sketch is that it's a bunch of straight guys, acting like gay men. Because we all like to laugh at gay men. In fact, the first lyric of the song they're singing is "It's not homoerotic" (thanks Taran Killam — as if you haven't played enough gay characters on the show already).
Daniel D'Addaradio at Salon summed up the frustration beautifully:
The thing is, it is homoerotic — a badly executed mishmosh of bodily ogling, as male cast members twerk and shake Killam's graphically rendered penis-in-gym-shorts in one another's direction. A bunch of straight guys dancing together because it's funny to act like gay people do, with the explicit instruction that it's nothing so gross as homoeroticism! The term "No homo," used after a compliment directed at another man, is tired to the point of exhaustion in music, but to Killam and his cohort, it appears to be the pinnacle of comedy.
For me, it's not so much that the joke is offensive (which it is) but it's so ... tired. SNL insists over and over to make the hilarious joke of straight men acting "gay," as if there were a fixed set of characteristics that gay men possess. SNL has gotten flak for this before, with the beloved character of Stefon on Weekend Update and his sexual tension with Seth Meyers — even though Stefon is funny and outlandish, even that sketch's crux is that Seth Meyers, a straight man, if being courted by Stefon, a gay one.
What gives?! SNL tries to be edgy and subversive, but this season — their 39th — has their second EVER openly gay cast member, Kate McKinnon (the first openly gay cast member was Terry Sweeney in 1985). Not sure if there are any gay writers on their writing staff, but even if there isn't, there has to be at LEAST one staff writer that is getting tired of the repetitive and old gay jokes, right?
I want to like SNL — I grew up watching it, and they definitely have some star players right now (I think Kate McKinnon is hilarious and Cecily Strong is really talented), but their content seems increasingly boring, unfunny, or just... bad. I hope they pick up as the season goes on, and for god's sake, I hope they put the gay jokes to rest.