Definitive Ranking Of The 'PLL' Shirtless Scenes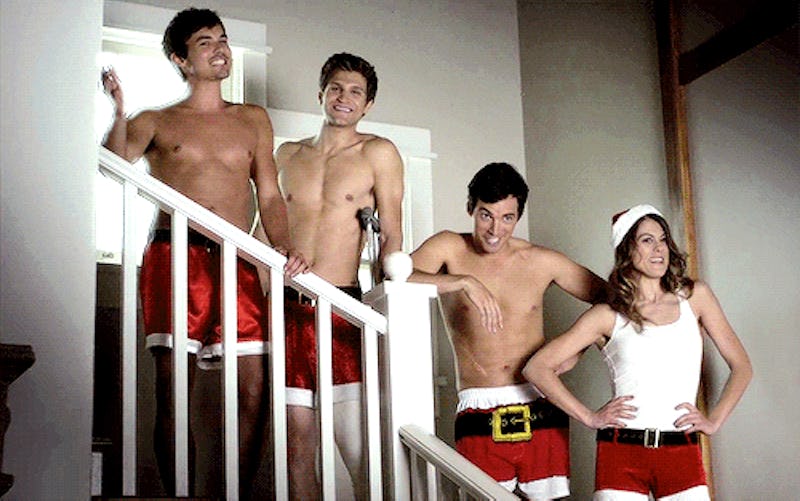 During most episodes, Pretty Little Liars is pretty busy doling out intense plot twists and new mysteries about who A could possibly be. But every once in awhile, the show will be kind to the fans and have one of the boys take their shirts off. For good reason, of course: The cast of this show is phenomenal in both talent and looks. Personally, I always enjoy a good Pretty Little Liars shirtless scene. There have been quite a few through the seasons, and, though the actors say they always dread seeing one in their scripts, they are truly the best.
"When there has to be any awkward clothes displacement, everyone starts to laugh and goes 'ooohh,'" Keegan Allen, who plays Toby, said in a featurette for the series. He was the first boy to go shirtless and he's hardly stopped since. "I panic a little bit," he said of those scenes. But the fans all seem to agree that the guys look awesome in all of their shirtless scenes. (Except for the creepy guys and the devastating scenes of course.)
Turns out there are a lot of different uses for a shirtless scene that doesn't always just involve looking hot. I ranked 23 of the Pretty Little Liars' shirtless scenes from creepily traumatizing to downright sexy. Read on to see if you agree!
23. When Caleb Got Shot
Tyler Blackburn doesn't have nearly enough shirtless scenes, and this one doesn't even count because he's only stripped down because he was just shot. I demand more non-traumatizing shirtless moments, please!
22. Detective Wilden Gets Shirtless & Inappropriate
Wilden was the worst parading around in Hanna's house in a towel like he owned the place.
21. When Wren Wanted a Towel
This is back before I heavily suspected him of being A. But as cute as he may be, he was still hitting on his girlfriend's sister, which just proves he was a jerk from the start.
20. Remember Ian?
Melissa's boyfriends loved shedding their shirts, which honestly made them even creepier when they were doing it around a bunch of underage girls.
19. Self-Satisfied Ezra
Look at how smug this guy is knowing he's got Aria in the bed next to him. His attitude is kind of a turn off in this scene.
18. Shirtless Ezra Giving Life Advice
Shh... I can't focus on anything you're saying when you look like that. Just chill with the life lessons for like two seconds, teach.
17. Gangster Toby
That do-rag ruins everything about this.
16. Noel Kahn Almost Bares All
We only got to see Noel Kahn's chest once, but it was a good few seconds while it lasted. Of course Noel is also kind of the worst, which taints it a bit.
15. Aria Dreams About Jason
A little creepy, but also hot.
14. This Random Guy Riley That Aria Hooks Up With
When she parties at a college in Syracruse, Aria meets up with this guy and invites him back to her room to help her get over Ezra. We never see him again, but I'm glad we got to see his abs while we could.
13. Jason In the Hospital
Poor Jason. Still looks hot though!
12. The Original Jason Wasn't Bad Either
Before Drew Van Acker, Parker Bagley was Ali's brother, and he was just as hot.
11. Mike's All Grown-Up & Buff
Of all the men on the show, little Mike changed the most. The years were very kind to him.
10. Jason's Pick Up Basketball Game
He's always super shady and moody. But I can't deny that he's also hot.
9. Just Doing Some Yard Work
Casual, Toby. Real casual.
8. Ezra In Pajamas
Whether he's A or not, I'll always love Ezra a little bit because Ian Harding is so damn adorable.
7. Remember Aria's Martial Arts Boyfriend?
A didn't take too kindly to Jake and put a bunch of knives in his punching bag. If A is someone who likes Aria, (*cough* Ezra *cough*) it makes sense that they'd want to get Jake and his killer abs out of the picture.
6. When Andrew Played Strip-Study Games With Spencer
Is Andrew A? Yeah, if A stands for abs.
5. Caleb's Steamy Shower
Me too, Hanna. Me too.
4. The Best Kind of Greeting
Hey is right.
3. Shirtless Caleb Camping Time
#Bless.
2. Toby Fresh From the Shower
Remember when Toby wasn't always in a police uniform and actually cared about the girls/took his shirt off? Good times.
1. Merry Christmas Abs
All those beautiful abs in one GIF? It's really too much.
And After Looking At All These Pictures I Realized I Am Hanna
Honestly, it's the perfect reaction GIF for Pretty Little Liars in general.
Images: Ron Tom, Adam Rose, Eric McCandless/ABC Family; ABC Family screengrab (9); iawwg, incomparablyme, scrapbookofmarauders, l05t-s0ul, sayvib-justsmile, spednut, imagine-1d-e-jb-brazilian/Tumblr; giphy; fanforum; imgarcade; Martha Sorren