Does Britt Hate The 'Bachelorette' Twist?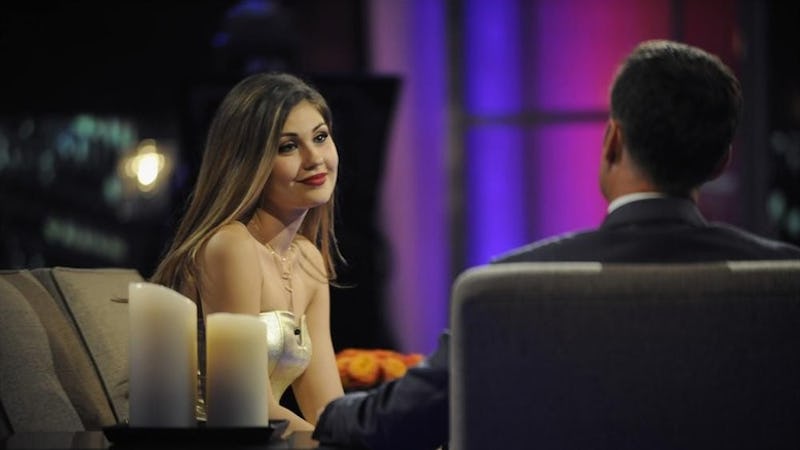 This season of Chris Soules' The Bachelor was filled with a lot of women who weren't afraid to speak their minds. Often, that meant they would complain about a date or another woman on the show, something that wasn't ideal. Unlike her competitors, one Bachelor contestant that was always smiling and never complained was Britt, leading her to be a Bachelorette for Season 11. There's no doubt that Britt's positive attitude that was noticeable before the season even began was going to be something the producers loved, but some of the women on the show questioned Britt's authenticity. So, if Britt is fake, does that mean we can trust her optimistic attitude on this new double Bachelorette twist?
The Season 11 twist on The Bachelorette is that Britt will be competing to be the Bachelorette with Kaitlyn, the third-place contestant on Soules' season. The news was announced on the After The Final Rose special following the Bachelor finale, and the reception was... not warm. Many Bachelor alums were vocal about opposing the two Bachelorettes . Britt and Kaitlyn, who have kept pretty straight faces during the early promotions of this questionable twist, seem decently excited about the upcoming season. But I'm not buying Britt's optimism about being one of two Bachelorettes. Britt would never come out and say that she didn't like this season's twist, but something tells me there's some darker feelings towards it than she's letting on. Let's explore how Britt really feels about being a Bachelorette with Kaitlyn.
This Passive Aggressive Picture
I'm sure she's soooooo excited to potentially not be The Bachelorette to Kaitlyn. So excited, she is letting her long, flowy, perfect hair smack Kaitlyn out of the way. And don't worry, the "#sisterwives" comment isn't going unnoticed. We all know there's one head sister, and we all know that Britt is planning to be it.
Britt's thoughts: "This sucks. This sucks. This sucks."
There's No We In "Me"
"Wish ME luck," Britt says.
Britt's thoughts: "Why can't it just be meeeee?"
Lookey What I'll Be Handing Out
Maybe Britt is already considering Kaitlyn out for the count. So maybe Britt's optimism is warranted, because girlfriend thinks she's got this in the bag.
Britt's thoughts: "Don't I look good handing out roses? By myself. With no one else. Especially Kaitlyn."
Posting This Picture Of Kaitlyn
Is it just me and my friends, or is there a universal rule to not post unflattering photos of your friends? I get that everyone is making faces to be silly, but Kaitlyn wasn't ready clearly, and I think Britt knew that all along.
Britt's thoughts: "It's not that I dislike Kaitlyn, but come on, I'm meant to be in the center, not sharing center."
Images: David Moir/ABC