Is Gamble The Teresa Giudice Of 'Melbourne'?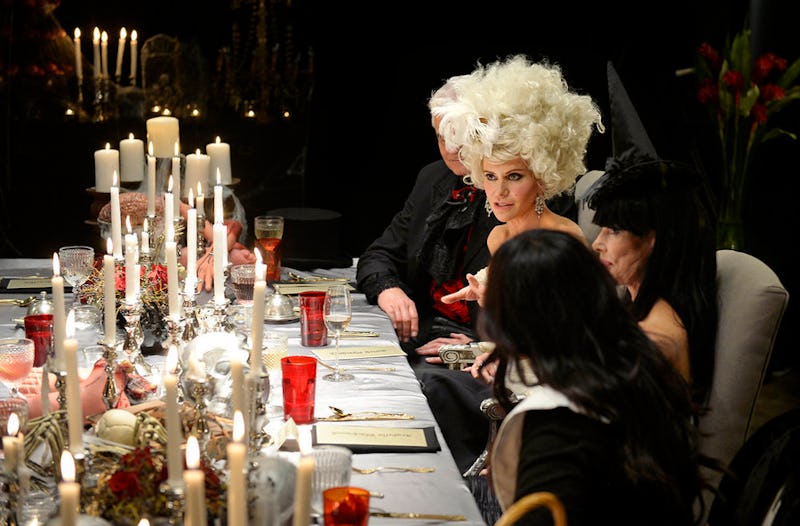 Every season of the Real Housewives franchise has that one moment everyone remembers. For The Real Housewives of New Jersey, it was Teresa Giudice's table flip; for The Real Housewives of NYC, it was (most recently, at least) Aviva Drescher's leg toss. Well, gird your loins, because it looks like new Real Housewives of Melbourne newbie Gamble is about to deliver the most memorable moment for the down under set in the next episode, and there's not enough popcorn in the world for y'all to grab when this glorious moment arrives.
Let's go into some quick background so as to properly prepare you for the drama, shall we? Word on the koala-lined street is that Gamble maybe possibly used to be a stripper and a call girl who threw sex parties in her free time when she wasn't trying to control her sassy pomeranian. (Sidebar: I've never been to Australia — do koalas actually line the streets? I imagine they gather alongside the road and hold hands like a makeshift chain link fence.) Fellow housewife Janet took it upon herself to tell Gamble that she heard from "multiple people" about Gamble's supposed stripper-y ways. Gamble took the go-to course of action among most Housewives: she denied it tooth and nail, then got marvelously aggressive and shot the messengers with verbal crossbows in her confessional. We only got to see a snippet of this next scene in the trailer for Episode 3, but it looks like Gamble is going to take it upon herself to confront Janet in a very public way at a very public party, because what's a soiree on Bravo if not the ideal setting for conflict?
It's gonna be fun, for sure, but inquiring minds want to know: How does this moment compare to some of the biggest dramatic moments from the other seasons of the Real Housewives franchise? Well, I've developed a highly scientific scale to put things in perspective — One Table is the least dramatic, and Five Tables is the most! Let's get to rating:
RHOM: Gamble's "Everybody in Melbourne" Moment
What happened: When Gamble confronts Janet about spreading rumors about her past, things get feisty. There's finger waving, yelling, alcohol, grown women dressing and acting like high schoolers — your standard Bravo fare.
3 Tables: It's still pretty early on in the season, so I don't know if I'm quite ready to call it. It's GIF-worthy for sure, but will go down in history with the broken wine glasses and ripped-out weaves? Only time will tell.
RHONY: Aviva Drescher's Leg Toss
What happened: Aviva was sick and tired of being called a phony and having all of the other women believe that she was pretending to have the multitude of ailments she claimed to have. So, in a dramatic turn of events, she said, "The only thing that's phony about me is THIS," and proceeded to rip off her prosthetic leg and toss it into the middle of a restaurant during one of Sonja Morgan's parties.
4 Tables: Because there are few things more dramatic and snort-laugh-inducing than PDD (Public Displays of Dismemberment).
RHONJ: Teresa Giudice's Table Flip
What happened: Wait, is this not common knowledge already? Do they not teach this in elementary school? Well, basically what happened was that Teresa got fed up with Danielle Staub's claims that everything that was written about her being a "prostitution whore" was a lie, and the only way to properly handle her frustration was to flip over a very nice table.
5 Tables: This is seriously the OG big Real Housewives moment. I don't care what anyone says; I will forever hold every dramatic moment to this standard.
RHONY: Bethenny Frankel's Fight With Kelly Killoren Bensimon On Scary Island
What happened: TBH, I can't quite give you an explanation, because no one really knows what was going on in Kelly's mind that night. Suffice it say that she kept calling Bethenny a "cook" instead of a "chef," and was being generally weird as hell. She ended the night by complaining about how she didn't want to continue fighting the fight that she herself started because she was too tired. So, Bethenny, in her eternal state of helpfulness, suggested that she "go to sleep." A glorious time was had by all. Except for Kelly, who then took her bag of jelly beans to bed and sobbed into her pillow about nothing.
3 Tables: This honestly pales in comparison to everything else that happened in that episode alone, but it still needed to be brought up because Bethenny and everything that she does is perfection.
RHOBH: Brandi Glanville's Slap Heard 'Round The World
What happened: Long story short, Brandi wanted to act out a soap opera scene and asked Lisa Vanderpump to slap her. Lisa didn't want to, so, naturally, Brandi slapped Lisa. Lisa's reaction was much better than Brandi deserved.
1 Table: Inappropriate behavior like this is pretty much par for the course for Brandi, and Lisa, being the classy Brit she is, handled it with as much as grace as she could have. Honestly, this could have gone a whole lot worse.
RHOMiami: The Lingerie Party Slap
What happened: Adriana De Moura and Joanna Krupa always hated each other, and it all came to a head at (what else?) a lingerie party. Adriana started to walk away from the fight that Joanna was trying to engage her in, then immediately turned around and slapped her right across the face.
4 Tables: Do you see that face Adriana's making? That's a dream-haunter if ever there was one.
RHOA: The Reunion Hair Pull
What happened: Porsha Stewart had been having a bit of tough time that season with her divorce from her husband, and Kenya Moore was not helping matters, mostly because she's the worst and is incapable of being a normal human and/or shutting her mouth for more than 10 seconds. Porsha finally took her anger out on Kenya at the reunion and gave her weave a good, hearty yank.
2 Tables: It's dramatic, sure, and there could have definitely been assault charges filed (I mean, Porsha pulled Kenya to the floor), but Kenya was totally egging her on, so I ain't even mad.
Images: Martin Philbey/Bravo; butter-leopold-scotch, realitytvgifs/Tumblr; Giphy (5)