When Will 'Saul' Be On Netflix?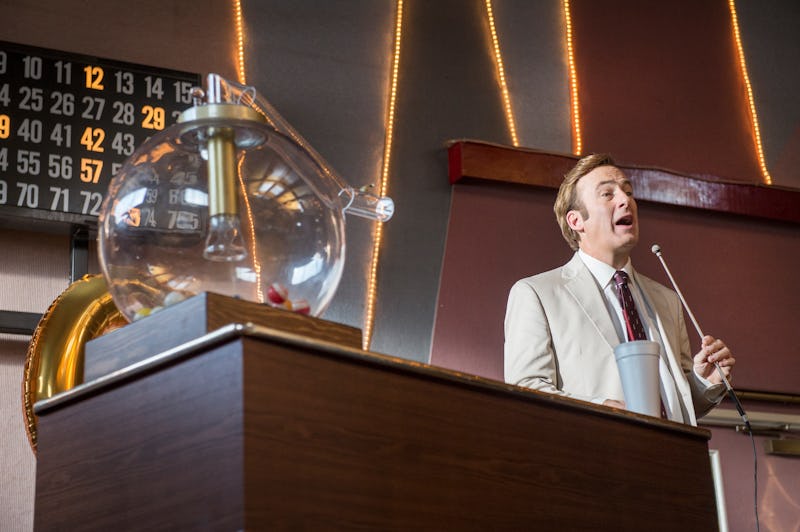 With every episode of the best TV series of all-time, Breaking Bad, on Netflix, it only makes sense that the prequel following Walter White's lawyer Saul would be on the streaming service too. The Season 1 finale of Saul's story is on AMC on Monday, April 6, but when will Better Call Saul be on Netflix? Well, our international friends have the upper hand when it comes to the show on Netflix since fans of Saul in Europe and Latin America already can watch Season 1. For example, each episode of the American series hits Netflix in the U.K. the Tuesday after the episode airs on AMC on Monday nights. So why isn't it on Netflix now in the U.S. (and Canada)?
Back in 2013, Variety reported that Netflix had exclusive rights to Better Call Saul and that it would be put on the streaming service after the season finale aired. And actually, if AMC hadn't decided to move forward with Better Call Saul (even though I have no idea why they would have done such a thing), Variety wrote that Sony Pictures Television (the studio behind Saul) would have taken Better Call Saul to Netflix.
And Variety wasn't the only outlet saying Saul would be coming to Netflix. Screen Rant also wrote that Sony announced that Better Call Saul would be on Netflix in the U.S. and Canada after the season finale aired on TV. So, that would mean Netflix subscribers will be seeing Better Call Saul pop up on their Netflix home page real soon, right?
Well, I'm just slightly suspicious that the first season may not be immediately up on Netflix after the finale on April 6 because of no recent articles reporting on this information — and because of the airdate changes the series has seen since 2013.
When Better Call Saul was first announced, it was supposed to premiere in Nov. 2014. But in June 2014, AMC pushed back the premiere to 2015. (At the time, the show was supposed to come out in Jan., but it actually didn't air its first episode until Feb. 8.) The entertainment industry can be a fickle beast, so since I can't find any more up-to-date news on Better Call Saul hitting Netflix, I will just hope for all those non-cable subscribers out there that the series will get on Netflix ASAP. Because the first chapter of the origin story of how Jimmy McGill became Saul Goodman is required viewing for any Breaking Bad fan.
And while you're frantically perusing Netflix for Saul, you will eventually also find the man behind the lawyer, Bob Odenkirk, alongside David Cross (again!) on a new Netflix original four-episode series With Bob and David . So it's not like you'll be going through total Odenkirk withdrawal after the Season 1 finale of Better Call Saul airs. But, why wouldn't I just trust that Better Call Saul will magically appear on Netflix around April 7 (ish) like a glorious gift from the AMC gods? I guess like Mike came around to trust Saul, I should also have faith in my favorite lawyer coming to Netflix soon.
Update: Senior Vice President of AMC Corporate Communications Jim Maiella says Better Call Saul will be on Netflix two weeks before the Season 2 premiere in early 2016.
Images: Ursula Coyote/AMC; mikkelsening, bethgrenne, hammiballisticat/Tumblr