What Will 'Pitch Perfect 3' Be About?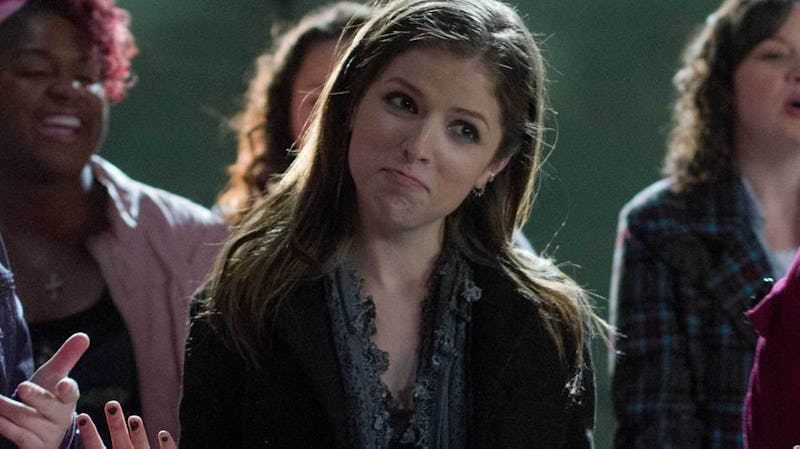 Parents, boyfriends, and roommates everywhere: hide your plastic cups. Pitch Perfect fans are singing songs of jubilation at the announcement by Rebel Wilson that a Pitch Perfect 3 might be in the works. Though it hasn't been confirmed yet, the potential for a Pitch Perfect 3 already has people speculating what the third film would be about. Even though we don't even know that much about Pitch Perfect 2 yet, I propose these 7 potential plots for Pitch Perfect 3.
Before I delve into potential storylines, though, let's talk about what we know about Pitch Perfect 2.We know that Fat Amy, channeling her inner Janet Jackson and 2007-era Britney Spears, accidentally has a wardrobe malfunction and her crotch shot heard 'round the world gets the Bellas suspended. We also know that our favorite crew of badass pitches has to beat out a villainous army of über-attractive, melodious Hans Grubers (a.k.a. The Sound Machine) at the World Championships in order to get reinstated. Oh, and Beca makes an epic World War II diss to the new competition that will inevitably have you screaming 'MERICA at your screen. Finally, we also know that Pitch Perfect 2 follows the Barden Bellas through their senior year of college.
Just in case you don't already have a toner (or musical boner, for those of you who need to beef up on your aca-lingo before the sequel premieres), here are 7 potential plots for Pitch Perfect 3.
1. A Collegiate A Capella Face-Off
The Barden Bellas are used to being a team. However, colleges don't admit teams, they admit individuals. Pitch Perfect 3 could show the Bellas heading off to different colleges and joining a capella groups that compete head-to-head.
2. The Bellas Forgo Job Hunting to Compete in the Singing Competition Show Circuit
Picture this. The Barden Bellas decide to put off job hunting in order to go on a tour of singing competition reality shows. The Bellas take on The Voice, American Idol, America's Got Talent, X Factor, and perhaps even Britain's Got Talent, complete with faux British accents and fake backstories.
3. Becca and Jesse Get Married and The Bellas Become a Wedding Band
After an epic aca-proposal, Jesse and Becca get married and the Bellas perform at their wedding. Fat Amy gets way too drunk off the open bar and posts a Craigslist add offering the Bellas up to perform at other weddings. Thanks to their notoriety after winning the World Championships in PP2, their Craigslist add blows up and they spend the entire movie performing at weddings.
4. The Bellas Attend College Again
Unable to cope with the idea of graduating college and living in the adult world where people generally avoid breaking into song, The Bellas, in a classic unrealistic movie scenario, all decide to re-enroll in a different college and pursue a second Bachelor's degree. The film follows The Bellas as they navigate the politics of a new university's a capella group. Singing guest stars abound.
5. The Bellas Get Signed and Release an Album
After one of their YouTube videos goes viral, Beyoncé sees The Bellas' video online and reaches out to them about a record deal with one of Jay-Z's record labels with an exclusive album release on Tidal. The Bellas break it big with their debut single which features and epic rap battle between Fat Amy and Jay-Z himself. Beyoncé handles the choreography for their first music video which wins them an award at the MTV VMAs.
6. Fat Amy Becomes the Breakout Solo Star of the Barden Bellas in Pitch Perfect 3: Fat Amy Hits the Big Time
While the others head off to pursue their new jobs as consultants and marketing reps, Fat Amy pursues a solo career and hits the big time after she drunkenly makes out with Harry Styles at a bar while touring to promote her new album and he later Tweets a link to her latest single, "Fat Patricia, Part I." The film follows her as she incurs the wrath of 1D fans everywhere and wards off death threats while she rides out her meteoric rise to fame.
7. The Barden Bellas All Succumb to Vocal Nodules and Have to Find a New Hobby
An unfortunate turn of events renders The Bellas unable to sing. They struggle with a communal identity crisis as they try to understand a life devoid of singing. They decide to replace their old passion with a new hobby, vowing to make it to the top in whichever hobby they decide to pursue. After struggling with what hobby to take up (Competitive whistling? Breath holding? Crumping? Double Dutch jump roping?) they finally settle on competitive eating and go on to secure their own Man vs. Food-sequel show on the Food Network.
Images: Universal Pictures; Giphy (7)