This Amy Schumer Sketch Included Two Random Cameos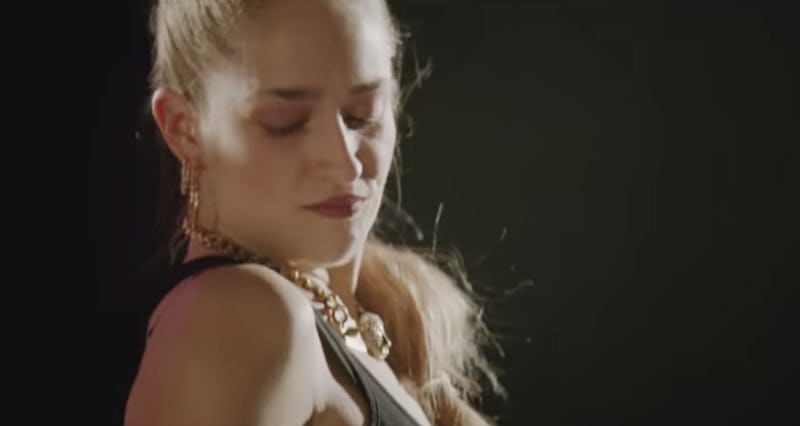 We all know the rhyme. Heck, it practically carried us through our pre-pubescent years, but Amy Schumer has transformed it into the song of the year with an equally entertaining music video. That would be Inside Amy Schumer 's sketch, "Milk Milk Lemonade." You've definitely heard and seen it by now, since it hit the web a couple weeks ago, but it's still teaching us so much...and not just about where our poop comes out. For example, did you know that Jemima Kirke (Jessa on HBO's Girls ) and Amber Tamblyn ( Two And A Half Men ) were in the video? You might have missed them (I know I did at first — their cameos are tiny) in the jungle of jiggling jelly, Schumer's dreadlocks and Amber Rose's earrings. But they're really there, twerking along with the rest of the dancers, and it's one of the best parts of an already absolutely genius sketch.
A lot has been said about the spoof music video for Inside Amy Schumer, but Kirke and Tamblyn have largely been left out of the conversation. This is unfortunate, because they're hilarious in it — especially Tamblyn's ecstatic, bootylicious-loving smile and Kirke's surprising twerking abilities. Watch the "Milk Milk Lemonade" video below and see if you can catch them in action.
Now, here are the pair's best moments.
Droppin' It Low
Someone needs to man the milk/lemonade stand while Schumer is twerking with Amber Rose, and that someone is actually a duo. Kirke's milkshakes have brought everyone, but especially Tamblyn, to the yard.
Make It Bounce
Maybe it's just me, but now I really want to see Tamblyn and Kirke on Orange Is the New Black as these characters. Doesn't this moment just seem like one of those flashback scene for a character?
Just Twerkin'
When Schumer's away, the mice with party like an Iggy Azalea concert. You want some of their lemonade? Apparently, it's only 10 cents, while milk is five.
This Is Just Impressive
Can we talk about how good Kirke is at gyration for a hot second? Who knew she could shake it off like a T.Swift video? Cut to me studying this in slow motion so I can replicate it in the clubs.
'Dat Face!
Tamblyn's dopey look alone makes these small cut-aways worth it. It's a mixture of amazed and, like, creepy guy in Times Square.
Whatever This Is
Even when Kirke and Tamblyn aren't front and center, they still pull focus. Schumer may be pouring a stream of milk down some dancer's backside, but Kirke is having her own private dance party and Tamblyn is just enjoying the shock of the show.
Images: Nick Romano/Bustle (6)