10 Fraps To Try During Starbucks Happy Hour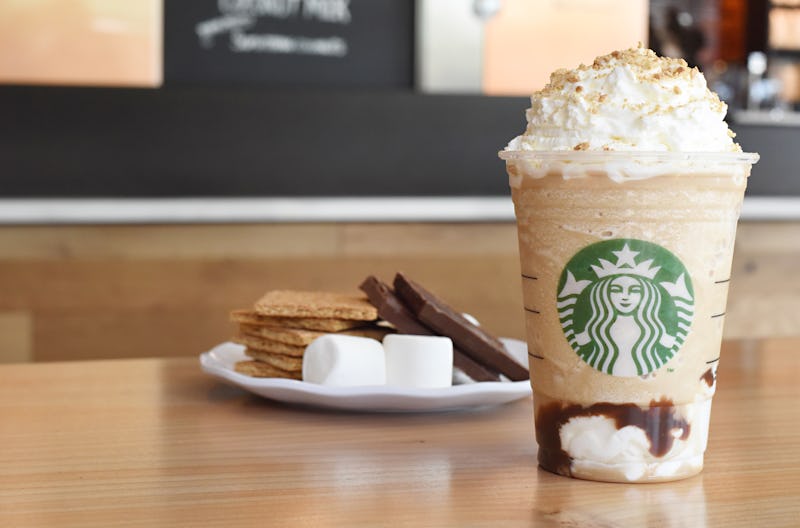 You guys! Starbucks Frappuccino Happy Hour is finally here! You know what that means, right? You've got it: Cheap prices for all your favorite Frappuccino flavors. And I do mean all of them. Is that the perfect way to kick off the summer? I think so.
If you need a refresher, here's the deal: From May 1 (that's today!) through May 10, Starbucks is having Frappuccino Happy Hour for two hours in the afternoon every day. Between the hours of 3PM and 5PM, all Frappuccino flavors are half off — and if you're a My Starbucks Rewards member, you get an additional hour to take advantage of the deal between 5PM and 6PM. The promo coincides with the launch of the new S'mores Frappuccino, which I'm going to go ahead and call the official Frappuccino flavor of Summer 2015; and although those snazzy new Frappuccino cookie straws are no longer being given out free with every Frap order, you can perk your drink up with one for an additional 95 cents. A small price to pay for a straw that is literally made out of a cookie, I would argue.
But what should you order during this magical time? I've got a few ideas. The beauty of trying one of these suckers out during Happy Hour is that if you don't like it? Well, you're only out half the price of a Frappuccino, rather than the whole cost. That also means you can go buy yourself a second Frap and still have only shelled out the bucks for one. Not bad.
Why not try one of these frosty beverages?
1. The S'mores Frappuccino
Duh.
2. The Marshmallow Creme Frappuccino
Like the marshmallow part of a s'more, but aren't a big fan of the chocolate and graham bits? Then get yourself a cup full of fluffy, mallow-y goodness instead. The Sbux Secret Menu states that adding white mocha and vanilla syrups to a Vanilla Bean Creme Frap will result in something akin to a giant, frozen marshmallow.
3. The Caramel Ribbon Crunch Frappuccino
Although there's been less fanfare about this one, probably due to the fact that it's a returning seasonal drink rather than a brand new one — but if you've never had one before and are somewhat interested in it, this might be a low-risk way to try it out.
4. The Birthday Cake Frappuccino
I know, I know — just when you thought you'd seen the last of the Birthday Cake Frap, right? Go take advantage of the secret menu recipe. Now's the perfect time for it.
5. The Cocoa Puffs Frappuccino
According to the Starbucks Secret Menu, all you need to do in order to recapture your childhood in Frappuccino form is add hazelnut and mocha syrup to a Vanilla Bean Creme Frap and top with either regular or chocolate whipped cream. Ah, nostalgia!
6. The Tropical Lava Flow Frappuccino
Another Starbucks Secret Menu creation, this one is perfect for the summer fruit fanatics in the crowd. Order a Vanilla Bean Creme Frap, but ask for coconut milk instead of regular milk. Then have the barista add some orange mango juice, and top it all off with some strawberry puree.
7. The Espresso Frappuccino
Did you know there was both a Coffee Frap and an Espresso Frap on the official Starbucks Frappuccino menu? Because I did not — until today. Heck, why not order both and find out what the difference is between them? You'll be getting two Fraps for the price of one. Not too shabby!
8. The Dirty Valentine Frappuccino
It may not be anywhere near Valentine's Day right now, but… well, who doesn't want to find out what something called a "Dirty Valentine" is? The Starbucks Secret Menu's caffeinated version consists of a Cafe Vanilla Frappuccino with strawberry sauce, java chips, and a topping of whipped cream and mocha drizzle. There's also a decaf version that uses the Vanilla Bean Creme Frap as a base, if that's more your jam.
9. The Pink Starburst Frap
Because the secret menu has so many recipes inspired by other treats, it's easy to find Fraps that taste like cookies and candy bars. Pink Starbursts, however? That's different. Apparently adding lemonade, raspberry syrup, vanilla syrup, and whipped cream to a crème base (I'd go with Strawberry Creme, but that's just mean) tastes like the best Starburst flavor there is.
10. Whichever Frap Flavor You've Been Meaning To Try, But Haven't Yet
If you're a creature of habit, why not use the opportunity to change things up a bit? If you usually go for a Hazelnut Frap, try a Green Tea Frap instead. Have to have your caffeine? Switch it out for a decaf Strawberry Creme Frap. Curious about this Cinnamon Dolce thing that's been on the menu for a while? Why not give it a shot? If you hate it, it was half off — and you can always go back and get your regular order. Nothing ventured, nothing gained, right?
Images: Starbucks (5); sliceofchic, Kim+5, Special/Flickr; Giphy (3)