Meet An Astounding 12-Year-Old Filmmaker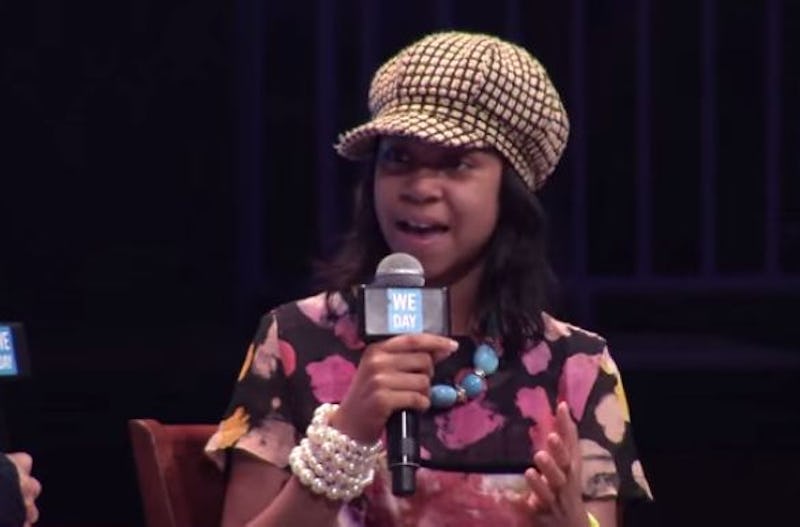 The 12-year-old "world's youngest filmmaker," Zuriel Oduwole is one hell of an overachiever. She has already produced and directed four documentaries, which all focus on African issues, and interviewed 14 government leaders. As a side project, she started her own nonprofit, which focuses on education in developing nations. She used web tools to teach herself how to write scripts and edit video, and she's tackled complex political issues that some of us might scroll right past on our iPhones.
Oduwole's first documentary, 2012's The Ghana Revolution, was the result of a school documentary-filmmaking competition, according to CNN. Her second, Educating and Healing Africa Out of Poverty, looked at the creation of the African Union in 1963, and her third film, Technology in Educational Development, was released in 2014 and was her first jump into the importance of educating children — both girls and boys — in developing African nations. She spoke to The Huffington Post about the beginning of her documentary film career:
My first interview was when I was 9 years old when I went to interview former president of Ghana, Jerry Rawlings, for my documentary on the Ghana revolution. I was so nervous, but wanted to do it.
In March, she released her most recent documentary, A Promising Africa, which is the first in a series that will profile five African nations, starting with her father's homeland of Nigeria. Oduwole, named one of the 100 Most Powerful People in the World by Business Insider, said she has interviewed the presidents or prime ministers of Tanzania, Liberia, Kenya, South Sudan, Nigeria, and Cape Verde, "to name a few." She spoke to CNN about why she started this documentary series:
I'm hoping that when people see these documentaries they will see Africa is full of positive things — not just the things that are on the news like war, famine, disease. I want to show them there is a lot more to Africa than what we see on the news — there's dancing, music, great culture and more.
Oduwole is home-schooled online in California, where she was born, according to CNN. The 12-year-old is already a 9th grader, putting her two years ahead of most other young people her age. In addition to her film work, she also runs Dream Up, Speak Up, Stand Up with her two younger sisters. The organization focuses on empowering young people to stay in school and helps address the problems that prevent them from accessing an education, according to The Huffington Post. Oduwole often talked to the Huffington Post about the gap between access to education for girls and boys in Africa, and how that gap might be closed with serious cultural change and new policies:
More value is placed on boys than girls, and there's this belief that the girl's name would change when she gets married, so there is no need to give them resources that are already little. ... Most governments feel they have other problems that are "more urgent," and so they give priorities to these pressing problems.
Oduwole has flown to nine different countries and talked to more than 21,000 young people about the importance of education, according to her bio on the Dream Up, Speak Up, Stand Up website. She was featured in Forbes when she was just 10 years old, appeared on a number of international news channels and talk shows, and was named one of "33 Women Who Changed The World" by ELLE Canada in 2014.
During her Huffington post interview, Oduwole pointed out that almost any natural-born U.S. citizen can be president. Then, she brilliantly and adorably made comparisons between herself and President Barack Obama:
He was a single parent's child, and look at him today. How cool is that? And I have two parents, so I have a greater chance. Also by the time he was 11, he had not even met one president, and I have met 14 already!
But Oduwole's goals don't stop her from doing things any other 12-year-old would do — like play basketball for a local team — and she doesn't see herself as different or better than other kids her age. She told the Huffington Post that she just has more flexibility in her schedule because she's home schooled with an easy, "no biggie" humility:
I am like most of my friends in my neighborhood. We play, ride our bikes, hang out, and I also play basketball in a league in my town. I also do chores at home, and I play at church with my friends also. The only difference is I interview leaders so they can make a difference, and I can show the world a different and positive Africa.
Image: Dream TV/YouTube (1)