We Almost Lost One Of The 'Brooklyn Nine-Nine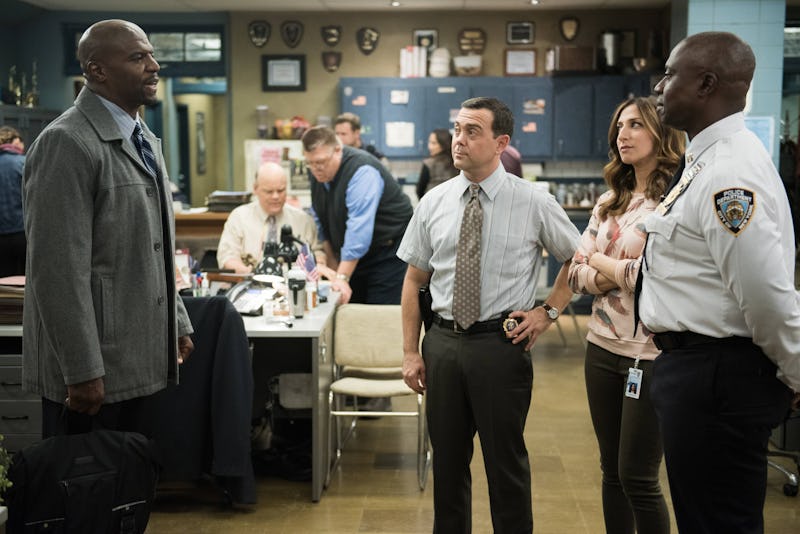 When I watched FOX's teaser for Sunday night's episode of Brooklyn Nine-Nine and heard that one of the members of the 99th Precinct may be leaving, I was more than not OK with that. One of the reasons why Brooklyn Nine-Nine is such a brilliant comedy is because of its hilarious ensemble cast of characters, each one a gem in his or her own right. Brooklyn Nine-Nine would not be the delightfully oddball comedy that it is without each and every single one of the members of the Nine-Nine on the show. Alas, it seemed likely that one Brooklyn Nine-Nine crew member's time on the show was up, but not if Captain Holt had anything to do with it.
At the top of Sunday night's episode, a recruiter for Copperhead Security arrived at the 99th Precinct, which Captain Holt took to mean he was going to try to pull him away from the NYPD yet again. Oh to the no. I cannot watch a Brooklyn Nine-Nine without Captain Holt because it would basically not be Brooklyn Nine-Nine at all. Andre Braugher imbues this character with the perfect blend of stoicism, discipline, and sincerity that makes for a lovable character that always manages to make me laugh.
However, right after Captain Holt laid down a rejection that was so terribly punny no one even understood the joke he was trying to make, the recruiter revealed he was not there to see him but Terry. Wait, what? I could see Rosa or Amy eyeing other career options because they have done so in the past, but Terry? Aw, please say it ain't so. I don't want him to leave either. Who else is going to keep the 99th Precinct in line when Captain Holt is unavailable and give us our much-needed weekly dose of tough guy with a heart of gold?
Now I know these characters aren't real, but I felt for Terry and almost wanted him to take the Copperhead Security job because I feel for him having to support his family with a set of twins and a new baby on the way. A job with Copperhead Security would give Terry better hours, a higher salary, and a puffy vest, which would certainly come in handy with his growing family.
Selfishly of course, I couldn't bear the idea of Terry not being part of the Nine-Nine anymore and neither could Gina and Charles, who did everything in their power to try and convince Terry to stay, even planning a "Please Stay Party," complete with a frozen yogurt machine operated by Pam Grier. Come on. If that doesn't make him stay, I don't know what will.
Unfortunately, for some reason Captain Holt decided to thwart Gina and Charles' scheming by ordering Terry to digitize a whole bunch of his files through the years by the next morning, causing him to cancel his date night with his wife last minute and forgoing their "kissing." But I know and you know that everything Captain Holt does has a greater purpose than what it seems at the moment. Though it looked like Captain Holt was being cruel and unusual, this was all part of his plan to have Terry look back on his career with the NYPD and remember how important his job is and all that he has done for the community so that he will stay on as a detective.
And it worked. All of the Copperhead Security swag was tempting, but Terry ultimately decided to stay on the force because he wanted his children to be proud of him. Now don't you see why we need Captain Holt to stay on Brooklyn Nine-Nine forever and always?
Images: Eddy Chen/FOX; brooklyn99fox/Tumblr; Giphy