Spoiler: Dorinda Didn't Dump Her BF After 'RHONY'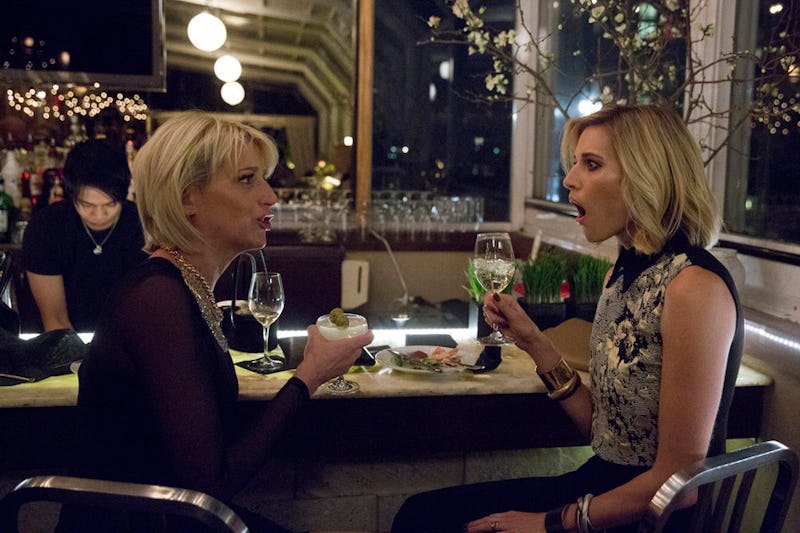 If my boyfriend embarrassed me on national television, I would probably want to dump him. However, I am not new Real Housewives of New York star Dorinda Medley, which is obvious not just because she's a fabulously rich white woman, but because Dorinda did not break up with her boyfriend, John, even though he blatantly insinuated that he should be more important that her daughter in her life. (Uh, dude... any parent could tell you, your child is always going to be the most important person in your life.) And when that happened, Dorinda went into full on attack mode, because no "Sultan of Stains" can ever be more important than her daughter Hannah.
But John is not a natural-born TV star. Ever since the cameras started rolling, he's done nothing but offend pretty much everyone's sensibilities, from the viewers who are treated to unflattering lighting, to the other Real Housewives of New York, who would prefer date nights that include dancing on bar tops. And he's done nothing to prove that he's a good guy, either. But he's still present on her social media and their relationship is apparently still going strong. But why did she forgive him? There must be some reason why Dorinda has decided to stick it out with John, right?
Actually, there are seven reasons why, and she's been upfront about all of them.
1. He's Exactly Her Type
Dorinda loves talking about how much she likes dudes with John's body type. I mean, physically he's basically her dream guy.
2. And They're Close In Age
Unlike other members of the cast, who love going after younger men, Dorinda also prefers going out with people her own age. I can understand that — she's a widow with a daughter and a whole social life. She doesn't also need to worry about dating a guy in his early twenties like Carole, LuAnn, or Sonja.
3. They'd Already Been Together For A While
They celebrated their third anniversary this March, and sometimes even serious fights don't matter if a couple really know one another. It can be easier to forgive and forget if you have good memories.
4. She's Not Afraid Of Standing Up For Herself
As soon as John made his comment about Hannah's happiness, Dorinda struck back. She'd rather have no romantic relationship, no business partner, and a good relationship with her daughter, and those priorities are just right.
5. She Thinks Personal Preferences Should Be Respected
Even though John has appeared on the show before, Dorinda wrote in her Bravo blog that she feels like she shouldn't be able to judge who anyone else wants to or prefers to date.
6. Flirting Is An Annoyance, But Not A Dealbreaker
I'm assuming here, but since John openly gropes after her costars, it doesn't seem bother her enough to break off the relationship.
7. She Thinks He's Worth Educating
Again, Dorinda's Bravo blog sheds some light on this: John's never been married or had kids, so Dorinda's way of life is a little foreign to him.
"Here's the thing…it is sometimes difficult when you date a man that A) Has never been married, and B) Has never had a child," she writes.
Bottom line is, it's her life, and she's decided that even though John seems pretty unprepared at times for a serious relationship, she's willing to help him go from a bad boyfriend to a Real Housewives of New York-approved significant other. And we should make like Dorinda and respect her choices, OK?
Image: Heidi Gutman/Bravo