India Carney Made the Comeback of the Season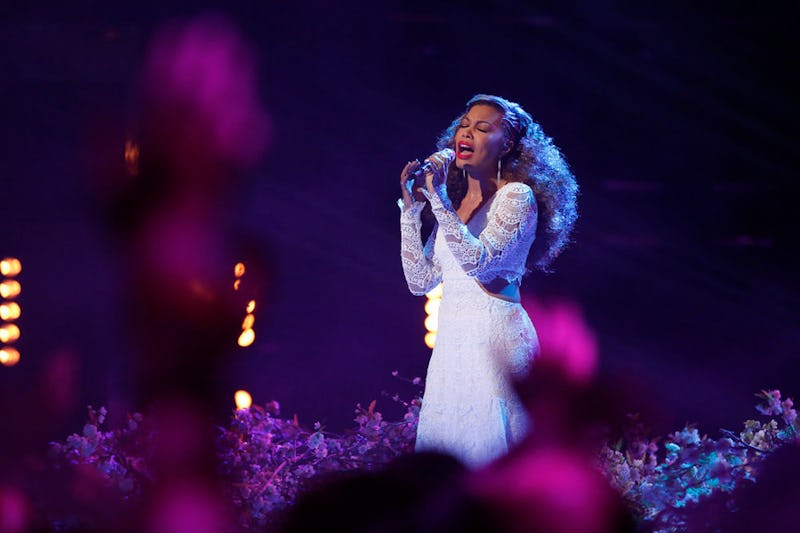 It was a tough week for India Carney on The Voice last week — but you'd never know that from tonight's performance. Carney chose to sing "Glory" by John Legend and Common for her Top 6 performance and completely slayed the performance. Seriously, it was one of the greatest performances of the season. She sang with power, urgency, and emotion putting her entire self into the song. Carney needed a solid showing tonight to redeem herself after being in the bottom three last week, and she did exactly that. The pop hopeful put herself back in the game tonight and proved she's not going anywhere.
"Glory" is not an easy song to sing, but Carney tackled it with an amazing level of grace and feeling. There's a lot of pain and hope behind the lyrics of that song and Carney was able to bring those emotions to light on the stage. The message was written on her face and the feeling was present in her body — which made her performance so captivating and powerful. And you'd never know from her rendition that there certain sections were rapped. (Blake Shelton didn't know, actually, because apparently he lives under a rock and has never heard "Glory" in his life.) Though I would've loved to hear her try, she decided to take the smart route and sing the rap sections which brought the song to an entirely new level. What made her performance even better was knowing that she was singing it for her mom — cue a collective "awww!" Carney's "Glory" was as close to perfect as it could be, which means I'll be heading to iTunes as soon as I'm done writing this to get it in my music library.
Carney is up against some pretty fantastic talent this season, but tonight's performance proved that she can put up a fight. She may not make it to the end of the season — there's just too much girl power to compete with — but she'll make it far and make every night count. It's not easy to come back after almost going home, but Carney did it with flying colors. She'll definitely stick around for a few more weeks, and I can't wait to see what she has in store.
Image: Trae Patton/NBC