Channel The 'Ghost World' Girls In Perfect Grunge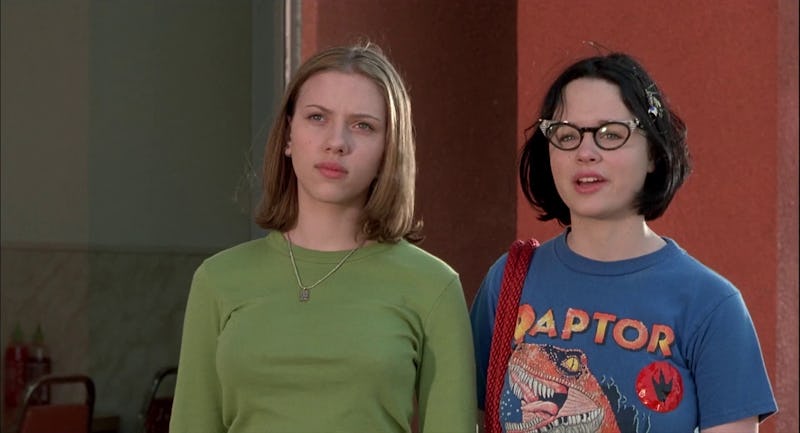 Ghost World is one of my all time favorite graphic novels. I yearned to jump through the pages into the narrative just so that I could become a Ghost World style icon, too. Aside from the clothes, there were plenty of other things I enjoyed about Ghost World. I soon became a fan of creator Daniel Clowes' work, including his use of color, the exaggerated features of his characters, and, of course, his uncanny ability to make "everyday" situations and interactions entertaining.
I was particularly interested in the portrayal of these Generation X teens who appeared so aimless and lacked enthusiasm to move forward in their lives. It seemed they wanted to stay seated on the bridge between adolescence and adulthood. As a Millennial, I found it fascinating to witness portrayals of teens my own age growing up in a different generation. Having said that, I did come to notice traits that were apparent in my own generation, such as narcissism. It was then I realized that Rebecca and Enid would have been among the last of the Gen X babies, probably being born around the mid 1970s but perhaps as late as the mid 1980s; which in fact would make them either straddlers of the two generations or even Millennial teens like myself at the time.
It is clear to see that the fashions seen in both the Ghost World graphic novel and the movie reflect the music scene of the time, which being set in the early 1990s was of course grunge. Being typical teens, the girls appear to have latched on to the grunge music genre as a way of identifying themselves and they use it to portray a specific image to the world. When I was a teen, my friends and I used the "emo" or "skater" scene in the same way.
For the purpose of this article, I am going to pick apart the style of the girls in the Ghost World movie, purely because my copy is monochrome with selected green coloring. I am unsure as to whether this applies to all of the copies out there but I haven't been able to locate original illustrations in full color.
So if you, too, can't relate to 99 percent of humanity... Read on!
Enid Coleslaw
Enid Coleslaw is an extremely cynical yet equally lovable character. She's straight-talking, especially when it comes to idly chatting with her best friend Rebecca, and she comes across as a strong, independent young woman. However, underneath all the bravado and green hair dye, there is a more delicate vulnerable patch, which is hidden from most.
Pictured here with BFF Rebecca, Enid is rocking one of the huge grunge trends of the '90s: plaid. Paired with a cartoon dinosaur tee, this outfit is kitsch. As Rebecca would say, "This is so bad it's almost good."
The Dinosaur Tee
Ask Me About My T-Rex T-Shirt, $30, firebox.com
This tee is so Enid. I could totally picture her wearing this and getting a kick out of scaring the folk of her small, suburban town — especially Seymour. If you want to be a really hardcore fan, you can purchase a replica of Enid's "Raptor" tee.
The Plaid Skirt
Royal Bones By Tripp Green Plaid Suspender Skirt, $24, hottopic.com
Aside from being very similar to Enid's plaid skirt, this one is especially grunge with its removable suspender straps. In fact, Enid would probably prefer this sexier version.
The Enid Glasses
Sophie Cateye Sunglasses, $30, topshop.com
An Enid Coleslaw outfit is not complete without some cat eye shades. Why? Because they enable her to be catty, of course!
The Leopard Print Skirt
Enid wears a variety of outfits throughout the movie and this would have to be one of my faves. The juxtaposition of the fluffy headband and rock 'n roll leopard print skirt is a look that I personally love.
Peggy Bundy Cheerleader Skirt, $56, blackmilkclothing.com
This leopard print skirt would look great on Enid. Although a different cut, Enid would enjoy the fact that it's a modified, grunged-up cheerleader skirt and wear it ironically because obviously she wouldn't be seen dead in a real cheerleader uniform.
The Fluffy Headband
Marabou Feather Headband, $23, crownandglory.co.uk
Although totally Cher Horowitz style, this fluffy headband would be worn ironically by Enid.
The Bat/Cat Mask
Leather Batgirl Mask, $39, etsy.com
Obviously one cannot copy Enid's style and forget about her iconic mask. Although this one is a Batgirl inspired mask I think it also has some serious Catwoman style vibes. Michelle Pfeiffer's portrayal of Catwoman in the '90s film Batman Returns epitomizes the grunge trend of the decade, fitting in nicely with Enid's style.
Rebecca Doppelmeyer
Some may argue that Rebecca's style is less iconic than Enid's due to the fact that later in the plot, Rebecca becomes more interested in stereotypical teenage girl pastimes. Her outfits start out grunge-led but then as she gets a job and starts thinking about the future, her style changes to that of a more mainstream teen. Having said that, she still has some awesome outfits!
In her most memorable attire, she wears a plain green jumper with a short, black skirt; keeping it simple.
The Grunge Green Top
ASOS The New Forever T-Shirt With Long Sleeves, $29, asos.com
This ASOS top is almost the exact same shade as Rebecca's long sleeved top — a nice, grunge inspired "dirty" green.
The Black Mini Skirt
PU Curved Hem Pelmet Skirt, $70, topshop.com
This leather look mini skirt is spot on for Rebecca. It's super short and also rocks the grunge vibe.
Whichever Ghost World chick you choose to channel, finish your look with black eyeliner, a pair of Dr. Martens, and lashings of cynicism.
Images: Granada Film; Jersey Shore; Capitol Films; Mr. Mudd Productions; Giphy (3); Courtesy Brands