The 'PLL' Summer Premiere Is Going To Get Dark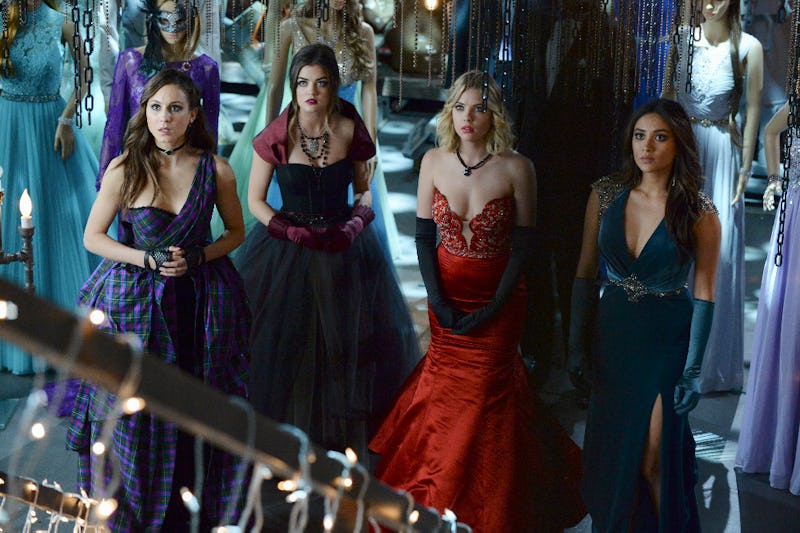 As if things weren't scary enough in this show — it looks like things are about to get even scarier. As explained in the synopsis for the Pretty Little Liars Season 6 premiere, it seems like the episode — and, perhaps, the season itself — is going to get really dark. However insane this might seem, though (because how could this show get any darker?) I'm almost not surprised that the Season 6 premiere, "Game On, Charles," is treading into even creepier territory — after all, have you seen the promo for the new season? It's downright terrifying. Mona sings a children's lullaby in a slowed-down creepy voice, and it's just not OK. But, before the show gets into the new creepiness in store, it has to set up what the girls have been up to since we left them in the Season 5 finale — which begs the question, where does Pretty Little Liars Season 6 start off?
Well, with the girls all still trapped in that life-sized dollhouse, of course.
Although there will be a time jump during the sixth season, as previously reported, it won't come right away. First the Liars have to be tortured by Charles' game, which, according to the show's newly-released synopsis, gets even more twisted. Let's just say, Charles is less than thrilled that his little doll family tried to make a break for it, and he plans to take it out on them. "Just when the Liars thought Charles couldn't get any worse, his games take a more demented and darker turn," the synopsis reads.
Does that explain why Mona is seemingly separated from the others in the promo? Is she being punished/potentially being killed for telling the girls about the flaw in Charles' dollhouse that allowed them to plan their escape?
But even though the Liars are clearly going to be put through the wringer, I'm glad to see that their trusty boyfriends (read: Caleb, because he's the best) aren't giving up on them. And it seems like fans will get some more answers to the mystery that is Charles, which is good because I still have SO MANY questions.
Now if only June 2 would hurry up.
Image: Eric McCandless/ABC Family