8 Things 'The Good Wife' Season 7 Absolutely Needs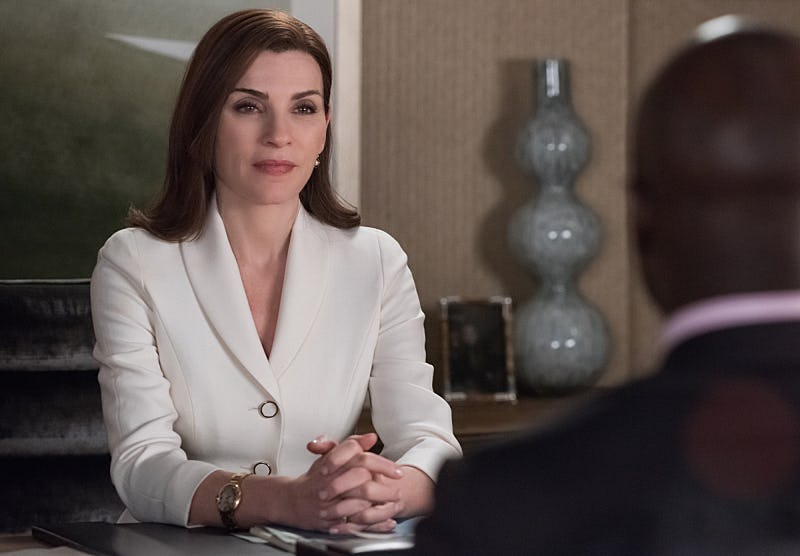 Between Cary being carted off to jail and Alicia's campaign falling apart, the dust is finally settling on The Good Wife. Season 6 may be ending, but it's opening doors to brand new plotlines and major characters. Of course, there are still some pretty important things that we need to see in when The Good Wife returns for Season 7, like, oh, I don't know, an Alicia Florrick and Finn Polmar hook-up? Plus, we are leaving off in a place that's pretty wide open when it comes to Alicia's career, so the show could really take it anywhere. [UPDATE: Deadline reports The Good Wife will return Oct. 4.]
The Season 6 finale, titled "Wanna Partner?," suggests that we will learn whether or not Finn and Alicia will become law partners and start their own firm. Does that mean they will be located on the floor below Lockhart, Agos & Lee? That would be kind of close quarters for the opposing firms, but also gives fans lots of juicy drama. I'm also hoping that we will get closure on Kalinda leaving (which is still really hard for fans to deal with) in the season finale. However not everything can be addressed in the finale, so here are eight things we need to see during the seventh season of The Good Wife.
Alicia & Finn Become An Item... And Partners
I have said this multiple times already, but it's time for Finn and Alicia to have an office romance or at least kiss if they decide to partner up and start a law firm. It's been a while since Will died and Johnny left, and besides the fact that I think Alicia and Finn would be great together, a relationship would also make for a great storyline that could last for much of Season 7.
Alicia & Peter Get Divorced
Everyone knows they aren't even together anymore and Alicia definitely doesn't need him by her side. It's the perfect time for them to cut ties and move on with their lives.
A New Investigator
It pains me to say this because I'm still bummed out about Kalinda leaving the show, but The Good Wife does need an investigator and somehow, it needs to find someone as great as Kalinda. Whoever takes the role is going to have some large shoes to fill.
Lemond Bishop Gets Out Of The Drug Business
I know that Lemond Bishop is the reason that all these bad things keep happening, but the dude just wants to be a good father and provide for his son. I am hoping that he can finally get himself out of the drug business next season and show us a whole new side of himself.
More Colin Sweeney
Does anyone else love watching Colin Sweeney as much as I do? Yes, he's basically a psychopath and I certainly don't like him as a person, but he always makes for excellent episodes of The Good Wife.
A New Love Interest For Cary
Kalinda is gone and Cary never really had a genuine relationship with her, which is just the latest in his string of misfortunes. He was let go, left the DA's office, had the partnership he was promised taken away, and after all that, the woman he loves skipped town. It's about time Cary had some positivity in his life.
Peace Between The Firms
I hate when the firms are fighting and plotting against each other, so hopefully, next season Alicia will finally make peace with Diane and Cary. It may not be likely, but I won't give up on this Season 7 dream.
Eli Gold
I would watch a show just about Eli, that's how much I love him. Let's get some more Eli Gold goin' on. Please?
Images: Jeff Neumann, Jojo Whilden, David M. Russell (2), Jeffrey Neira/CBS; CBS; Wifflegif (2); mymargulies/Tumblr