Steal Pam Of 'True Blood's' Naughty But Nice Style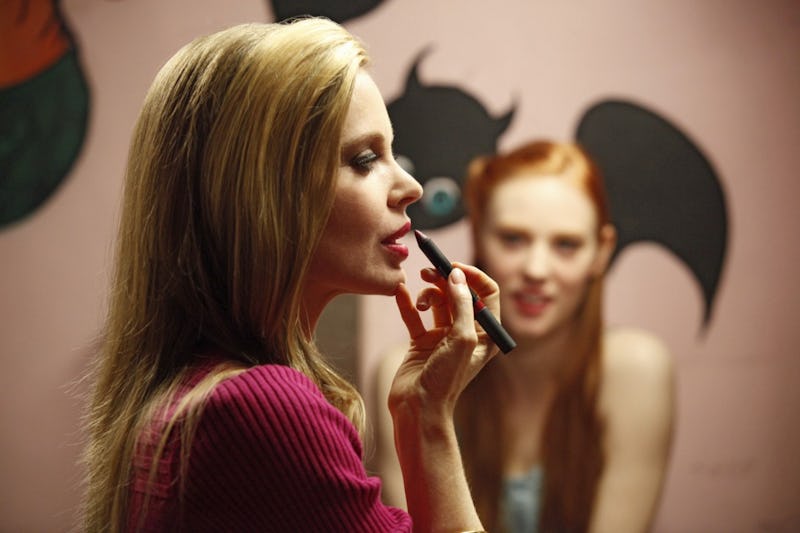 Not everyone likes Pamela Swynford de Beaufort; she can be mean, catty, and a total bitch from hell, but it's probably safe to say that many women would want to emulate the style of True Blood's Pam. It's a simple fact that Pam is the vampiest vampire in Louisiana (or possibly the entire world). After all, she is the progeny of Viking vampire Eric Northman, who saved her from a lonely life as a brothel mistress at the turn of the twentieth century.
Along with Eric, Pam is the co-owner of Fangtasia, a vampire nightclub. She is fiercely loyal to Eric and is the maker of Tara Thornton, the best friend of everyone's favorite fairy Sookie Stackhouse. Pam is, however, often misinterpreted due to the way she dresses:
"I don't know what it is about me that makes people think I want to hear their problems. Maybe I smile too much. Maybe I wear too much pink. But please remember I can rip your throat out if I need to." — Pam
Although sometimes her looks could kill, Pam flirts between bondage style and über feminine outfits that gained her the nickname of "Vampire Barbie" by Tara. But whichever style she chooses to wear for the day, you can rest assured that she will have a full face of makeup, perfect hair, and will look absolutely flawless.
So in honor of Pam, here are her signature styles and tips on how to get the Vampire Barbie look at home.
1. The Off-Duty Track Suit
Pam is often spotted in her bubblegum pink velour tracksuit. She looks incredibly glamorous, even when she's not at work, as she proves in this ultra girly tracksuit.
Baroque JC Original Jacket, $45, juicycouture.com
Baroque JC Slim Pant, $34, juicycouture.com
Conveniently both on sale, this jacket and pair of pants from Juicy Couture are totally Pam. In a suitable, bright pink shade and made of velour, they are the ultimate in laid back luxe. Plus, the pants have elasticated ankles so you can wear your favorite high heels like Pam.
2. The Gothic Glamourpuss
Pictured here with her maker Eric, Pam is wearing an all-out gothic outfit with a hint of bondage. A go-to look for Pam, she is often seen in similar styles throughout the series.
Black Satin Long Lined Overbust Steel Boned Corset, $85, corset-story.com
A simple yet stunning black corset takes center stage of a Pam outfit. This decadent satin corset is a star performer.
ASOS TALL Pencil Skirt In Patent PU, $21, asos.com
This kinky yet classic patent pencil skirt adds a reserved bondage feel to the outfit.
Tattoo Choker Necklace with Crosses, Beads and Chains, $8, claires.com
Add a Victoriana vibe to the ensemble to give a nod to Pam's human life.
Extended Cuff (Pair), Studded Glovelets, $22, etsy.com
Copy Pam with these leather look, fingerless cuffs. These have an added extra detail of studs down the middle, which channel Pam's love of bondage-esque accessories.
Sofia V Front Suedette Shoeboot, $52, boohoo.com
Finish off this outfit with a demure shoe boot with a cheeky peep-toe to flash some toe cleavage.
3. The Ladylike Housewife
Pam often wears clothes that make her appear like a well-to-do member of society, but don't let her looks fool you! This glamouring she-wolf rocks the butter-wouldn't-melt look in order to lure you in before she pounces.
Blazer: ASOS Embellished Blazer Tile Print co-ord, $109, Shorts: ASOS Embellished Short co-ord in Tile Print, $63, asos.com
This two-piece, pink co-ord set is right up Pam's street. For one, it's pink but it's also sophisticated and stylish, just like Pam's suit.
Double Row Pearl Section Necklace, $14, topshop.com
Add a touch of elegance to this outfit with a pearl necklace like Pam's.
Faux Patent Leather T-Strap Pumps, $30, forever21.com
Keep it light with these nude, strappy pumps.
4. The Vampire Vixen
Pam can also bring the va-va-voom when she needs to, and this dress proves that she's one glam vamp.
Motel Debbie Sequin Dress in Burgundy, $30, motelrocks.com
This dazzling sequin dress is the same blood red shade as the one seen on Pam. With an interesting neckline like Pam's, you'll be the most ravishing vampire in Fangtasia.
Onlymaker Ladies Women's High Heel Fashion Sandals, $62, amazon.com
Keep it co-ordinated with these high-shine, burgundy skyscraper heels.
ASOS Sequin Choker Necklace, $4, asos.com
Make sure you're blinged up to the max with this burgundy choker. It seems sequins are a girl's best friend!
Play with fashion like Pam and experiment with different styles and outfits. You will look drop dead gorgeous!
Images: HBO; Giphy; Courtesy Brands