7 Wardrobe Staples From Unexpected Mall Stores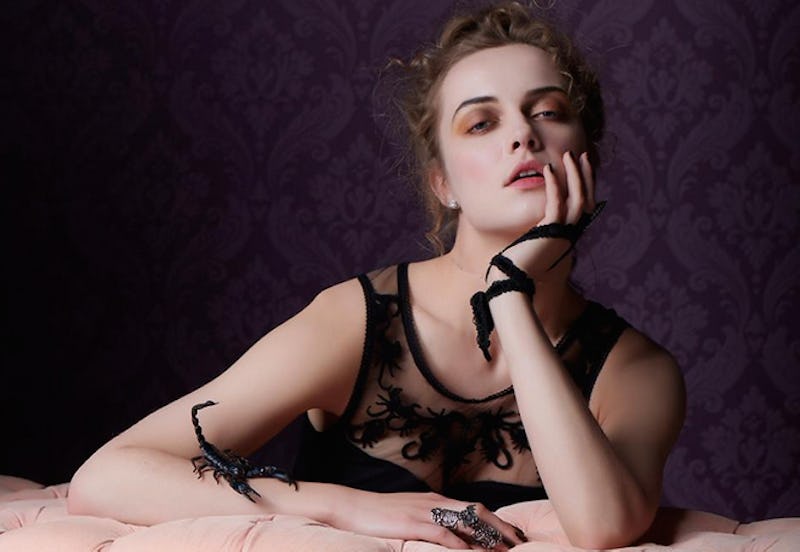 All across America, there are these wonderful shopping centers that conveniently gather up retailers, boutiques, and department stores and put them all in the same place. They house everything from underpants to milkshake blenders and are home to all the teenage fashion stores of your yesteryear. They are malls. Within these malls, there are stores that we all love and adore, and then there are some that we avoid like the plague. Whether it's because they bring back bad memories, or simply don't suit our style, we walk past them without the blink of an eye. But some of the classic mall stores of your youth have major deals on wardrobe staples that might make you think twice about avoiding them the next time you put your shopping hat on.
When I was younger, I used to only shop at Abercrombie & Fitch. Back in middle school, all my friends and I would exclusively wear A&F, and I loved how my clothes felt super soft and smelled amazing. Despite recent business downfalls for A&F, I think my middle school alone could have supported an entire branch of its stores — that's how much we loved it.
Since then, I have lost my interest in fleece sweaters and torn up denim, and moved on to other designers and brands. But just the other day, my curiosity encouraged me to step into the store just to see what it was like — not through the eyes of a middle schooler, but through the eyes of a 21-year-old adult.
To my surprise, I liked a lot of the items I saw on the racks. I didn't buy anything, but I enjoyed the modern silhouettes of the dresses and the pretty co-ords in bright and floral prints. And that opened my eyes to a whole reality of mall stores today. Even though I may have lost interest in them as I grew older, the stores can still hold precious, on-trend gems. Plus, their prices are much more affordable than any item I'll find in a department store. And while I may not be their target audience, that won't stop me from buying an item I really like.
So, in an effort to revisit classic mall stores and highlight their inventories, here are seven classic wardrobe pieces from those mall stores you never thought you would step in — let alone shop at — again.
1. Converse Sneakers From Journeys
Converse Chuck Taylor All Star Hi Sneaker Black, $55, journeys.com
While we can't all have Chucks on with Saint Laurent, Bruno Mars, we can have regular, old, plain chucks. They may have initially been designed as the first, original basketball shoe, but the classic Converse sneaker has become a shoe staple all around the globe. And where else to get it than your favorite shoe store: Journeys? It may have peculiar interior design, and you may be overwhelmed by the amount of shoes you see there, but it does have the best selection of classics, like Converse!
2. Denim Shorts From American Eagle Outfitters
AEO Hi-Rise Festival Shortie, $50, ae.com
It's summer, which means that the likeliness of your wardrobe completely depending on one pair of jean shorts is very high. It's a fact that denim shorts are a summer staple, and American Eagle Outfitters still has amazing denim pieces for sale. Its pair of lightly distressed, high-waisted denim shorts may be inspired by music festivals, but you don't have to be dressed for Coachella to wear them. They're flirty, they're a neutral tone, and they're affordable. What more could you ask for?
3. Romper From Wet Seal
Mimi Chica Bold Blooms Romper, $15, wetseal.com
This summer is all about jumpsuits and rompers. The one-piece designs are simple and comfortable, and a no-brainer for almost every spring/summer event you can dream of. This bright print in this classic romper form — high-waisted shorts with thin tank straps — is both pretty and alluring. So, run, don't walk, to your nearest mall to pick this up from Wet Seal.
4. Rhinestone Hoop Earrings From Claire's
Rhinestone Hoop Earrings, $15, claries.com
Jewelry trends change so often that it's hard to keep up. And it's even harder for your wallet to keep up. While there are plenty of fast fashion stores to get your fix of diamonds and jewels, there's no better classic selection than at Claire's. Yes, that's the same store that you got your ears pierced at. And yes, it still exists. A pair of rhinestone hoop earrings has been on my fashion wish-list for months now, and you can't beat this price.
5. Shirt Dress From Abercrombie & Fitch
Lightweight Shirt Dress, $41, abercrombie.com
My middle school years may or may not be calling my name. But what I know is calling my name for sure is this adorable crisp shirt dress that I never would have guessed is courtesy of A&F. While some of its designs are admittedly a little young for my taste, every so often I'll see a piece like this on its web store. It is a online exclusive, so don't rush to the mall just yet. But remember that it has classic items that your wardrobe will thank you for.
6. Band T-Shirt From Hot Topic
Nirvana Smiley Girls Boyfriend T-Shirt, $20, hottopic.com
I'm convinced that everyone and their mother owns a band t-shirt, which just goes to show how accessible and classic they truly are. But if you have yet to purchase one, look no further than Hot Topic. Don't be intimidated by the scary music playing in the store, or the vast amount of black clothing, or the princess outfits; once you get past the quirks, you have an amazing selection of band t-shirts that will last you forever for a very good price. Trust me, the potential fear you might experience is worth it.
7. Floppy Hat From Pacsun
Kendall And Kylie Conch Trim Wool Floppy Hat, $33, pacsun.com
If the Kendall And Kylie collection hasn't already spiked your curiosity enough to step into a Pacsun store recently, I would definitely encourage you to do so. While this super cool hat is from the Jenner's collection, the rest of the store has a big variety of basic cotton essentials, trendy jackets, and even cute seasonal swimwear. And if all else fails, well, you can pretend like you're Kendall and/or Kylie.
Images: HotTopic/Facebook; Giphy; Courtesy Brands