What Do These New 'WHAS' Stills Tell Us?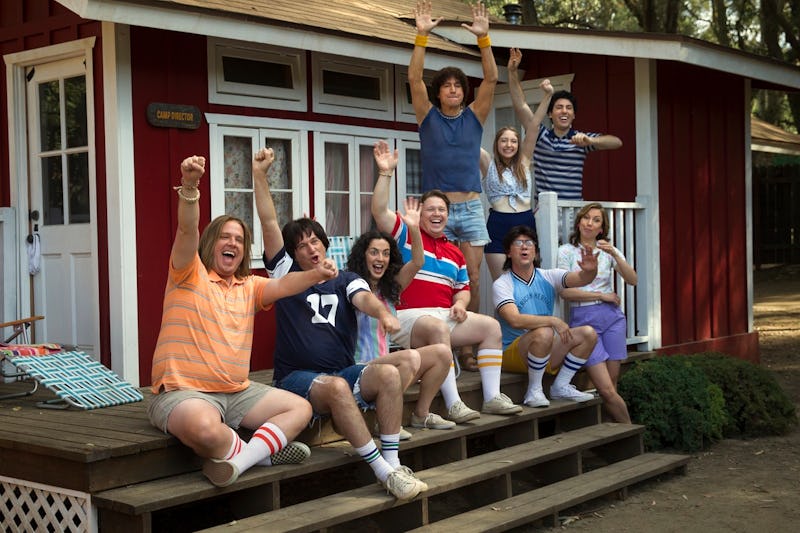 If the announcement of Wet Hot American Summer's return hasn't already placed you on pins and needles with excitement, the recently released stills from the Netflix reboot of the 2001 cult classic — titled Wet Hot American Summer: First Day of Camp — should be more than enough to whet your appetite. This isn't the first time Netflix has revived fan favorites. In 2013, the streaming network brought back the beloved — albeit, underrated — series, Arrested Development, for a fourth season, and Netflix also released the entire series of Friends to satiate all of our binge-watching needs. While reboots can often bring mixed reviews, if the recently released stills for WHAS are any indication of what we can expect, this is one reboot that is poised to be a favorite among binge watchers everywhere, and is bound to bring the same guffaws we enjoyed during the movie's original big screen release.
Not only will a majority of the major players be returning for the series, but it appears that the delectable irreverence we enjoyed from the film hasn't changed much even with over a decade passing since the movie's release. What do the stills tell us about the potential story arcs for our favorite characters? I've taken it upon myself as both a writer and die-hard WHAS fan to do an analysis of each new photo. You. Are. Welcome.
Susie & Ben Are Continuing To Make Sweet/Authoritative Music
It looks like Susie (Amy Poehler) and Ben (Bradley Cooper) are both back in action producing and choreographing Camp Firewood's talent show. Judging by this still, Susie seems decidedly complacent in comparison to her usual tirades ("OK, stop. I feel like I'm watching regional theater, you guys. God!"), but looks can be deceiving and I'd wager a bet that it's only a matter of minutes before Susie cracks in an angry fit of hilarity. Ben, of course, looks as sweet as can be, just like in the movie. With his beloved McKinley (Michael Ian Black) set to return, I can imagine why. Squee!
Andy Is Exactly The Same
Andy (Paul Rudd) returns (YAS!!!), and it appears that absolutely zilch has changed with the negligent Casanova. Hopefully he doesn't have to partake in any lifeguard duty during the series.
Chef Gene Is Back & More Limber Than Ever
Other than an increase in facial hair and increased flexibility, it looks like we can expect the same eccentricities from Chef Gene (Christopher Meloni). One of his friends — a can of mixed vegetables — is nowhere to be seen, but I spy a refrigerator behind him that I'll bet is going to be a key player for any of Gene's story arcs. Is there a reason he's posed in such a combative stance (split)? Knowing Chef Gene, someone is likely just trying to make a peanut butter sandwich. Perhaps we'll receive a backstory on the whole fondling sweaters thing?
Neil & Victor Are Getting Some Good News
Neil (Joe Lo Truglio) and Ken Marino (Victor) will be receiving some good news. Is it going to be Henry Newman's (David Hyde Pierce) arrival? The looks on their faces tell me that something grand (i.e., hilarious) is about to ensue.
Beth Is Holding Chef Gene's Can of Veggies?! WHAT?!
Pathologically responsible (a tough thing to be at Camp Firewood) Beth (Janeane Garofalo) is returning and she's holding Chef Gene's best friend. Does this mean that she was the one who originally brought the veggies, or that she is trying to teach the campers about nutrition, or what? Either way, she looks decidedly disgruntled, likely because she hasn't yet met Henry Newman.
Will We Get Clarity On Gail & Ron's Relationship?
With Molly Shannon and Judah Friedlander returning as Gail and Ron Von Kleinenstein, it looks like we may get some backstory on what led to the dismantling of their marriage — along with Gail's subsequent inappropriate comments during craft lessons.
Lindsay Is Still Lindsay
Like Andy, it doesn't appear that Lindsay (Elizabeth Banks) started in a very different place than what we saw in the movie. Since she didn't hook up with Andy until the middle of the original film, I can only imagine who she has her sights set on in the Netflix reboot. Maybe Victor?
It's Going To Be Epic
This one is pretty much a given, but I had to say it. Can July 31 get here already??
Images: Netflix (8)