Shopping For A Bathing Suit Made Me Love My Body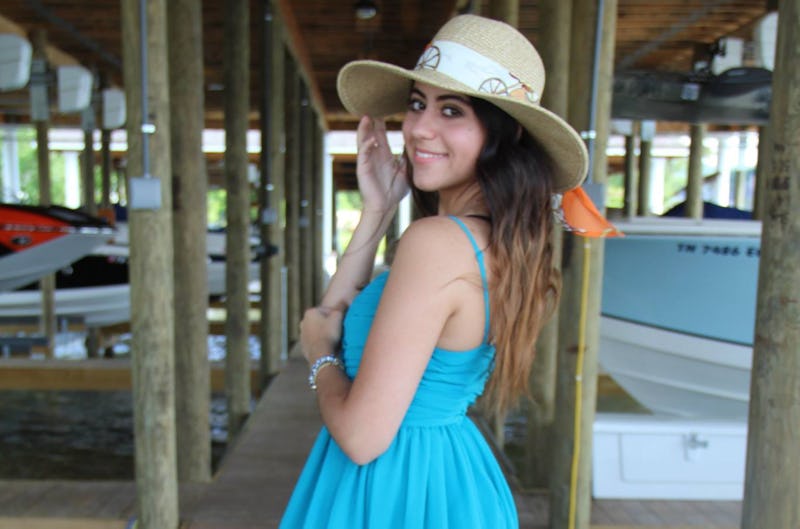 Because it's so hot and humid in the summertime, we're required to shed layers and wear the least amount of clothing to be the most comfortable — which usually means buying a swimsuit. And when you're on the beach or by the pool, essentially pressured to wear a scuba-version of your underwear in front of plenty of people, well, it's safe to say your insecurities will usually be put on display. For someone who (even after years of shedding it all in bathing suits and bikinis) is still mentally and physically working on feeling comfortable and confident in a suit, finding the perfect one is harder than you might think.
I would consider myself rather comfortable with the way I look. I have broad shoulders, thick thighs, and a rather large tookus, but I have grown used to my varying upper and lower sizes and my curvier figure. I don't often feel disappointed with the way I look in clothes. But I do usually pick out high-waisted bottoms and billowy tops to compliment my shape.
When it comes to bathing suits, however, I just can't seem to find a style, cut, or version that makes me feel comfortable and confident in neoprene instead of making me feel insecure about my body or highlight all the traits I've been conditioned to see as "flaws."
Like I said, I'm not one to dwell on body "imperfections" because I believe everyone is beautiful in their own way. But telling someone not to be self-conscious about the way they look isn't going to solve any problem, especially when almost everyone has their own body image struggles. So, yes, I am self-conscious about the way the cellulite on my butt looks, and the way my dark body hair peeks out of every crevice. And, yes, I have bacne that is virtually impossible to hide with any kind of bathing suit (as much as I wish I could surfboard so I had an excuse to wear a full-body rash guard, I can't). And although I'm trying to teach myself to be more body positive when it comes to the way I treat and perceive myself, the journey isn't linear or simple. So what is a girl to do when she's invited to the pool with friends but has yet to find a bathing suit she's comfortable in?
What other than the answer to almost all of my woes? I went shopping.
Recently, I set aside an afternoon to visit all the shops and stores I could, both in person and online, to try and find a unique bathing suit that simultaneously made me feel like I feel in my favorite LBD — like a million bucks. Granted, the challenge was tough because unlike most bathing suits, a LBD can hide all my insecurities while showcasing all my favorite features. But while a LBD can make almost anyone and everyone feel stunning, the story is a little different with bathing suits.
I have been intrigued by the high-waisted bikini bottom trend for some time now, and I happened to find a basic black version that not only hid the hair on my belly but also covered most of my butt, or at least more than that thong-bikini and that G-string version. I really like the look of bandeau bikini tops, but because I barely have any breasts, that top would have virtually nothing to hold onto. I could just imagine my bikini top floating away from me in the water, so I immediately looked for something else. Instead, I found a bright orange tank top-y bikini top that had a lace overlay, that not only made me look like I had bigger boobs, but also covered the rest of my hairy stomach as well as most of the broken-out skin on my back.
I bought the set because it was my favorite pair out of all the other styles I tried on. While I would love to be able to wear a halter top bikini, I would feel too vulnerable with my back exposed (I'm not saying anyone else should feel this way, but it's how I feel at this current point in my journey). And a string bikini bottom might look great on CFDA approved fashion icon Rihanna, but I wouldn't feel comfortable walking around in that, let alone swimming in it. So I went with the safe choice — the one that also happens to cover me up the most. But although I'm satisfied with the purchase, I still find myself scouting other bathing suits that might have just as much or even more potential. Why is that?
I admit that I was relieved to find something that I was complacent about when I was shopping, but what if that wasn't enough? Sure, bikinis and swimsuits have that immediately sexy, alluring connotation — one that goes hand-in-hand with a Victoria's Secret model. But what if bikinis were actually meant to showcase all the beautiful bodies out there, from pear shaped to hourglass to straight to triangle? What if, instead of choosing a bikini that covers all my insecurities, I should have picked one that shows off my cellulite, the hair on my belly, and my bacne? This is my body, my shrine, and I shouldn't fall subject to social norms and body stereotypes — especially when all I want to do is enjoy a day at the beach with friends.
Again, shopping for bathing suits is no easy feat. Because of the nature of social conditioning, many of us are conscious of the mannequins modeling the swimsuits we try on, and all the other seemingly "flawless" people walking confident and poised in as little as their underwear. But the reality is that while swimsuit shopping is arguably the toughest kind of shopping (because we're showcasing the most of our bodies, which we're taught to be ashamed of), it shouldn't be an internal struggle or an impossible challenge.
We should love and care for our bodies year-round, even when the sun's out and layers are shed. We should dress how we want to dress, and most importantly, dress in a way that makes us feel confident and comfortable in our own skin — because feeling comfortable in a bikini is not impossible.
Bathing suits aren't about a "perfect, ideal" body. There's no such thing — or at least, there shouldn't be. They're about real bodies — like mine, in all its cellulite-y, hairy, back-acne glory. So maybe I'll plan on letting it meet the sun more than just a few times this year. And maybe this swimsuit purchase — even if the suit itself isn't what you'd call the boldest choice — is the stepping stone I need to make that happen.
Images: Melodi Erdogan; Giphy