10 Of The Best Thrillers To Read On The Beach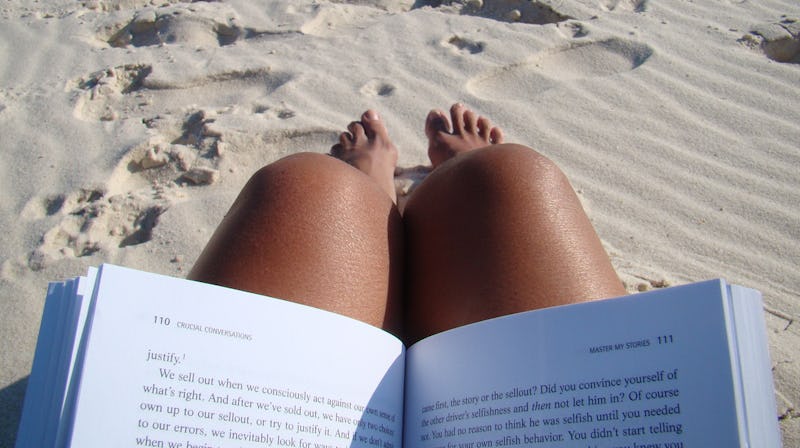 You've read Gone Girl, you've read The Girl on the Train (and how amazing was that, right?! I'm still reeling) — and now you want to spend your entire summer on the beach reading more books just like that. Some people like to live vicariously through YA romance novels on the beach; some people like to read beach-y heartbreakers that will make them cry until the hot lifeguard comes over to check if they're OK; some people even like to impress their fellow beach-goers with their very serious vacation reads.
But you know better than all of them. You know that the ultimate beach read is one that scares you out of your mind, and keeps you glued to your beach towel until you have book-shaped tan lines on your face. And I've got some good news for you: there are tons.
Here are 10 books that will have you wrestling with every muscle in your body not to flip straight to the last page and see what happens. If you pack any of these along with your bikini, you're in for a treat. A scary, scary treat. Spread out the beach towel, slather on the sunscreen, and settle down for a thriller that will give you chills even in the brightest summer sun.
Woman with a Secret hasn't even been released yet, but I can already tell it has all the ingredients of a perfect beach read: an unreliable narrator, a murder, and a secret. It will hit the shops at the beginning of August, so book your beach getaway accordingly.
Louis Drax, an accident-prone 9-year-old, is in a coma after a near-fatal fall into a ravine. As Louis lies unconscious, his doctor starts to fall in love with Louis' mother — that is, until he starts receiving threatening notes in Louis' handwriting. This spooky and mysterious book has a dark secret at its heart, and you'll be desperate to figure it out. Grab this one before the film comes out later this year.
Gone Girl may be Gillian Flynn's most famous work, but it's by no means her most sinister. Dark Places introduces Libby Day as the sole survivor of a massacre in which her mother and two sisters were murdered by her teenage brother. Twenty-five years later, it's not so clear what really happened…
This gorgeously Gothic novel sees two sisters reunited after 47 years in a crumbling old mansion, filled with the moths that one sister studies obsessively. There's something seriously menacing about these sisters, and the mysteries just keep piling on. Outside the U.K., this book is only available on Kindle — one more reason to get yourself an eReader!
Room is written from the point of view of 5-year-old Jack, who lives in a single room with his mother. The room, to his knowledge, is the whole world; his mother tells him that what he can see on the TV is purely make-believe. Midway through the book, the terrible truth of the room will hit you — and then you're not putting this book down for anything.
This is one of those books nobody can stop talking about, and for good reason. It turns the classic murder mystery on its head, by letting the reader see exactly who committed the murder, but with a massive gaping hole over why.
I won't lie, The Dead Heart is a very strange book. But it's also completely bewitching, and pretty darn frightening. When Nick Hawthorne decides to road trip across Australia, he finds himself following a young woman to an isolated town whose inhabitants exist on sex and beer. Sounds like a dream — until he tries to leave. This is another Kindle-only title in the U.S.
This tense novel takes place over the course of one uncomfortable dinner, attended by two brothers and their wives. The couples are there to discuss the terrible crime that their sons have committed, and how they intend to cover it up. As the night goes on, each character turns out to be more sinister than the last. You'll want to rush through this one — partly to solve the intriguing mystery, and partly to get away from these awful characters.
One more Kindle-only title here. (They're more convenient on vacations, anyway!) In The Bed I Made , Kate leaves London after her love affair with the enigmatic Richard falls apart, to hide herself away on the beautiful and remote Isle of Wight. Shortly after her arrival, a woman is thought to have drowned — and this prompts a series of flashbacks to reveal why Kate really fled from Richard. The glorious isolation of the Isle of Wight soon becomes horribly claustrophobic.
Sophie Hannah has made it onto this list twice. Seriously, woman knows how to write a good thriller. Little Face is about a woman who comes home to find a strange baby in her child's crib. Her husband is convinced she's just gone mad; the police investigation is conveniently obstructed. If that's not gripping stuff, I don't know what is.
Image: Anne Adrian/Flickr