'The Secret Life Of Marilyn Monroe's First Husband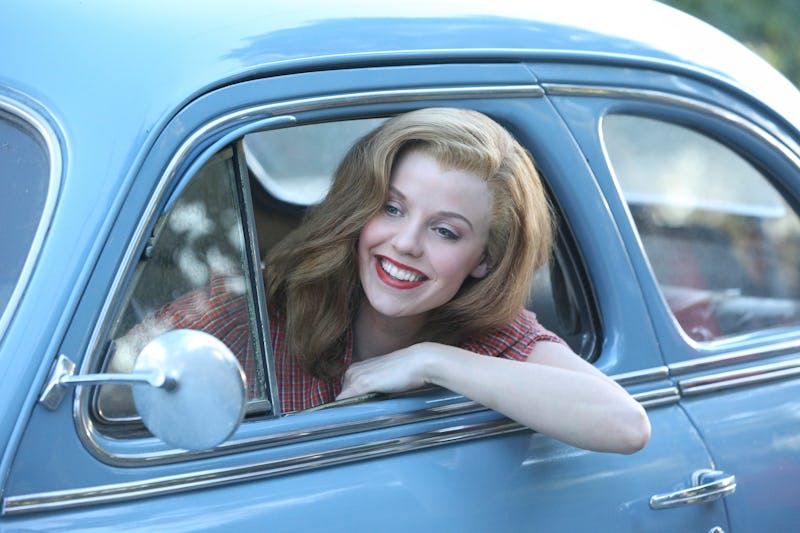 At this point, it feels like every aspect of Marilyn Monroe's life has been dissected and presented to the public, but there might still be parts of her past shown in The Secret Life of Marilyn Monroe that you're not familiar with. Lifetime's two-part miniseries dives into all facets of the actress' life, including who Marilyn Monroe's first husband was. Her second two marriages are much more notorious, since she wed New York Yankee Joe DiMaggio and Death of a Salesman playwright Arthur Miller, but the actress was just a very young woman living in Los Angeles when she married James "Jimmie" Dougherty. Based on a story in the Los Angeles Times after Dougherty died in 2005, the miniseries — based off of the J. Randy Taraborrelli book by the same name — stays pretty faithful to the basic story of their marriage.
The Lifetime movie starts with Monroe (Kelli Garner) recounting moments of her life from childhood to a new therapist. Norma Jeane Mortenson (sometimes spelled Mortensen) was born to Gladys Mortenson in Los Angeles, but Monroe's mother was mentally ill. Gladys Mortenson, portrayed by Susan Sarandon, was in and out of hospitals throughout Monroe's life. In the miniseries, we see Gladys' friend Grace McKee (Emily Watson) take care of Monroe intermittently, until she has to move to Virginia for her husband's job.
With Monroe only being 16 years old at the time, McKee suggested that Dougherty (Giacomo Gianniotti) marry Monroe so that she wouldn't have to go to a foster home. The pair were actually married on June 19, 1942 when Dougherty was 20 years old and Monroe was 16.
In real life, Dougherty said the two were in love, but the miniseries suggests that Monroe never loved him and shows a pretty dark component to their marriage. Regardless of the intimate details, the timeline of their marriage is definitely portrayed accurately — like that the young married couple lived apart when Dougherty joined the merchant marines during WWII. While he was away, Monroe worked at a munitions factory. A photographer came to the factory to get photos of women helping in the war effort and she got noticed. According to the miniseries, Monroe already had aspirations of becoming famous (encouraged by McKee) and her photo shoot at the factory helped launch a modeling and film career.
To pursue her career of becoming an actress, Monroe decided to divorce Dougherty in 1946. (The miniseries doesn't dive into the details of the divorce.) Dougherty ended up being a Los Angeles police detective and was married three times (just like his first wife).
He wrote two books about his relationship with Monroe after she died: The Secret Happiness of Marilyn Monroe and To Norma Jeane with Love, Jimmie.
While the miniseries explores the more familiar stories of Monroe's life and marriages, it does offer a more unique perspective on her relationship with her mother. The first half, which features her marriage to Dougherty, airs on Saturday, May 30 at 8 p.m. Then on Sunday, May 31 at 8 p.m., you can catch the story of Monroe's more notable marriages to baseball legend DiMaggio (Jeffrey Dean Morgan) and famous playwright Miller (Stephen Bogaert).
The Secret Life of Marilyn Monroe may not feature anything too secretive, but fans of the iconic sex symbol can spend their weekends seeing how the brunette Norma Jeane transformed from a 16-year-old bride into America's blonde bombshell — Marilyn Monroe.
Images: Ben Mark Holzberg/Lifetime; Getty Images