Hilary Duff's "Why Not" Video Was The Best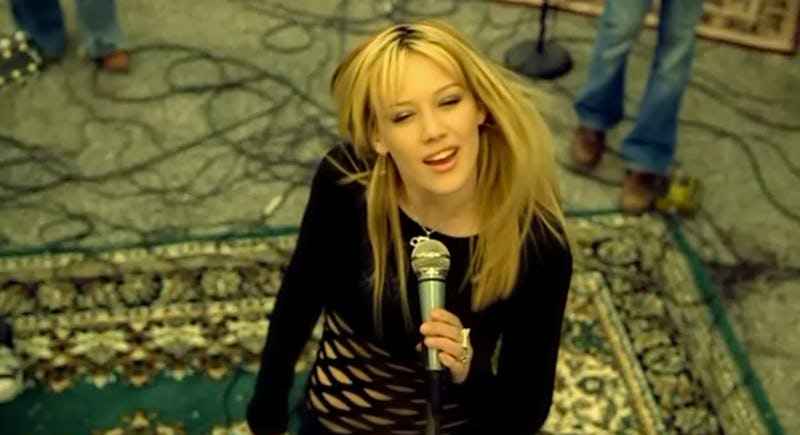 I don't know about you guys, but I'm completely thrilled with this Hilary Duff music comeback. The former Lizzie McGuire star and Disney Channel darling hit the music scene after a nearly seven year hiatus with several singles, including "Chasing The Sun," "All About You," and, her most recent tune, "Sparks," (which Duff just released a music video for that is all about her own adventures with Tinder). All of her new songs are catchy, and their respective music videos are fun, which means one thing: Duff is officially back in the game. But, while that may be the case, it doesn't mean I'm ready to dump all of Duff's older music for her new stuff. For instance: I recently revisited Hilary Duff's music video for her 2003 single "Why Not," and it was absolutely everything I didn't know I needed in life.
There are plenty of truly epic moments in this music video, and I'm glad that Duff's comeback reminded me to look back on the early building blocks of her career. This video, which is now nearly 12 years old (feel old yet?) will certainly take you back — and here are the moments that do it:
This Cool Building Shot
This is a serious music video. There is a special effects budget!
The Hair Flip
In the 12 years since this video came out, I have never been able to master this.
The Woman In A Newsboy Cap
She's not fooling anyone. NOT EVEN HERSELF.
This Dancing Man
He lives a brave life.
This Guy, Challenging You To Do Better
Your move, viewers at home.
When Hilary Duff Asked You "Why Not?"
I don't want to let you down, Duff. I never have.
This Jump Roper Who Gets It
The secret to a happy life is excelling in jump roping.
When We Went All "Magic School Bus" Into The Microphone
Remember that special effects budget?
This Really Hot Guy
He is what dreams are made of.
This Hot Guy Who Thinks He's An Extra In Harry Potter
A long-lost Weasley brother?
This Skilled Dude
The background actors don't seem as impressed as I am.
This Woman Who Wouldn't Survive The Zombie Apocalypse
Run, girl!
This (Oddly Unsettling) Shot
It's pretty hard to tell that this guy has a body, to be honest.
The Ultimate Send Off
BYE.
Images: TMFchechenia /YouTube (15)