72 Hopes & Dreams For Haleb In 'PLL' Season 6
by Sam Rullo & Christine DiStasio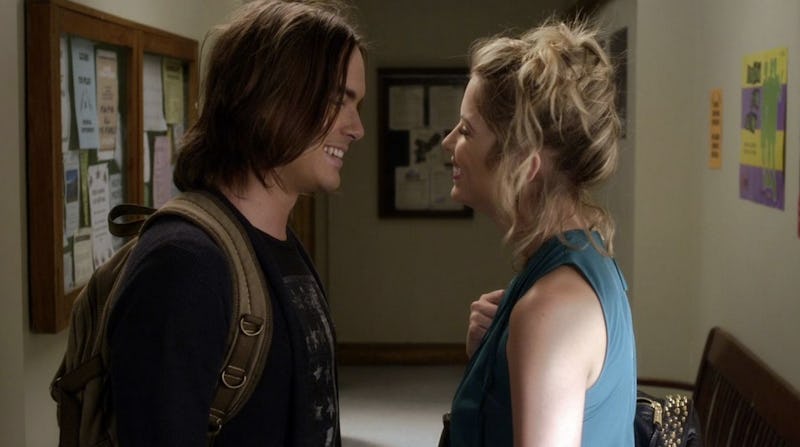 We know you've been dreaming about Haleb and their impending reunion ever since that truly romantic "there's no way Hanna wouldn't call me" moment in the Pretty Little Liars' Season 5 finale. OK, fine. Fans are always dreaming about Haleb because, while there are many struggles of being a Hanna and Caleb 'shipper, they truly are the series' OTP. Thankfully, the spring hiatus is finally coming to an end as Pretty Little Liars Season 6 premieres on June 2, potentially bringing a whole new season of beautiful and heart-melting Haleb moments . And, like any good 'shippers, we've kept a running list of everything we want for the couple this season — because I. Marlene King really needs to make good on those faux-pregnancy Instagram photos.
A handful of important PLL Season 6 spoilers have already been dropped at this point — including the anticipated time jump that'll come after the midseason finale. But what exactly does that mean for Haleb when the show returns? Would King really not give us a Haleb wedding when it would make PERFECT sense? We could go on forever with questions about Haleb's future — especially now that we know that the dollhouse will challenge Haleb after the Liars finally escape. But we'll let this list of 72 hopes and dreams for Haleb in PLL Season 6 do the talking.
1. Hanna defends Caleb
2. Hanna says "bitch"
You know it's the best.
3. More photos of Caleb in the Dollhouse
4. Caleb looks for Hanna
5. Ashley & Caleb team up
6. Caleb punches someone in the face while looking for Hanna
BOOM.
7. Caleb punches Ezra in the face while looking for Hanna.
8. Caleb punches Charles in the face????
9. Caleb finds the Dollhouse
10. EPIC HALEB REUNION
11. Reunion in a Notebook-esque rainstorm
12. EPIC HALEB SEX SCENE
13. Haleb cuddles
14. Hanna calls Caleb
Too many feelz.
15. New matching phone cases
16. More matching flannel
17. PROMPOSAL
18. Haleb for prom king & queen
19. Caleb in a super sexy tux
20. Haleb dances to "XO"
We all cry.
21. Actual date night
22. Emotional swing-set convo
23. Hanna goes to Montecito
24. Hanna bonds with Caleb's family
25. HALEB CAMPING TRIP PART II
Even though we might not be able to handle it.
26. Haleb compromises a crime scene
27. Haleb cuts Lucas out of their lives FOREVER
28. Haleb plans for the future
29. Caleb gets into the same college as Hanna
Preach.
30. Hanna learns about student loans
31. More Haleb cooking scenes
32. Caleb moves back in to the Marin house
33. Haleb shower scene Part II
Presented without comment.
34. Caleb and Toby work out together
35. Shirtless sit-up montage
36. Hanna comments on Caleb's abs
37. Hanna Burns all of Caleb's shirts
Worth it.
38. Travis comes back, Haleb rubs the 'ship in his face
39. Holbrook comes back, ditto
40. Miranda's ghost comes to Rosewood, ditto
#SorryNotSorry
41. Haleb gets a dog, names it Haleb
42. Haleb graduates together
43. Haleb decorates their graduation caps with coordinating designs
44. Hanna pulls a Topanga at graduation
*Squeals*
45. Caleb, obviously, says yes
46. Caleb later proposes to Hanna because he already had it planned #InSync
47. Hanna's rock is on fleek
48. Ali realizes that Haleb is #RelationshipGoals
Haters to the left.
49. Promised Haleb pregnancy scare
50. Haleb wins the time jump
51. Haleb 5ever, stronger than ever
52. They get a sick apartment with a fuzzy pink lamp
For protection, duh.
53. Ultimate city power couple
54. EPIC HALEB SEX SCENE ROUND 2
55. They stay engaged through college
56. Hanna tries on wedding dresses, Caleb is there because they've used up all their bad luck
57. Another surprise dressing room makeout
Bridal shop style.
58. Wedding planning montage
59. HALEB WEDDING YAAAAAAAAAS
60. Ashley walks Hanna down the aisle
61. Mona is the maid of honor
62. Haleb writes their own vows
And they'll be the most beautiful vows of ALL TIME.
63. Spencer catches the bouquet
64. Haleb honeymoon
Finally!
65. MORE SHIRTLESS CALEB
66. Haleb gives "Essence of Best Boyfriend" as a holiday gift to EVERYONE
67. Haleb wears identical outfits by accident
68. Haleb couple's Halloween costume
69. HALEB BABY
70. Seriously, make good on those Instagrams, I Marlene King.
71. Haleb baby wears mini leather jacket and flannel combo
72. Haleb lives happily ever after
Come on, PLL writers, make it happen! It's not like we're asking for a Haleb spinoff series. Although...
Images: screengrab/ABC Family; prettylittleliars (2), halebconfessions (2), multi-fandoms, movies-quotes, secretss-never-die, imteamhaleb, colinoeyebrows, ravenswood-onabcfamily, never-fear-batman-is-here-yeah/Tumblr; realitytvstars, adelelovesyounghollywood/Wordpress; BuzzFeed; Teen; fanforum