'Hannibal' Draws Inspiration From The Book Series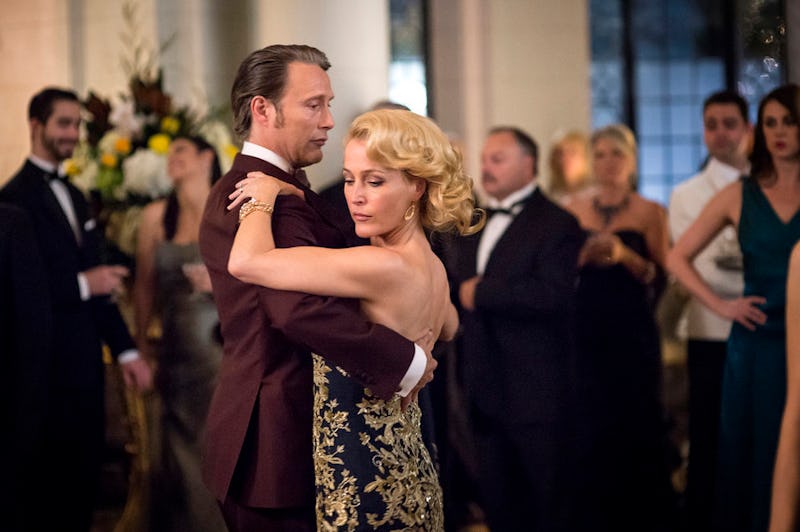 In its first two seasons, NBC's Hannibal served as a prequel of sorts to Thomas Harris' cannibalistic quadrilogy, borrowing the author's characters and weaving them into an original tapestry of beauty, death, and gourmet food. Taking place in the years leading up to the first novel in the series, 1981's Red Dragon, both seasons incorporated facets of Harris' source material into their elegiac dreamscapes while falling short of literal adaptation. But, as Dr. Lecter inches ever closer to his inevitable imprisonment, the show will finally be forced to delve into the events of the novels. So which Thomas Harris book will Hannibal Season 3 be based on?
Up to this point in the series, showrunner Bryan Fuller has detailed the events that occurred before Hannibal Lecter landed in that cell in the Baltimore State Hospital for the Criminally Insane — primarily concerning the serial killer's relationship with unstable FBI profiler Will Graham (the protagonist of Red Dragon). Season 2 signed off with a jaw-dropping orgy of violence that left all three of the show's protagonists bleeding out on Hannibal's floor while the cannibal himself jetted off to Europe with his enigmatic psychiatrist, Bedelia Du Maurier.
The answer to which book Fuller will adapt first isn't as simple as looking at the chronology of Harris' oeuvre. Playing notoriously fast and loose with his inspiration, the showrunner has taken three of the four Hannibal novels and tossed them into a blender, resulting in a Greatest Hits medley of sorts for Season 3:
Hannibal (1999)
The last book in Harris' original trilogy picks up after the events of The Silence Of The Lambs, with Dr. Lecter having escaped from the Baltimore State Hospital and living on the lam in Italy. While Hannibal evades the police, he's hunted by a man named Mason Verger, who's seeking vengeance for something the cannibal did to him years ago. Last season, viewers actually got to witness this violent confrontation between Hannibal and Mason, and Season 3 kicks off with this storyline. (With one slight wrinkle: original Mason portrayer Michael Pitt has been replaced by Joe Anderson.)
Fuller has simply moved Hannibal's European travels from post-imprisonment to pre-imprisonment, reshuffling Harris' third novel in the series' chronology. This means we'll also be introduced to Inspector Pazzi (Fortunato Cerlino, above left with Hugh Dancy's Will Graham), the character played by Giancarlo Giannini in the 2001 Ridley Scott film.
Red Dragon (1981)
Although the novel that introduced the world to Hannibal Lecter was supposed to have its own season in Fuller's original 7-year plan, the showrunner ultimately concluded that 13 episodes was too long to spend with Hannibal on the run, so he collapsed Season 3 into essentially two mini-series. "Originally, the intention was to be in Italy the entire season, and that was not realistic for our production model. It would have involved some water-treading in terms of the storytelling," Fuller told RogerEbert.com. "Condensing what was the planned season 3 and 4 into one season actually made it much stronger. Condensing both of those arcs gives us a creative drive to the storytelling that you don't always get. There's two climaxes to the season. The storytelling feels tighter."
This midpoint shift is signaled by a change in the episode titles. While the first seven will be named after Italian food courses ("Antipasto," "Apertivo"), the last six will be named after the paintings of 19th century English painter William Blake, whose works inspire serial killer Francis Dolarhyde ("The Great Red Dragon," "...And The Woman Clothed In Sun"). Richard Armitage will portray the Dolarhyde (aka the titular Red Dragon), but he won't be the only new character introduced in the latter half of the season. We'll also meet Dolarhyde's blind romantic interest, Reba McClane (played by True Blood 's Rutina Wesley) as well as Will's own wife, Molly Graham (reuniting Dancy with his Broadway costar, Venus In Fur 's Nina Arianda).
Hannibal Rising (2006)
Harris' most recent novel is the earliest in Hannibal Lecter's chronology, and it serves as a prequel that explains the cannibal's backstory. Instead of bothering with a direct adaptation, Fuller has instead elected to sprinkle flavors of Rising throughout Season 3. The press release for the premiere states that, "Glimpses into the past help inform [Hannibal's] relationship with Bedelia, a pairing not clearly defined as friend or foe." Even more revealing is the press release for Episode 3, which reveals, "Will Graham continues his search for Hannibal Lecter, making his way to Hannibal's childhood home in Lithuania. Once there he meets the mysterious Chiyoh, former attendant to Hannibal's aunt."
The mention of Hannibal's aunt should ring bells for those familiar with the events of Rising. During his childhood, young Hannibal was sent to live with uncle Robert and his mysterious wife, Lady Murasaki. This was an influential period in the budding cannibal's life. Originally, Fuller had stated his intention to bring Murasaki to the small screen — but he revealed at last October's Paleyfest that plans had changed. "Lady Murasaki is an older woman so we shifted the character," Fuller explained. "It's the same story but the character is Chiyoh, which is also from the literature who was Lady Murasaki's attendant. So, we are expanding that character and her history with Hannibal." The Wolverine star Tao Okamoto (above) was cast to fill this expanded role.
The Silence Of The Lambs (1988)
So, Season 3 will feature elements from three of Harris' four Hannibal Lecter novels. But, what about the most famous of them all? Sadly, Fuller and NBC still do not own the rights to The Silence Of The Lambs: They belong to MGM, who adapted the work into Jonathan Demme's classic 1991 Best Picture winner. The movie studio has thus far proven unwilling to part with the rights to the acclaimed material. This is problematic, given that Season 3 plans to wrap up the events of Red Dragon, meaning that Lambs would be the next in line.
For his part, Fuller doesn't seem too worried. The showrunner has stated that he will attempt a "full-court press" to get hold of the rights, while producer Martha DeLaurentis has stated that, "If they say no, because they want to do their own series, then we'll just do our own mash-up." It's not like Fuller has no options. The show has already introduced the character of Miriam Lass, an FBI trainee who Special Agent-in-Charge Jack Crawford pulled under his wing, similar to the character's relationship with Clarice Starling in the novels. If worst comes to worst, Fuller could conceivably find a way to integrate Lass into the Lambs storyline.
But, why worry about Season 4 now when we still have 13 gloriously gory episodes of Season 3 to get through? Tune into NBC June 4 for the premiere, "Antipasto." I'm sure it will be delicious to watch.
Images: Brooke Palmer/NBC (2); Anthony Harvey/Getty Images; MGM