Kaitlyn's 'Bach' Treatment Is A Double Standard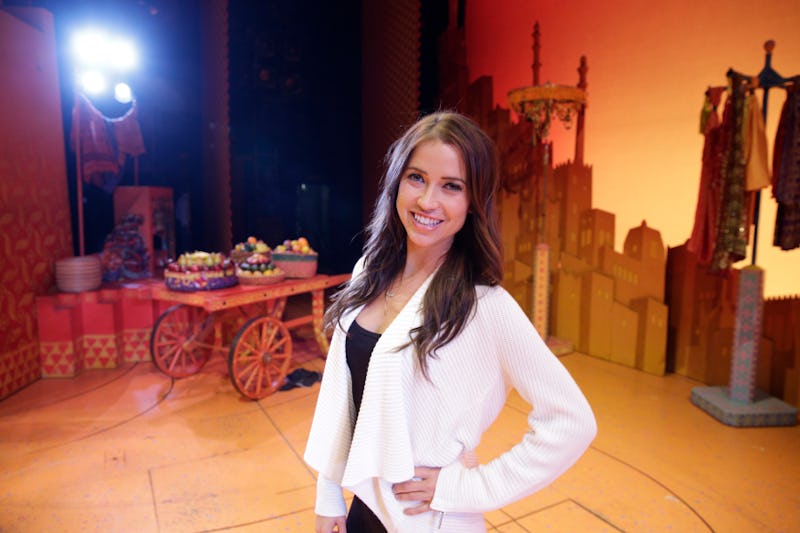 I've noticed something really unpleasant about this season of The Bachelorette. There's been a huge backlash towards Kaitlyn Bristowe in regards to her sexuality and the fact that she had sex with one of the Bachelorette contestants. The criticism she's received from fans has been pretty unfair, especially since everything she's "done" has seems to be in the spirit of finding someone she's compatible with.
Unlike some of the guys who have been featured on The Bachelor (*cough* Juan Pablo *cough*), Kaitlyn has always seemed genuine in her pursuit of these guys — in her People magazine blog, she's even been explaining just why she's chosen to eliminate each guy, and her explanations all make sense. Kupah preferred Britt, and didn't seem to feel a "connection" — makes sense to throw him out. As she said, keeping Cory away from his daughter for even one extra day when she knew she didn't want to marry him would be wildly unfair. I think largely her decisions have been totally measured, and she's taking the process seriously. But, because she's also shown that she has a really great sense of humor and is a sexual person, viewers have claimed Kaityln's not acting appropriately for a Bachelorette, accusations that would likely never have been thrown at a Bachelor. And, that double standard is as obnoxious as these criticisms that people have made of Kaitlyn so far.
1. "She's Too Sexual!"
When Kaitlyn admitted in a promo that she had sex with one of the Bachelorette contestants, the world was scandalized... but why? Somehow the women always bear the brunt of negativity surrounding sex on the Bachelor/ette series, whether she's the star or the contestant vying for the Bachelor's affections. A contestant who skinny dips? Desperate. A Bachelorette who has sex outside of the almighty Fantasy Suite? Somehow equally desperate. This is a show about romance and love — ignoring sex is a big mistake, and blaming Kaitlyn for choosing to have sex isn't fair.
2. "She's Slutty!"
This is slut shaming and Kaitlyn herself has spoken out about why it bothers her to People: "I definitely have tough skin, but when people are calling you names like a slut, it hurts. It's been really hard." Listen up, fans: Bachelorettes can be as sexual as Bachelors, and unless they're hurting someone else, they shouldn't be judged.
3. "She's Stringing Them Along!"
Nick Viall is appearing on this show this season, and there are plenty of people who think that adding Nick is "unfair" to the other guys in the cast, paying no mind to the fact that this is Kaityn's journey to love and if she likes Nick, who cares. Plus, it's important to note that the timing of his addition was likely a producer stunt, and Ii's not like she was dating Nick before the season behind the other guys' backs. There's no stringing along happening here.
4. "She's Annoying!"
This is mostly connected to her sense of humor, which I've appreciated so far this season. She laughs a lot, and she should be putting that out there, because it would be way worse if she wasn't true to her sense of humor and wound up with a guy who wasn't compatible with her. You can't pick on looks and "connection" alone.
5. "What Bad Taste In Guys!"
I admit, after she called that first date with Clint "amazing," I was also pretty doubtful — he seems like the skeeviest jerk — but ultimately, Kaitlyn realized that at the very least, Clint was not serious about finding a life partner, and was way more interested in bro-ing down with JJ. That might even result in an early elimination for Clint. I don't think being swept away by a great date for a week or two is that much of an offense.
6. "Britt Was So Much Better/Classier/Prettier!"
Obviously there's no need for baseless insults to be thrown around, and Kaitlyn is a beautiful woman. That said, the whole concept of pitting Britt and Kaitlyn against one another encouraged this kind of objectification and snap judgements. Kaitlyn's exuberant personality is far more polarizing than Britt's, who's what fans have come to expect from a Bachelorette. But, it's up to the fans to fight against those criticizing Kaitlyn unfairly just because she was picked as The Bachelorette. She deserves better.
Images: Heidi Gutman/ABC; Giphy (6)