5 Reasons Little Sisters Are More Fashionable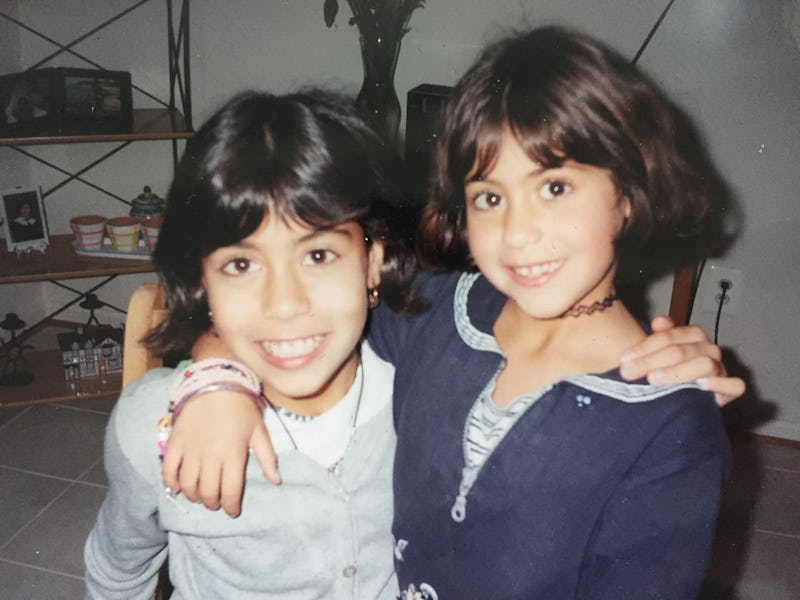 I have a lot to thank my sister for, including the fact that being a little sister comes with its sartorial advantages. Over the years, she has provided me with plenty of advice, direction, and encouragement as I struggled through what she had already experienced. She's always been my best friend, and my greatest confidant. And while I'm grateful for everything my sister has ever done for me — from picking a booger off my face to introducing me to the wonders of Harry Potter — there's one thing that I'm particularly appreciative of: Her helping me curate my own personal style. And because we share such a special bond, I can confidently say that younger sisters are more stylish than their older siblings.
Now, hear me out. You might just be ready to call me a snot-nosed little sister, but that probably just means you're an older sibling, right? If you're a little sister like me, I'm sure you're nodding your head in agreement.
Growing up with an older sister has paved the way for all of my decisions and experiences in life, which seeped into my self-expression and personal style in a big way. Because my sister constantly took me shopping, let me borrow her magazines, and always talked to me about designers and models, I became fascinated with the topics and went at them full speed ahead. And sorry sis, I hate to admit it, but eventually I took the lead.
There are numerous reasons why little sisters are more fashionable than their older counterparts, from having a wardrobe to raid to taking advantage of their wisdom, but here are the main five reasons the little sister has a major advantage.
And of course, five of your favorite celebrity sisters (featuring the aforementioned more stylish little sister) who really help solidify my argument (insert winky face emoji here):
1. Older Sisters Make Mistakes First
One time, my sister wore a denim dress over jeans. I still make fun of her for it today, but in a way it was a valuable lesson. As much as it probably sucked for my sister to have to take a chance with every outfit and realize it absolutely sucked a few days, months, or years later, it definitely helped me out. Because each and every terrible outfit my sister wore, I never emulated. And for every amazing outfit she wore, I was able to emulate it to the T.
That's certainly true for Beyoncé and Solange. Queen Bey has amazing style, but let's not forget about her '90s mishaps. As much as I love Destiny's Child, there were some DC outfits that were less than on point. But you've never seen Solange in white sequins now, have you?
2. There's Always Another Closet To Raid
One of many philosophies I like to live by is that one can never have too many clothes. And as if my closet weren't big enough already, I always have my sister's, too. I can remember countless times when my sister and I have fought over who was going to wear what, and it still happens today. We always seem to want to wear the same thing, so I guess great minds think alike.
But the advantage of being the younger sister is that the older sister typically always has a bigger closet and more options to choose from. For as long as I can remember, my sister has gotten a bigger allowance, earned an income, and had a car. In my mind, those three things — that I did not have — all added up to more clothes, and it was definitely nice to pick and choose from my sister's wardrobe.
And for some reason, she was always nice enough to let me. Just like Vanessa Hudgens and her little sister Stella, who is seriously giving Vanessa a run for her money in the style department.
3. Sound Style Advice And Wisdom
My sister obviously got me into fashion and style at an early age. Since I have always credited her with helping me express myself through style, she's always been someone I go to for sartorial advice and wisdom. Whenever I was iffy on a pair of jeans or a blouse, I always asked her for her opinion. While she can be brutally honest with me (I won't even start on what she has called me), she's never going to lie to me if a shirt is ugly or if a pair of shorts don't fit.
Plus, since it's the older sister's job to look out for their younger sister, it's not in her nature to lie to me. Even if she would secretly enjoy watching me walk around town in a terrible outfit all day long.
But that's surely not the case for Mary Kate and Ashley Olsen, who always look fabulous together. Yes, they are twins. And yes, they might always somehow match their outfits, but they're sisters and I guarantee you they look to each other for style and shopping advice.
4. Someone To Gush With
Like I said before, my sister is my best friend. I share everything with her, and one of those things is our mutual interest in fashion and style. While I secretly wish our lives were fashionably intertwined like model sisters Gigi and Bella Hadid, I'm still constantly gushing over clothes, shoes, and outfits with my sister.
While we might not be walking the Tom Ford runway together, we're definitely taking Instagram photos together, editing each other's outfits, and helping each other get ready for nights out. Even if we might get on each other's nerves, it's always nice to have a partner in crime. And while I was too young to help guide her through her punk rock phase in middle school, now I have her back.
5. We Always Have Someone To Look Up To, Style-Wise Of Course
While I sound pretty confident that I'm more stylish than my sister (even though she may argue that fact), I have to admit that if it weren't for her interests and personal style, I would be completely lost. Who knows if I would even know what a stiletto is? Who knows if I could name every creative director of every top fashion house? Who knows if I could properly pronounce Givenchy?
Sure, those aren't necessarily the most important things to know in this world, but they're important to me. And if it weren't for my sister helping me learn every step of the way, I wouldn't be where I am today. And I can bet you that the same is true for the Kardashians, especially the youngest of them all, Kendall and Kylie Jenner. Because let's be real here: Have you ever seen a more stylish set of sisters?
Images: Melodi Erdogan; Beyonce, StellaHudgens, AshleyOlsen, GigiHadid, KylieJenner/Instagram