11 Plus Size Bloggers With A Flair For Streetwear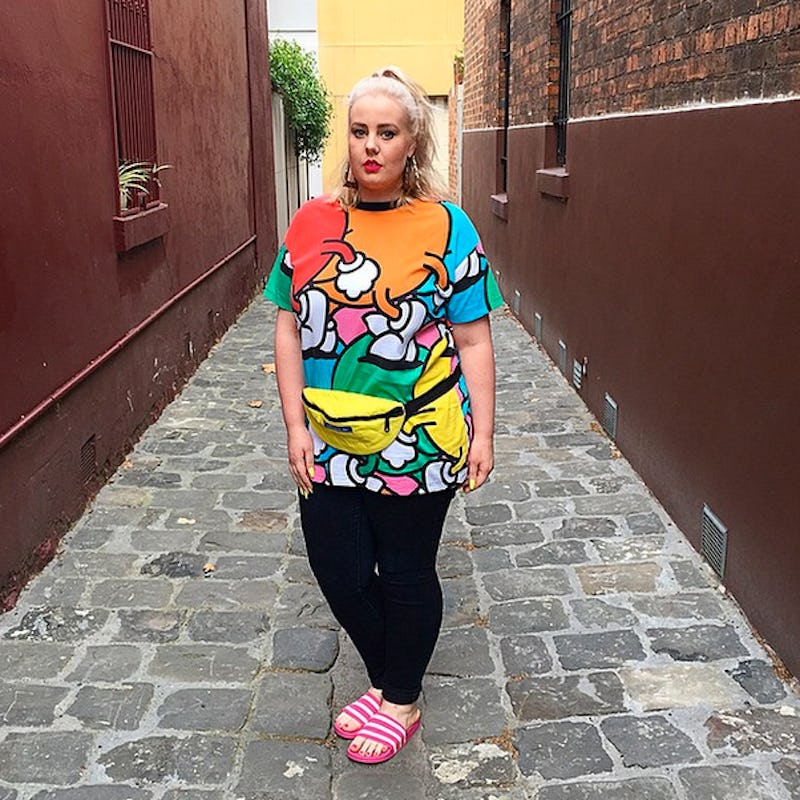 For a long time, plus-size retailers sold women the same image with a set of marching orders: cover up, hide "problem" areas, and whatever you do, don't wear anything tight. Thanks to the work of designers, models, bloggers, and body positive advocates, these rules are finally going the way of the dinosaur, and with this disappearance has come an emergence of personal style and an increase in visibility for plus size bloggers with streetwear style and minimalist flair. These bloggers show that there's no fashion checklist to be a plus-size fashion blogger and that individuality really reigns supreme.
Before I delved deeper into the plus-size community, I mistakenly thought there was no place for someone like me, whose personal style is more gaudy streetwear than rockabilly pinup. While I was always happy to see fat women in fashion, I didn't necessarily look to these retro chic babes for my own fashion inspiration. But over the past year, my list of bloggers who swing closer to my personal aesthetic is growing longer than just GabiFresh and Nadia Aboulhosn. It's not uncommon for me to see a plus-size blogger decked out in sneakers and faux fur or an oversized t-shirt dress and gold chain necklace and head right to the credits to see how I can add it to my own wardrobe.
And as we get rid of these so-called fashion rules for plus-size women, we have to also erase the idea that there's only one way to be accepted as a plus-size women in fashion. Whether it's embracing plus-size minimalism or over-the-top gaudiness, these bloggers show that plus-size fashion has a lot more to say than high-waisted skirts and peplums.
1. Rhiannon Hennessy
Instagram: @Flossylox
Rhiannon Hennessy of the brand Flossy Lox is one of my newest style obsessions. Her personal streetwear infused style is so distinct yet aligns perfectly with my own. It's clear that she wears what she wants and that includes loads of bright colors, Adidas apparel, sneakers, Timbs, and a lot of cheetah print. She's even making me want to wear overalls again.
2. Margie Plus
Instagram: @margieplus
Margie Plus is a style blogger and singer responsible for the 2014 album Radio Ratchet, and both her music and personal style remind me of the "no effs to give" attitude that I love about Rihanna. Equipped with a plethora of faux fur coats, jerseys, beanies, sequins, and cut-off jean shorts, I want to borrow just about every piece in her closet. Her recent Bullet Magazine editorial proved how flawlessly street she can be, while her #MidiMoment style campaign for Eloquii made me totally see the brand and midi skirts in a whole new light.
3. Tiffany Tucker
Instagram: @Tiffany104
Tiffany Tucker of the blog Fat Shopaholic was the very first plus-size blogger to wear my brand Ready to Stare back in 2012 when we both lived in Chicago. And she was also one of the first people to introduce me to the plus-size fashion community. She started her blog back in 2009, which means her readers have witnessed her style evolve from '90s-inspired bright-printed skirts and dresses to gender neutral minimalism.
Now that she's studying abroad in Brighton, England, her personal style has become sleek, minimal, and as she defines it "hard femme." Style comes natural to Tucker and while her look has evolved, I am really always here for anything she does because of the authenticity that she brings to plus-size fashion.
4. Isabell Decker
Instagram: @dressingoutsidethebox
Isabell Decker is a German-based fashion blogger and designer. Her blog Dressing Outside the Box aims to be an inspiration for women of all sizes. She writes, "Bootcut Jeans, printed tunics, and body slimming clothing are not, and will never be, part of my wardrobe. I want to motivate women to wear whatever they please to." From leather joggers and biker jackets to bow ties and mod dresses, her style is very Agyness Deyn meets Twiggy. Though she clearly pays attention to every detail of a look, her outfits always end up looking completely polished and effortless.
5. The Curvynista
Instagram: @thecurvynista
Netherlands-based style blogger The Curvynista has an affinity for Jordans and hamburger-themed garb and I am into it. Her personal style lives in perfect colorful streetwear harmony. In addition to sharing her own OOTDs, you can head to her blog for Foodie Fridays, streetspiration, and a weekly Curvy Crush.
6. Cynthia Ramsay Noel
Instagram: @flightofthefatgirl
Cynthia Ramsay Noel of the blog Flight of the Fat Girl is someone I can always count on to have on lust-worthy gold chains (some of which are from my brand, which is dope!) and a great set of claws. I don't know if I noticed her nails first or her bleach-blonde curls, but once I found her, I was hooked to her personal style. It's a total added bonus that she's a big supporter of indie designers. Noel is a blogger whose style moves seamlessly from sequin bodycon dresses to jeans, sneakers, and a graphic tee. And in my opinion, it's really all working for her.
7. Lalaa Misaki
Instagram: @lalaamisaki
I had the pleasure of meeting French blogger/model Lalaa Misaki last fall at Plus Night Out in New York and she was just as flawless in person as she is on her blog. In addition to perfecting the pout, Misaski's personal style is pretty perfect, too. Her style is sporty, minimal, and subtly glamourous. And her nail art game is on point.
8. Luciana Blümlein
Instagram: @luziehtan
German-based makeup artist Luciana Blümlein started her blog back in 2009 to fill a need for a fashion blog that didn't report on designer fashions but one that reflected her outfits, makeup, and personal style. Now the blog is a destination for nail art tutorials, makeup reviews, and, of course, some badass OOTDs.
9. Drini Marie
Instagram: @missdrini
Technically Drini Marie is not a blogger, she's a celebrity makeup artist who has worked with artists such as Brandy and Amber Riley. But when she does post OOTDs on her Instagram, her personal style really shines through. She has a knack for styling all kinds of different denim washes and making flannel look extremely chic. You'll follow for the makeup inspo and find yourself rocking a great pair of rolled up jeans before you know it.
10. Chelsea M.
Instagram: @the__chza
If Chelsea's face looks familiar, she was also featured in my post on plus-size bikini babes. But her personal style outside of swimwear is really so so so good that I had to include her in this list, too. Chelsea is a photographer who runs the blog Chelsea is Workin On It, where she's known to speak openly about mental health and proudly rocking a VBO. And don't even get me started on Chelsea's shoe collection of everything from Timbs to platforms that even the Spice Girls would be jealous of.
11. Lydia Okello
Instagram: @styleisstyle
I discovered blogger Lydia Okello via the HBIC of plus-size blogging, GabiFresh. On her blog Style is Style, Okello says she has a "panache for vintage whimsy" and her looks have a very early to mid '90s feel that I always strive for in my own outfits. Though I am someone who rarely wears denim, Okello makes me want to wear jeans and listen to a lot of Drake.
Images: FlossyLox, margieplus, Tiffany104, dressingoutsidethebox, thecurvynista, flightofthefatgirl, lalaamisaki, luziehtan, missdrini, the__chza, styleisstyle/Instagram