Tarantino's 'The Hateful Eight' Has A Release Date
Quentin Tarentino's first film since the hugely successful Django Unchained has finally been scheduled, so we can start making off our calendars from now. The Hateful Eight has a release date, and will be in theaters on Christmas of this year — for all those who need a little blood mixed in with their Christmas cheer. However, the film will only be in limited release for the first two weeks after December 25, and it will be released to a wide audience on January 8, 2016. Unusually, the movie was shot in 70mm, the rare, expensive, but beautiful alternative to the typical 35mm.
Besides the film quality, there are a lot of reasons why this movie is something to be excited about. Like Django, Hateful Eight is a western set in the 1800s. The movie will star Samuel L. Jackson, Kurt Russell, and Jennifer Jason Leigh, among many others. The plot sounds intriguing; Russell plays a bounty hunter who takes Jason Leigh's character hostage, and the pair end up stuck in a cabin full of shifty outlaws and ruffians. Tarentino has said that the film is influenced by episodes of shows like Bonanaza and The Virginian, in which the lead characters are taken hostage by bandits. His goal was to put "a bunch of nefarious guys in a room, all telling backstories that may or may not be true." Sounds like a pretty great premise, and the abstract trailer revealed some details about those nefarious characters.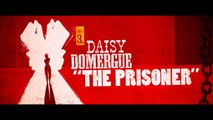 There was a time when it looked like The Hateful Eight was never going to be made. Tarantino announced the film in 2014, but the script was then leaked. Devastated, Tarentino decided to release the film in book form alone, and did a live reading, but he later went back on the cancellation and went forward with making the film.
The leaked script got everyone who read it pretty excited; the consensus was that it was more serious fare for Tarentino, though definitely true to form. Even those who already know the plot are in for some surprises; Tarentino has written a new draft with a different ending for the film. Another reason The Hateful Eight might be especially anticipated is that it could be Tarentino's last. He has announced that his retirement is imminent, and he plans on retiring after this tenth film. While fans hope he's bluffing or will change his mind (like he did with Hateful Eight), at least we have this one to look forward to this Christmas.