Are Britt and Brady Faking It?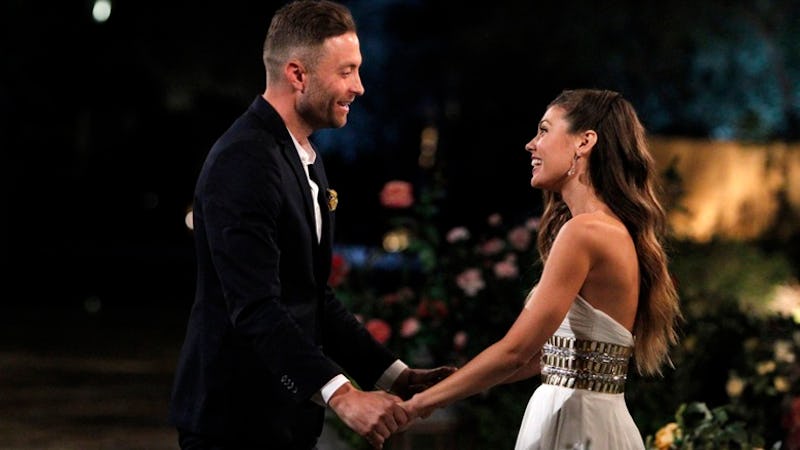 I have no doubt that if that Michelle K. and that mystery producer who jumped out of her hotel window and broke both of his ankles (or whatever) on the last season of Bachelor in Paradise somehow ended up getting engaged or producing spawn, Chris Harrison would still call it a Bachelor success story. So, you bet your rose-loving-ass the franchise will take credit if there's any chance of a happily ever after for this season's permanent B-plot, Britt and Brady. You remember Britt — the rejected Bachelor contestant who believed in the process enough to go up against Kaitlyn, only to be rejected when The Bachelorette let the dudes vote on who was better wife material between the two. And, you remember Brady — the fella with the soulful smile who went chasing after Britt to tell her he'd still like to take her to coffee even if it wasn't sponsored by Neil Lane. But, are Britt and Brady for real? Or are they faking the romance for the ratings?
It was a bold move for Brady to reach out. A move probably totally encouraged by a team of veteran producers, but, still, a bold move! And, last Monday, The Bachelorette gods (aka, Trista and Ryan) smiled upon us, giving us not only an update, but confirmation, from the beach frolicking Brady and Britt that they are very much boyfriend and girlfriend.
Of course, that could have been filmed months ago... so, I'm totally not pointing any fingers at The Bachelor editors, who would never ever manipulate a situation to make it seem like more than it is... but, it's possible they're playing us all. There's only one way to find out if Britt and Brady are really together: Fly to Nashville and stalk every coffee shop that seems to have vague Christian music undertones. And, short of that, go straight to social media and rumors, of course...
The Facts
The Show: Well, there's the fact that the show has told us explicitly that Britt and Brady are dating. Brady called his whirlwind romance with Britt, "one of the most beautiful times in my life" and Britt implied that he would be meeting her family soon, which you might recall was a big hang-up of hers with Chris Soules.
Brady's Social Media: Brady's social media is the best thing B&B-heads (don't act like you're not out there) have to go by, because he posts about Britt often. His captions leave nothing to the imagination... he's into this woman. More specifically, he's very publicly into this woman: He live tweeted the show when they were on last week, he posts multiple pictures of them together every week, and he's very straightforward with his affections.
Britt's Social Media: Britt, on the other hand, is a little more coy. She's only posted two Instagram pics that include her boyfriend, Brady, and they don't exactly have captions that imply they'll be the great lasting romance of our generation.
Notably, Britt didn't post anything about the two of them being together while they were declaring that together-ness during the show's end credits last week; but maybe Britt just isn't big on internet displays of affections.
The Allegations
The Rumors: Britt said on the show that she wouldn't be dating Brady if she didn't think she could marry him, but after the segment aired, InTouch reported via "a source" that "Their relationship is not serious at all ... they're keeping it going for the fame."
Reality Steve (POSSIBLE SPOILERS AHEAD): On the other end of the spectrum, Bachelor guru RealitySteve posted back in May that Britt and Brady had been spotted without any Bachelor cameras having a lovely afternoon in Cardiff, CA with Britt's nephews... perhaps that's the meeting the family stuff we heard about in their last package?
The Verdict
Yeah, they're (probably) totally together. I never wanted Britt to be my Bachelorette, but I don't see her introducing anyone to her family that she's just dating just for publicity. And, Brady's over-the-top captions just seem like the result of him being a sappy guy... he is a singer/songwriter, after all. Will Chris Harrison being officiating their wedding anytime soon? Probably not. But, at least they're a glimmer of hope under the newly dark cloud of Nick V. on this season.
Images: Rick Rowell/ABC; Britt Nilsson/Instagram; Brady Toops/Instagram