'The O.C.' Series Finale's 13 Best Moments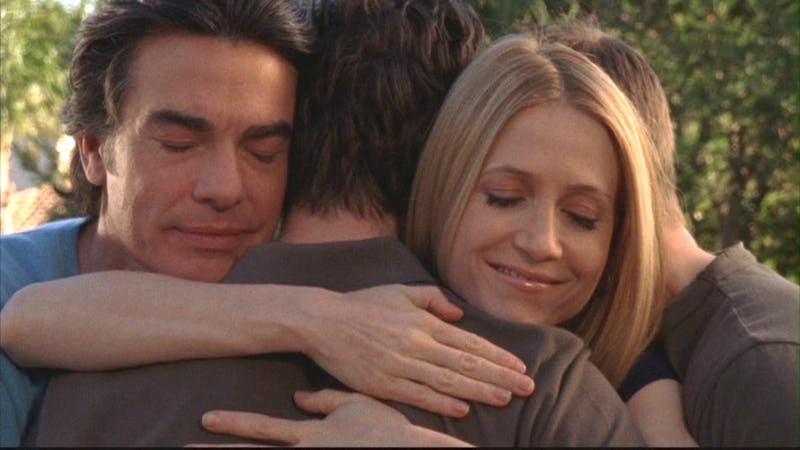 It's always a little nerve-racking to watch the series finale of one of your favorite shows. Fans have invested time and emotion, and the characters have become so beloved to us that it's hard to imagine never seeing them again. The O.C. was a cultural phenomenon that revived the primetime teen soap opera, introduced us to countless indie bands, and gave us a group of quirky, loveable, and angsty characters — both teen and adult — who we will never forget. But since all good shows must come to an end, the best we can hope for is to see our favorite characters get the send-off they deserve — and The O.C. series finale achieved just that.
"The End's Not Near, It's Here" had all the qualities that made us fall in love with The O.C. in the first place: Cohen family love, Seth and Ryan bromance, bagels, indie music, and a whole lot of emotion. The finale, which took place six months after the prior episode in which the Cohen's home was destroyed in an earthquake, was full of poignant endings and new beginnings. In keeping with the spirit of the series, the finale made us laugh, cry, and everything in between.
Here are the choicest moments from The O.C. series finale.
1. When Seth & Ryan Came Up With Their Final Plan
Seth and Ryan always knew when it was time to come up with a plan and put it into action. Their final scheme involved buying back Sandy and Kirsten's first home in Berkeley (the anti-Newport) from the couple residing in it.
2. When Summer Became A (Bunny) Grandparent
Before little Sophie Cohen was born, Pancakes — one of the best characters introduced in Season 4 — gave birth to a litter of baby bunnies. This came as a shock to Summer, who neither realized that her rabbit was pregnant, nor that it was a girl. "Oh my god, I'm a bad crack mother," she lamented. Don't be so hard on yourself, Summer.
3. When Sophie Rose Cohen Was Born
Seth and Ryan returned to the Berkeley home, this time with their parents, to plead their case one more time. Kirsten's water broke about 30 seconds after they arrived, and, in one of the most convenient coincidences ever, one of the current residents happened to be a midwife. And thus, Sophie Cohen entered the world and became the newest addition to TV's greatest family.
4. When Summer Gave Julie The Marissa Pendant
On Julie's wedding day, she encouraged her late daughter's best friend to follow her dreams and not to settle for what was comfortable — advice Summer really needed. When Summer gave Julie a pendant with Marissa's photo, it was the first (but certainly not the last) moment of the finale that brought on the tears.
5. When The Berkeley Home Officially Became Sandy & Kirsten's Again
"This is your house; we're just living in it," the midwife and his husband told them. Sandy and Kirsten's beloved first home became theirs again and Sophie Rose was spared a childhood amongst the Newpsies.
6. When Summer Chose Saving The World Over Comfort
With Julie and Seth's encouragement, Summer chose get out of her rut, take a year off from Brown, and travel on a bus for a year as a political activist. She left Ryan with a parting gift — Pancakes' offspring, Flapjacks.
7. When The Bagel Slicer Was Basically Acknowledged As Part Of The Family
As they packed up their Newport mansion, Sandy and Kirsten gazed at the bagel slicer with about as much love as when they looked through their old family photos.
8. When The Family Shared Their Final Group Hug
Ryan saved the Cohen family just as much as they saved him. Seeing them share one final group hug brought on all the feels — OK, and some more tears.
9. When Ryan Walked Through The Cohen Home One Last Time
After Sandy, Kirsten, and Seth departed, Ryan stayed to say goodbye to the first real home he'd ever had. As he walked through the Newport house one last time, he was flooded with memories of his life with the family who took him in: his initial awe at the mansion, meeting Seth for the first time, and Kirsten telling Sandy and Seth that Ryan could stay with them for good.
10. When Sandy Became A Law Professor
I'm pretty sure he was damn good at it — Berkeley Law School has a Sandy Cohen Public Defender Fellowship (yes, in real life). Any recipients have huge shoes to fill!
11. When Julie Completed Her Undergrad Degree
Julie happily graduated, while Kaitlin, Bullit, Frank, and her young son all sported "Team Julie" T-shirts and cheered her on from the audience.
12. When Seth And Summer Said "I Do"
They were each other's destiny, after all.
13. When Ryan Became The Next Sandy Cohen
The O.C. came full circle in its final moments when Ryan reached out to a troubled kid on the street. Seeing Ryan turn into Sandy 2.0 was the perfect ending, because it's an undisputed fact that the world needs more people like Sandy Cohen.
No, I'm not crying. You're crying.
Images: Warner Bros. Television (10); Giphy (3)