How Much Of 'Aquarius' Actually Happened?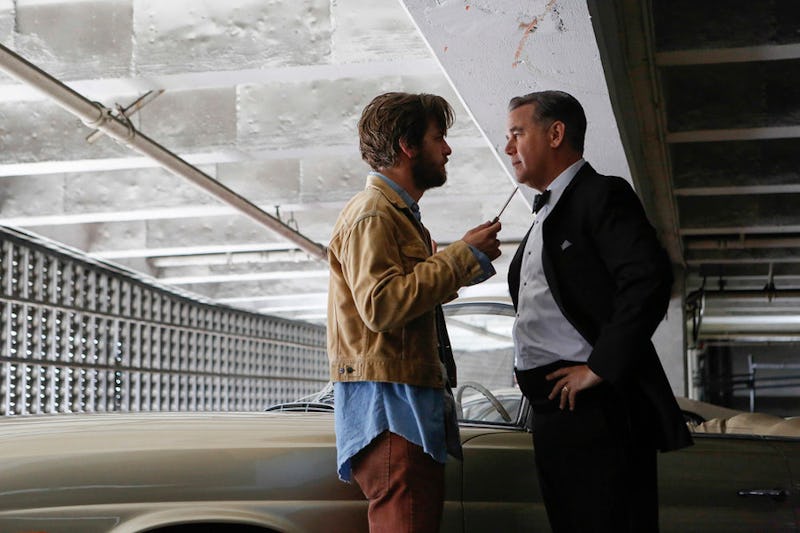 Many thanks to NBC for enabling my addictive personality by making the entire first season of Aquarius available to stream in its first month. My own need for immediate gratification, as well as my aggressive and persistent thing for David Duchovny, also factors into my speedy marathon of the fictionalized Charles Manson drama. Now that I've consumed every available second of Aquarius, it's time to process it. And, though the show was clear about the liberties it took with Manson's life, even some of the more out-there plot points are actually based in some kernel of fact. So, just how much of Aquarius is taken from real life?
Remedial catch-up: Charles Manson is a real person. (And reading up on all the details of his infamous life makes me never want to sleep again.) Black Panther leader Bunchy Carter and Manson follower Sadie are real people. Sam Hodiak and the Karn family are not. Aquarius is by no means a Manson documentary. But, viewers who know his story well will definitely have recognized certain elements, and I'm sure the show has prompted some newly minted history buffs to seek out more information. So, let me help you separate Manson fact from Aquarius fiction.
1. Manson's Mother Was A Teenage Runaway
Kathleen Maddox was only 16 when she gave birth to her son Charles Manson, he never knew his biological father, and Maddox would routinely leave her child with friends, neighbors, and relatives. Eventually, he landed in a home for boys. Maddox did resurface in Manson's life a few times, though there is no evidence that her son arranged her own gang rape, like in Aquarius. However, the conversation that prefaced that brutal scene did contain some truth. The story that Manson's fictionalized mother told him about their embrace upon her release from prison is one that the actual man himself has recounted as the sole happy memory from his childhood.
2. Manson Was An Aspiring Singer-Songwriter
Season 1 takes place before Manson's Beatles obsession, but it is truthful in portraying his musical aspirations. In real life, Manson's music was received well by some, including Beach Boys drummer Dennis Wilson, who actually recorded a few of his songs. The music executive who Manson tries to impress in Aquarius is fictional, though the show's "Elliott Hillman" may be based in part on history's Gary Hinman, a music teacher and associate member of the "Family," who was murdered on Manson's orders.
3. Mary Brunner Did Give Birth At The Ranch
"Mother Mary" is real, and is considered by some to be the first member of Manson's "Family." In the show, Mary gives birth to a stillborn child, aided by a room full of her sisters. The real story is that Brunner did have her child among Manson and his other followers, but that child survived. Though, I suppose that dressing up a sister as a candy striper and having her steal a replacement baby is more dramatically compelling.
4. The Body Of A Black Panther Was Found In Los Angeles
In Aquarius, Hodiak is involved in the murder investigation of Bunchy Carter's brother. This may be based in part on Manson's association with Bernard "Lotsapoppa" Crowe, an African-American drug dealer. Manson shot Crowe in a dispute over money. When the body of a Black Panther was found a few days later, Manson assumed that it was Crowe and that his associates would come after the Family. Manson then armed the ranch for a battle that never came. Crowe wasn't even a member of the Black Panther organization, and was, in fact, still alive.
5. Manson Once Sexually Assaulted A Man At Knife-Point
As I established earlier, Ken Karn is not based on a real person. However, Manson's penchant for sexual violence has certainly been proven. The scene in the pilot where Manson threatens Karn has roots in the real Manson's own story of raping a fellow teenage male when he was 17, while holding a razor blade to his neck.
6. Manson's Manic Charm Seduced Many
In the episode "Never Say Never To Always," Manson kisses the feet of his female followers, a manipulative practice which shows up in real-life accounts as well. Also, Manson once allegedly talked an angry father out of retrieving his daughter from the ranch, another instance that may have inspired Karn's weak will when he showed up to the ranch with a shotgun, only to eventually go home without Emma.
Aquarius is very much a re-imagined, stylized version of Charles Manson's story. But, as the saying goes, the truth is often stranger than fiction.
Images: Vivian Zink/NBC; Giphy (6)