One Of Her Baubles Is a Fitness Tracker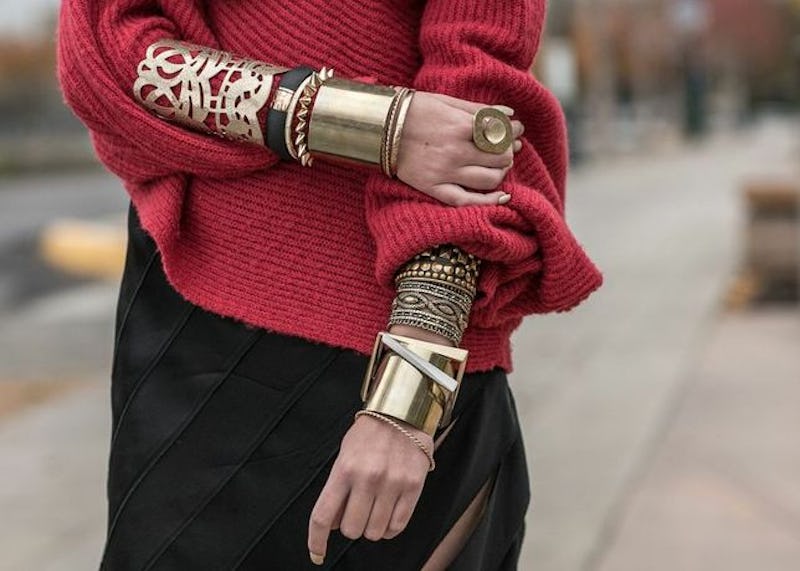 It's an unfortunate but universal truth that fashion and discomfort often go hand in hand. This year, however, fashion and suffering are in the early stages of an amicable breakup due to the abundance of fitness-inspired style, leading female consumers to wonder: is our culture finally ready liberate us from the confines of our fashion woes?
From functional pieces like the Nike+ Fuelband to the sleek, aerodynamic designs on the Spring 2014 runways, fashion and fitness are uniting to create a hybrid that encourages movement and ensures comfort while looking impeccably sharp. Finally, the dubious sneakers-and-pencil skirt combination can be relegated to the back of the closet as more streamlined designs take center stage.
The athleticwear-meets-couture trend on the Spring 2014 runways precipitated a much larger cultural movement away from the gaunt models in skintight minis who have sauntered the runways in seasons past to a less restricted definition of style.
For the debut of 2014, designers reinterpreted the definition of exercise gear and combined it with couture conventions, favoring fluid, lightweight fabrics and motion-friendly silhouettes, modeled by women of different ethnicities, height, and dimension.
Reed Krakoff revamped his signature sporty, sleek look in a series of breathable, athletic fabric. Rick Owens displayed his collection to beautiful effect on a series of steppers who (literally) added movement and spirit to his athletic-chic collection. Rag and Bone designers Nathan Bogle and Marcus Wainwright added athletic stripes to their 2014 collection, creating a collection that could easily be mistaken for incredibly chic sports uniforms and, gasp! didn't impede movement.
Prada sent a number of vividly colored dresses down the runway in swingy, movement-friendly shapes and subtle striping. Ralph Lauren went especially spare with his Spring 2014 collection, giving a new meaning to "sportswear" with wearable, clean lines and monochromatic color scheme. And Victoria Beckham's sporty belted dresses could easily be confused for a tennis ensemble, but would be equally acceptable for brunch at the country club.
The crossover between fitness and fashion goes both ways, however. Fitness companies such as Soul Cycle constantly display trendy new variations on their exercise wear, and many brands including BodyRock Sport follow the Fashion Week calendar by creating a new collection every season. At Athleta, a Gap-owned company dedicated to designing women's activewear and weekend casual-wear, the philosophy espoused is to combine "performance and style" instead of merely focusing on functionality of each item. These fitnesswear companies scoff at the idea that fit, healthy women should have to choose between an active lifestyle and a glamorous one, instead encouraging its consumers to embrace both simultaneously.
Retailers have also taken a turn away from the lurid, neon spandex wear of the '80s and designed styles in myriad colors that could easily pass for casualwear.
Even the new trend of fitness trackers are both ornamental and functional. Once relegated to a subset of fashion exemplified by Sporty Spice, they now encourage even the couture snobs among us that fitness is the new incarnation of chic.
The Nike+ Fuelband, which traces one's steps, movement, and even sleep, all in the form of a thin bracelet, took center stage after its debut in February of 2012. Nike released its newest iteration last month to reviews, which largely touted improved functionality, and the introduction of the enhanced model pushed the device to a place of popularity among competing brands.
Nike recently debuted a limited edition Rose Gold version of the Fuelband as part of the new METALUXE Collection, featuring a stainless steel elements and a more subtle, elegant design. The collection's ad campaign caters to the fashion set, featuring models wearing the band in the manner of street style mavens, as one of many stacked baubles on the wrist.
For too long, fashion has catered to a small subset of the population dedicated itself propagating questionable paradigms of fashion. 2014 seems to be calling for a new order, upholding health and flexibility as the standard of style. It appears that the age of the skintight Herve Leger bandage dress is over, and comfort is finally coming back into fashion.
Images: Nike