Sudeikis & Brie Are 'Sleeping With Other People'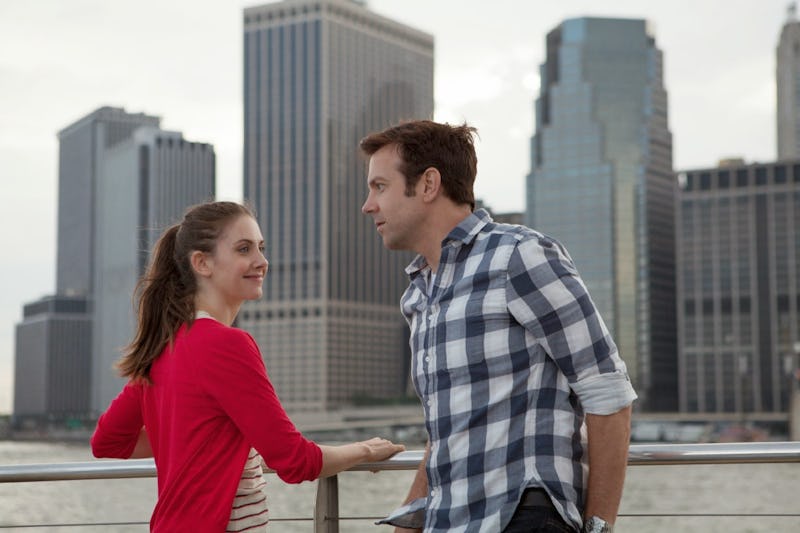 I never thought I'd see the day in which Jason Sudeikis became some sort of modern day Don Juan sex symbol. And yet that appears to be precisely what's happened with the upcoming romantic comedy Sleeping With Other People , which stars the former Saturday Night Live cast member along side Community star Alison Brie in a story about two sex addicts who can't seem to settle down into monogamous relationships. OK, so maybe it's not your typical rom-com, but that's to be expected from a film starring Sudeikis and Brie and produced by Will Ferrell and Adam McKay.
What makes Other People unique from other raunchy Ferrell-produced comedies? Well, it's written and directed by a woman, for starters. (It's sad that that's still so unusual in this day and age, but there it is.) Leslye Headland is a playwright best known for her Seven Deadly Sins Cycle; she adapted her "gluttony" play, Bachelorette, into a 2012 feature film starring Kirsten Dunst, Lizzy Caplan, Rebel Wilson, and Isla Fisher. She also wrote 2014's About Last Night, an adaptation of David Mamet's 1974 play Sexual Perversity In Chicago.
The trailer for Other People was just released on Thursday, and, even in these two-and-a-half minutes, it's already apparent how Headland's voice has refreshed Ferrell's man-child shtick. Here are the nine best moments that make me hopeful that Sleeping With Other People will be another successful female-driven comedy to stand alongside the likes of Bridesmaids and Obvious Child.
1. Mansplain THIS
How do we know Sudeikis's Jake is a jerk? Besides the fact that, the first time we see him, he's cheating on someone, of course. No, it's because he immediately tries to mansplain to the wronged woman that what she's upset about isn't him cheating, it's the "culturally-infused female competition." (Ugh.) She wisely responds by shoving him in front of a taxi. Oh, and she's played by Margarita Levieva, aka Revenge's Fauxmanda. You do NOT mess with Fauxmanda.
2. Scream For Your Supper
We next catch up with Brie's Lainey, who calmly informs her boyfriend, Adam Brody, over dinner that she'll be attending a program for "love addiction" since she cheated on him. The best part about this scene is that both of these actors appeared onscreen together in the 2011 slasher sequel Scream 4, where they (spoiler alert!) both met the business end of Ghostface's knife. Apparently Officer Hoss and Rebecca Walters have been given a second chance at life. (Hopefully there are no masked killers lurking under that red tablecloth.)
3. Holy Guacamole
Of course, this being a rom-com, we have to get to the "boy meets girl" part pretty quickly. Jake and Lainey run into each other at their sex addicts meeting, and it turns out that she lost her virginity to him 12 years ago. They reconnect and agree to be platonic friends, setting up a safe word in the event of any sexual tension. Lainey suggests "avocado," but Jake thinks the Mexican fruit is too sexy. I won't argue with him there.
4. They See Me Rollin'
Part of Jake and Lainey's platonic exploits involves getting really high and going to a kid's birthday party. Surprisingly, this goes pretty well. "That's how Henry was conceived," admits Andrea Savage's Naomi.
5. Riley The Lainey Slayer
Buffy alum alert! At the party, we run into Marc Blucas's character, who's clearly crushing on Lainey. Of course, Blucas is most well-known for playing the Slayer's love interest Riley for two seasons. He introduces himself to Lainey with a young boy in tow, so presumably he's a single father. Either that, or he just scooped some random child out of the pool to try and impress her. Could go either way, really.
6. Black Is The New Orange
Natasha Lyonne swaps in her orange jumpsuit for a bar-appropriate black ensemble to give her BFF Lainey some much-needed relationship advice. "This guy's taking up emotional real estate that could be occupied by a real option," the Orange Is The New Black star says. Preach, sister.
7. A Kiss On The Hand May Be Quite Continental
Would you look at that? Jake and Lainey appear to be falling for each other despite the fact that they agreed to be platonic. Didn't see that coming at all. (Okay, so maybe Other People hews pretty closely to typical rom-com structure, but I'm still hopeful that the characters and Headland's voice will make that structure feel fresh.)
8. Stop. Cameo Time!
If you were somehow worried that the cast wasn't amazing enough yet, Amanda Peet and Adam Scott pop up for brief cameos towards the end of the trailer. It doesn't look like either of them have huge roles, but both actors are always a welcome sight in any movie.
9. Bum Rush
Whoop, there it is. In case you forgot this movie is produced by Will Ferrell, the whole thing culminates in a much-needed anal sex joke. And this isn't even a Red Band trailer. Sleeping With Other People will premiere on Sept. 11, 2015. And now, check out the trailer below.
Images: IFC Films